Biography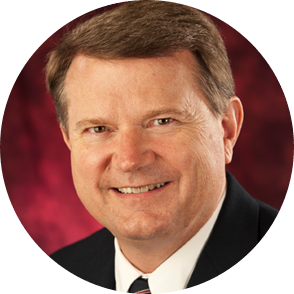 Dr. John Robert Dew retired as Senior Vice Chancellor for Student Services and Administration for Troy University in 2018 where he was responsible for administration and student service at all four of the University's campuses in Alabama, along with responsibility for strategic planning, institutional effectiveness, regional accreditation, on-line learning, and the University's locations in Korea, Japan, Texas, Florida, Georgia, South Carolina, Tennessee, and Virginia. Prior to his work at Troy University, Dr. Dew served as the Director for Continuous Quality Improvement and Strategic Planning for The University of Alabama. Dr. Dew began his career with Lockheed-Martin Corporation where he worked as a quality professional and was responsible for leadership and executive development for the Lockheed Martin Energy Division before joining The University of Alabama.
Dr. Dew has led workshops on quality management with Catholic University in Lima, Peru, and has been a speaker with the Vice-Presidents, Academic from the public universities across Canada. He has presented on quality methods in China and with the European Organization for Quality and has facilitated leadership development activities, strategic planning, and quality improvement activities with numerous businesses, manufacturing facilities, universities, school systems, research laboratories, healthcare organizations, local, state, and federal agencies and a wide range of non-profit organizations. He was appointed by the Secretary of Commerce to serve for three years as a Judge in the Malcolm Baldrige National Quality Award program and was appointed by the Secretary of Education to serve on a DOEd rule-making committee. Dr. Dew earned his Doctorate in Education from the University of Tennessee and wrote his dissertation on developing democratic leaders in organizations.
Publications & Presentations
Dew, John R. and Nearing, Molly. Continuous Quality Improvement in Higher Education. Westport, Conn. American Council on Education and Praeger Press, 2004.
Dew, John R. and Curtis, Meri. Diagnosing and Preventing Adverse and Sentinel Events. Marblehead, MA. Opus Communications. 2001.
Dew, John R. Managing in a Team Environment. Westport, Conn. Quorum Books, 1998.
Dew John R. Quality-Centered Strategic Planning. New York, N.Y., Quality Resources Press, 1997.
Dew, John R. Empowerment and Democracy in the Workplace. Westport, Conn. Quorum Books, 1997.
Research Interests
Current research interests are:
Developing Democratic Leadership Skills
Participative Approaches to Strategic Planning.
Leadership and Participative Management
The Global Quality Movement