2023 Competition: Incision Decision

Guide for Teams
What is BEST Robotics?
BEST stands for Boosting Engineering Science and Technology, and is a national program with local competition sites in nineteen states. It is administered by BEST Inc., a 501c3 non-­profit organization, that sets curriculum and competition standards.
The mission of BEST is to inspire students to pursue careers in science, technology, engineering, and mathematics through participation in a competitive robotics program that fosters knowledge, teamwork, and communication. A major tenet of the program is that the program is free to schools; there is neither a cost for the robotics materials nor a fee for registering a team.
The competition is open to middle and high school students. There is no limit to the number of students who can participate on the team; however, each school may only enter one team.
How does the competition work?
There are two parallel competitions associated with the BEST program – the robotics competition and the BEST Award.
The robotics competition is a high‐energy sports‐like environment but good sportsmanship is essential. Student‐driven robots compete against the challenges of the game, not other robots. Each year's game theme and playing field is revealed by mid-September. Teams all across the country are provided with an identical kit with equipment and parts. Teams are also given a set of game specific rules before entering their local competition, then given nine weeks to design and build their robot.
In addition to the robotics portion of competition, all teams must complete and provide an engineering notebook. Students may also choose to compete for the BEST award, which includes giving an oral marketing presentation, constructing an educational team exhibit, and showing excellent team spirit and sportsmanship. BEST uses the excitement of robotics to teach engineering and business processes.

Team registration is currently open.
Competition Format: Classic
Kickoff Day
8/26/2023 11:00 AM - 3:00 PM
Smith Hall, Troy University, Troy, AL
601 University Ave., Troy, AL 36082
Practice Day
10/12/2023 11:00 AM - 3:00 PM
Dorothy Adams Trojan Center, Troy University, Troy, AL
College Drive, Troy, AL 36082
Game Day
10/21/2023 9:00 AM - 7:00 PM
Trojan Arena, Troy University, Troy, AL
George Wallace Drive, Troy, AL 36082
Teams must register through the BEST National Registry for TROY University BEST Robotics.
We will only be able to support 16 teams this year, so please register as soon as possible.
Below are links to videos to assist you in creating an account in the BEST Robotics National Registry and registering a team.
What is the cost to participate?
The competition is FREE for schools to participate. At the bare minimum, the only costs your team will incur are expenses related to traveling to/from Troy for the competition events. Troy University BEST Robotics will loan robot equipment to the participating schools for the duration of the 9‐week build and competition period. All materials must be returned after the competition is completed.


How can I get involved?
Start a team
Each school can enter only one team in the competition (this includes public, private, and home schools). There is no limit to the number of students that may participate on each team. Space in the Troy University competition is limited to 16 teams.
The following are recommended as you start your team:
Advisor/primary point of contact – A person, typically a teacher within the school, to coordinate the efforts of the team and communicate with the Hub for competition information and updates.

Workspace – An area with basic workshop tools to aid in building the robot.
Mentors – Professionals (may be parents or other affiliates) from the area who are willing to help the students with their robot. Often mentors will include engineers, skilled workers, or those willing to help with building, learning, or problem solving.

Funding – The competition is free, however, there may be minimal travel costs to Troy. Additionally many teams create and wear a team t‐shirt to the competition (and even have an opportunity to enter the shirt for an award). Other costs may include building a practice field, etc.
Interest – A group of students motivated to build a robot, write and organize an engineering notebook, and optionally design a team exhibit and deliver a marketing presentation.
Time commitment – Participating in BEST requires enthusiasm, motivation, and most importantly, time dedicated to helping your team and students. The 8 weeks (56 Days of BEST) are fast‐paced and packed with activity: be prepared.
For more information on how to start or register a team, please contact Dr. Robin Bynum, Executive Director of Educational Outreach for the College of Education, Troy University, by phone at (334) 670-5978.
Be a mentor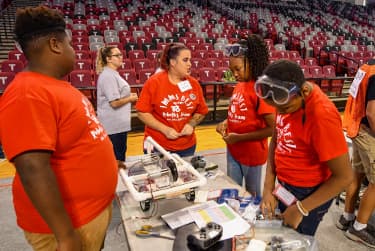 The role of the team mentor is to work with the teacher/advisor to guide students through the engineering and design process, including overseeing the building of the robot. Mentors can donate as much time as they feel is appropriate; however, the students should be the primary builders and designers.
Mentors can be engineers, college students or faculty, trade/professional people, and other community members interested in helping middle and high school students.
Adapted from South's BEST Robotics
Team Resources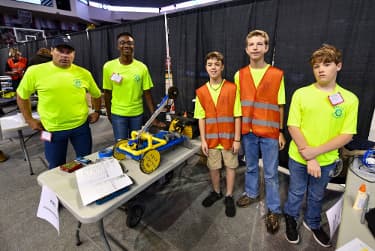 VEX EDR Curriculum
This curriculum provides resources to help guide teachers and students through the building of the robot and the competition process. Everything is included so even a completely inexperienced teacher or student can be successful.
SketchUp
SketchUp is a powerful application that can generate complex 3D models for buildings cars, equipment and other objects. It is used by designers, engineers, and architects to create the basis for their projects.