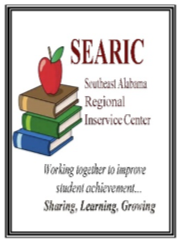 ATIM's COVid-19 Digital Resources for Learning
https://sites.google.com/view/atims-cov-19-digital-resources/home
Alabama's eleven Regional Inservice Centers were created by the State Legislature to enhance the training of school personnel in critical needs areas. The concept and mandate were adopted in May, 1984 (Act 84-622), establishing centers to provide "rigorous inservice training in critical needs areas for the state's public school personnel"- teachers, superintendents, principals, and local board of education members.
The Southeast Alabama Regional Inservice Center (SEARIC) serves nearly 5,600 teachers in 21 school systems. The name and official website of each school system is provided below.
The purpose of the SEARIC and associated web pages is to highlight available training programs sponsored by the center as well as being a clearinghouse of educational information for the systems we serve. Use the left hand menu to navigate the SEARIC site. If you are interested in visiting the home pages of the state-sponsored initiatives, click the following links.