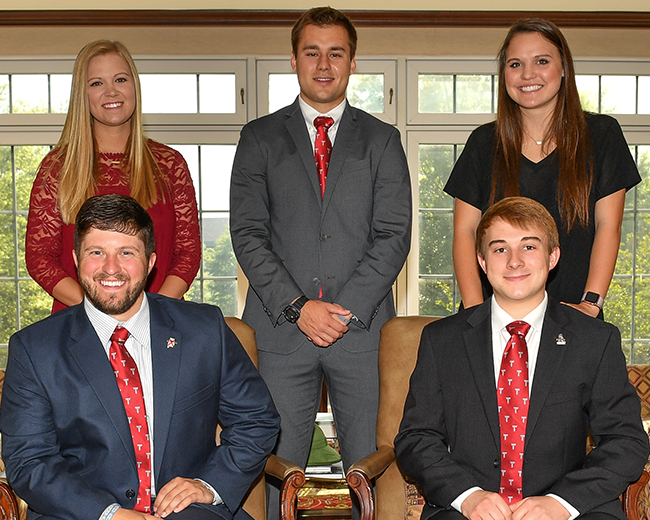 First Row L to R: Gus McKenzie, Alex Reynolds
Second Row L to R: Morgan Tew, Morgan Long, Abby Hamilton
Five leaders are chosen from the Trojan community each spring to lead the Student Government Association of Troy University. The student body elects these individuals to lead them, address their concerns, and implement the changes the student body deems necessary on campus. The members of the executive council devote countless hours to the welfare of the student body, striving to promote Trojan pride in all they do.
SGA Executive Council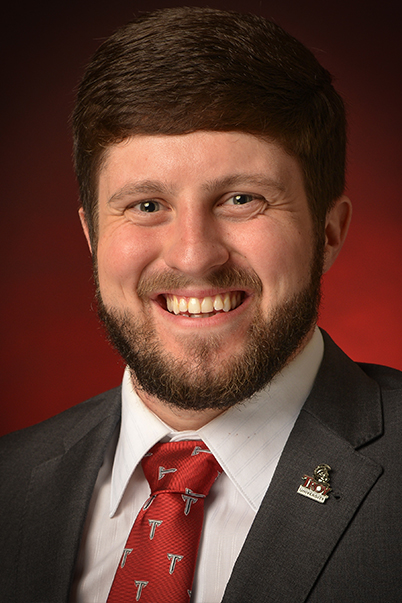 Gus McKenzie
President
A little bit about Gus:
Hey Trojan Family! I am a senior from Monroeville, Alabama. I am majoring in Communication Studies and minoring in Leadership Development. I am honored and excited to serve the student body this year as SGA President! I am dedicated to continuing work with administration to better our institution.
Why I Came to TROY:
I chose to attend Troy University because of the small town feel of the campus. I saw an opportunity to be able to grow not only academically, but as a person as well. This university offers so many things, and I knew that wherever my path took me through college that TROY would have opportunities for me. TROY has blessed me, and I know that it will bless you as well!
Involvement and Honors at TROY:
Throughout my time at TROY, I have served in many roles. I served as the Freshman Forum Treasurer, Freshman Forum Director, and a Resident Assistant. I also had the honor of spending two summers working for IMPACT New Student Orientation welcoming new Trojans to campus. I am a brother of Alpha Tau Omega Fraternity, where I served as chapter president. Each of these experiences has provided me with a piece of advice for all TROY students, and that is: GET INVOLVED!!
Being involved during your time at college really makes the experience. Involvement can provide you with connections and lifelong friendships and memories! Feel free to come by the Student Involvement Office (Trojan Center 215) and hear what we have to offer you!
Words of Encouragement:
I would love to hear your ideas for how all of us can improve TROY! Thank you for entrusting me with this position, as it is an honor that I do not take lightly. I am humbled to be your chief advocate for this year. Please take advantage of all of the opportunities that this wonderful institution has to offer you, and feel free to always come to me with your ideas! GO TROJANS!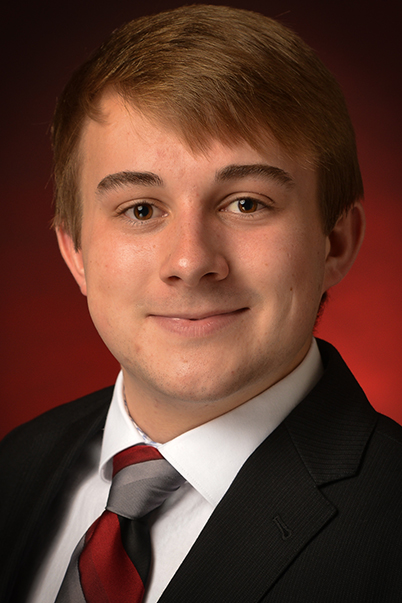 Alex Reynolds
Vice President of Legislative Affairs
A little bit about Alex:
My name is Alex Reynolds, a junior nursing major from Dothan, Al. I have the pleasure of serving as the Vice President of Legislative Affairs for the 2018-2019 school year. The VPLA is charged with presiding over the weekly SGA senate meetings just like the Vice President presides over the U.S. senate sessions. This job requires an extensive knowledge about Parliamentary Procedure according to the famous Robert's Rules of Order. This process allows the senate to have an effective meeting giving all senators the equal ability to voice concerns and/or opinions from the students they represent. It is my job to help your senators write legislation and to help clubs write their constitutions.
Why I came to TROY:
Choosing where you want to attend college is a tough decision. There are many factors to take into consideration when deciding. For me, I chose Troy to be my home because when I toured the campus, I immediately knew that I would be treated like part of the family here. Coming from a small town, this was something very important to me. I enjoy getting to know a lot of people and socializing. I knew that I would not be just a number on a page or another source of income for the university. I wholeheartedly felt the genuine care and concern of the faculty and students. I wanted the ability to stand out and make a difference. Troy University definitely awards its students with that opportunity.
Involvement and Honors at TROY:
I have been involved in many things at Troy. I was selected to serve as a delegate on the Freshman Forum during my freshman year here. In Freshman Forum, I was elected to serve as the Vice-President and was voted "Mr. Freshman Forum." During my sophomore year, I was elected to serve as a SGA Senator-At-Large and had a productive year on the Student Welfare Committee. I also had the honor of being a Trojan Ambassador where I worked diligently to recruit new students and help them find the same love for Troy that I found. I am also proudly a part of the University Honors Program having already completed all the requirements to graduate with Honors.
Words of Encouragement:
Students, I value your ideas, opinions, and concerns. Please do not hesitate to reach out to any of your elected senators, or myself, if you have an idea on how to make Troy even better than it already is! We in the Student Government Association have promised to be your voice and will work diligently for you. Thank you for entrusting me to be the leader of your elected senators. "Even as the Son of Man came not to be served but to serve, and to give his life as a ransom for many." (Matthew 20:28)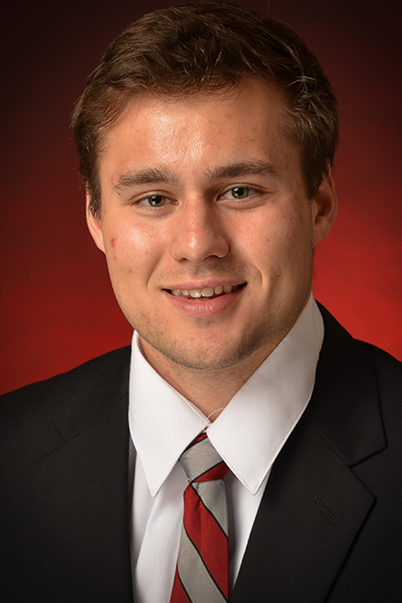 Morgan Long
Vice President of Campus Activities
A little bit about Morgan:
What's up Trojans!! My name is Morgan Long and I am a Junior Sports Management major with a minor in Event Management from Birmingham, Alabama! I have the honor to serve as the 2018-2019 Vice President of Campus Activities. The VPCA is tasked with planning Homecoming Week, Welcome Week, hosting weekly events for the student body, selecting candidates for Troy's Most Outstanding Woman Award, and other day to day activities. My biggest job is to create an exciting atmosphere on campus for my fellow Trojans. I am excited to continue serving TROY in this capacity and have already started planning big things for our University!
Why I came to TROY:
TROY was my second choice that has become the best home I could ever ask for. My original plans for college did not work out, however, I was confident once I visited TROY that it was where God wanted me to be. The campus is beautiful and the amount of people wearing TROY shirts blew me away. I noticed the amount of pride and love current students had and I wanted to be a part of something this special. After meeting with some faculty members I knew that they cared about their students and knew I was going to be in good hands. TROY has given me so much and I am so thankful to be able to call it my home.
Involvement and Honors:
The past two years I have been able to serve TROY in many ways. I have served as a Freshman Forum delegate in the Campus Life Committee, I was an IMPACT leader for the summer of 2017, Trojan Ambassador, SGA Senator serving the school of Business in the Campus Life Committee, the SGA Director of Events, and as the Homecoming Director of Operations. I am currently serving as the Membership Coordinator for the Trojan Ambassadors alongside my duties as VPCA.
Words of Encouragement:
The "College Experience" is what you make it. You can choose to stay in your dorm or house every day or you can choose to go outside, meet new people, join a club and discover more about yourself and the others around you. There is so many ways to get involved DO IT! Get out there, find a club that goes with your major, hobbies, honor societies, trust me we have a club for what you're looking for! The best part is, if you don't find a club that interest you, you can create one on campus! My office is always open to talk and more importantly listen to you. If you ever need someone to talk to or just to listen come by and we'll have a chat!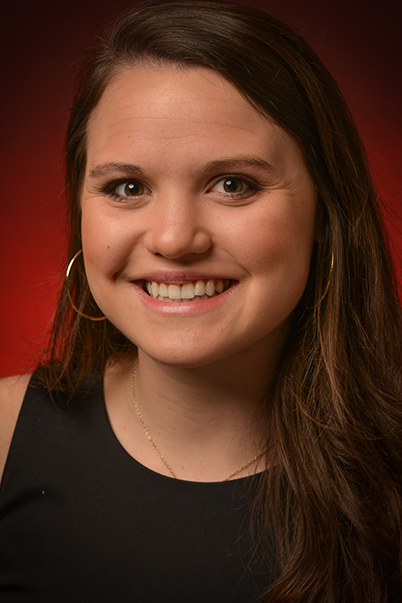 Abby Hamilton
Director of Administration
A little bit about Abby:
My name is Abby Hamilton, I am a Junior Bio-medical Science major from Fairhope, Alabama. I am thrilled to serve as this year's Director of Administration. I look forward to serving the students and giving back to the school that's already done so much for me.
Involvement and Honors at TROY:
I chose to attend Troy University because of all the opportunities I saw that it could offer me before I even attended my first day here. The size of the campus made me feel like I would be a part of Troy instead of just another student and the endless opportunities offered to get involved and grow as a person. I love the town and the people that which also made me feel welcomed and at home. My decision to come to Troy was one of the easiest and best decision I have made.
Why I came to TROY:
Throughout my time here at Troy I have joined a diverse group of organizations to get my involved. I had the privilege serving as a senator at large on the constitution and rules committee. I also was invited to join the Alpha Lambda Delta Honor society, and joined AMSA where I currently serve as the public relations chair. I am also a member of Phi Mu sorority where I have served on the junior executive board since my freshman year.
Words of Encouragement:
I look forward to getting to meet and help as many students as I can. My desk will always be a place where students can feel like they can come and ask for help or voice their concerns. I want to make every student feel like they are a part of the change happening on campus. I cannot wait for what all this year has in store for me serving this amazing university and students.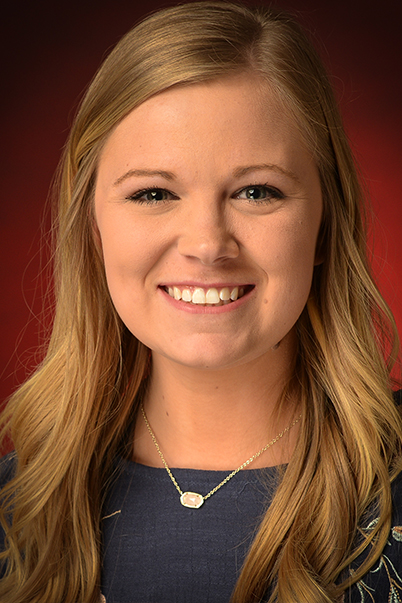 Morgan Tew
Director of Representation
A little bit about Morgan:
Hello Trojans! My name is Morgan Tew and I am a senior Biomedical Sciences major from Eclectic, Alabama. I have the honor of serving as this year's Director of Representation. Troy University has given me the knowledge, friendships, and resources that I will treasure for a lifetime and I am so proud to give back to not only this school, but the students and alumni that I share it with.
Why I came to TROY:
While touring campuses my senior year, Troy was the only school that really felt like a home. The small town feel of Troy stood out to me and made me feel like I could really thrive here. Not only could I imagine myself succeeding academically, I saw opportunities for myself to thrive as a leader, a friend, and a follower of Christ. Most importantly, I noticed how every student that I met had a passion for Troy and felt accepted here by not only the students, but also the faculty. I never met a student who felt like they made the wrong choice by attending Troy. I am so proud to be a Troy Trojan and I hope that this university positively impacts your life as much as it has mine.
Involvement and Honors at TROY:
Throughout my college experience, I have had the opportunity to serve in many ways. I have served as a Freshman Forum Chaplain, Trojan Ambassador, Panhellenic Delegate, Greek Week Philanthropy Chair, and SGA Senator At-Large. I am also a member of Alpha Gamma Delta where I served as a Vice President of Campus Relations and the assistant Director of Recruitment. Troy has provided endless opportunities to get involved and I encourage you to take advantage of these opportunities as much as possible!
Words of Encouragement:
Troy University really is the best place to grow and learn for the next four years of your life. I encourage you to be bold and get involved, build friendships, and make memories that you will treasure forever. If you have any questions or ideas, please feel free to contact me! I want to make sure that every student feels loved and cared for at this university! I hope you have the time of your life at Troy and you not only grow personally, but you also initiate a positive change in those around you.
Troy University
Trojan Center 215
Troy, AL 36082
sga@troy.edu
(334) 670-3212
FAX: (334) 670-3213