2018 - 2019 HSTM Newsletter
HSTM News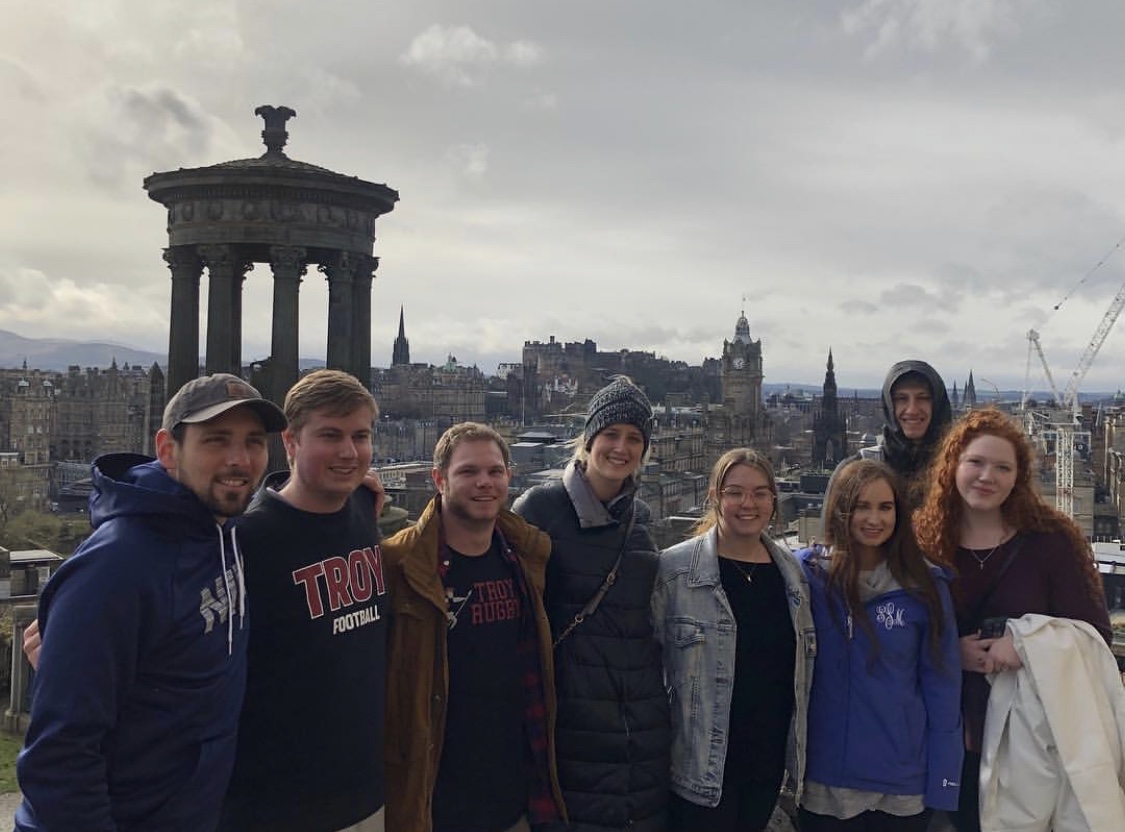 Our HSTM students spent time exploring in Scotland.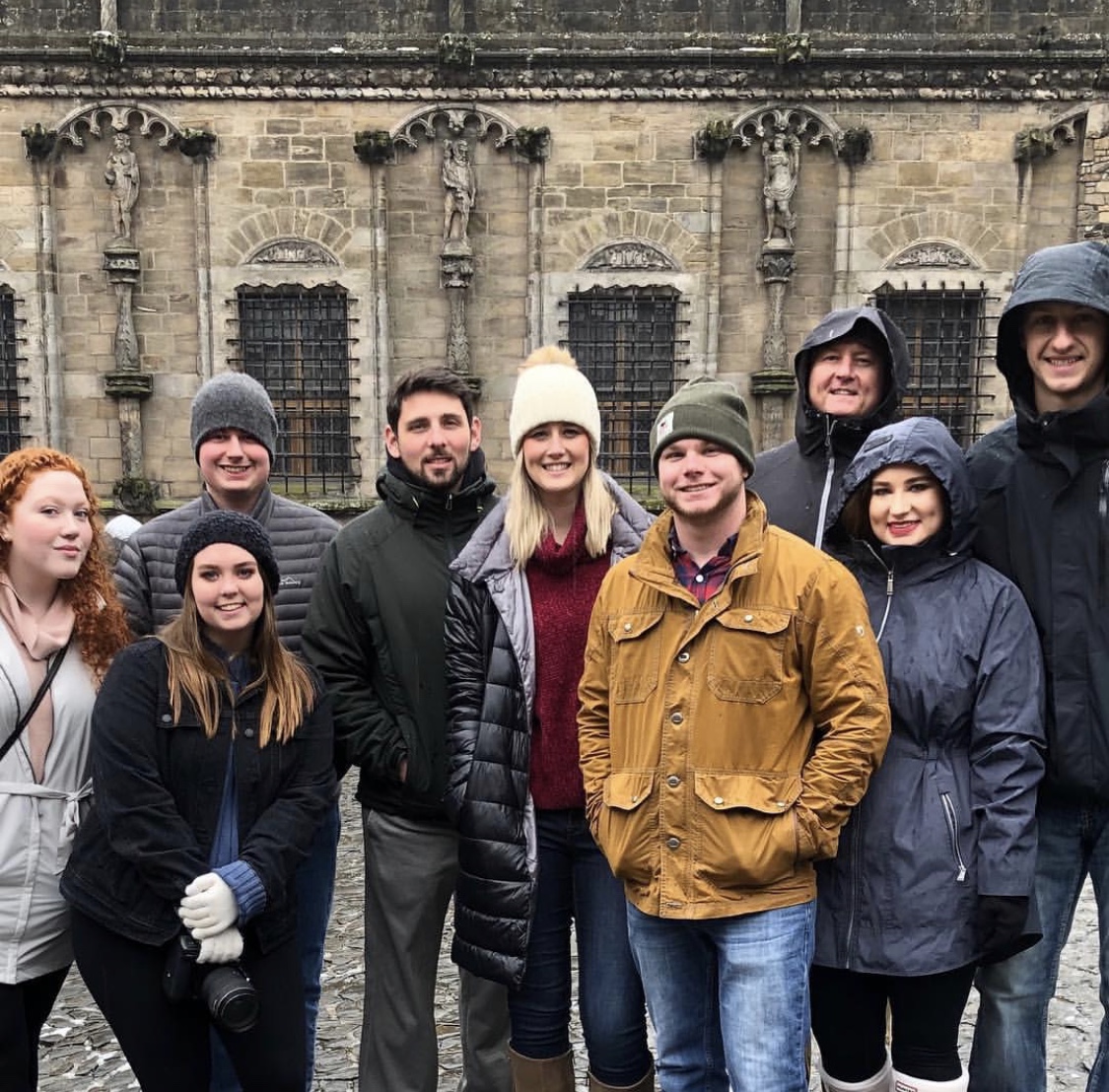 Dr. Dixon and his group of HSTM students visited Sterling Castle in Scotland before going on to look for the Loch Ness Monster.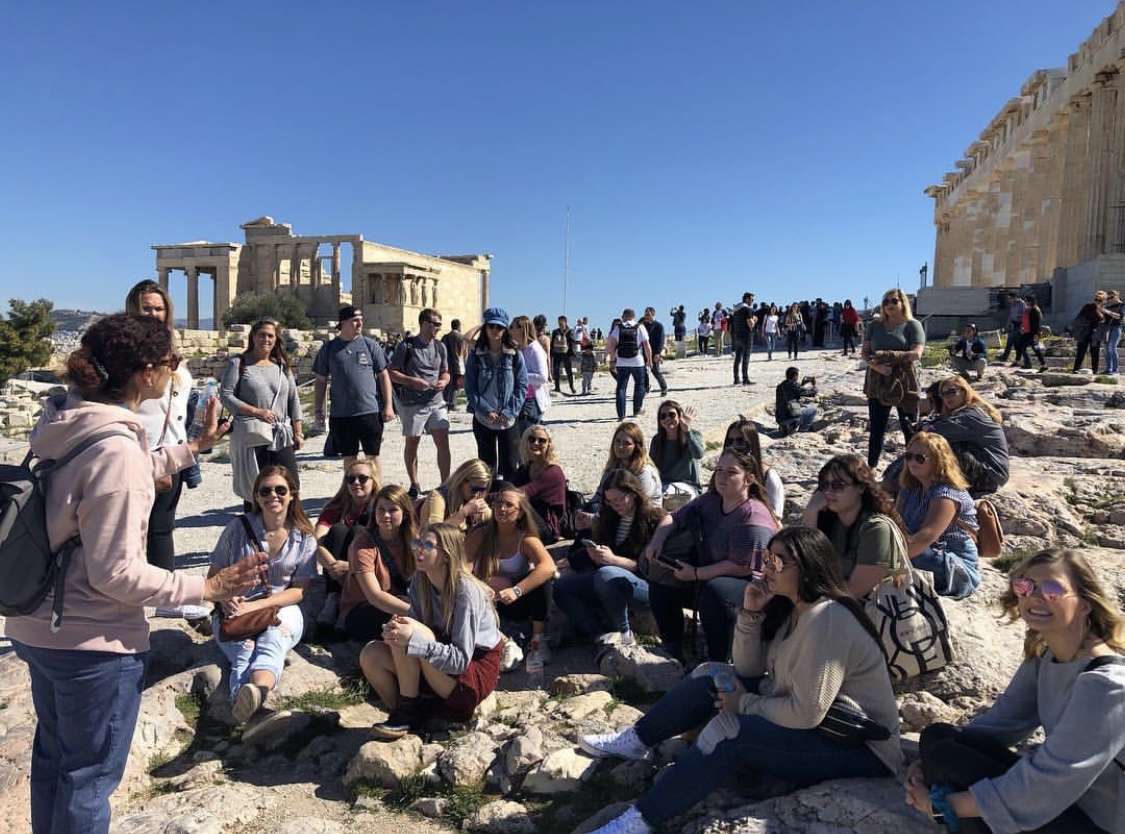 Our HSTM students at the Parthenon in Athens, Greece.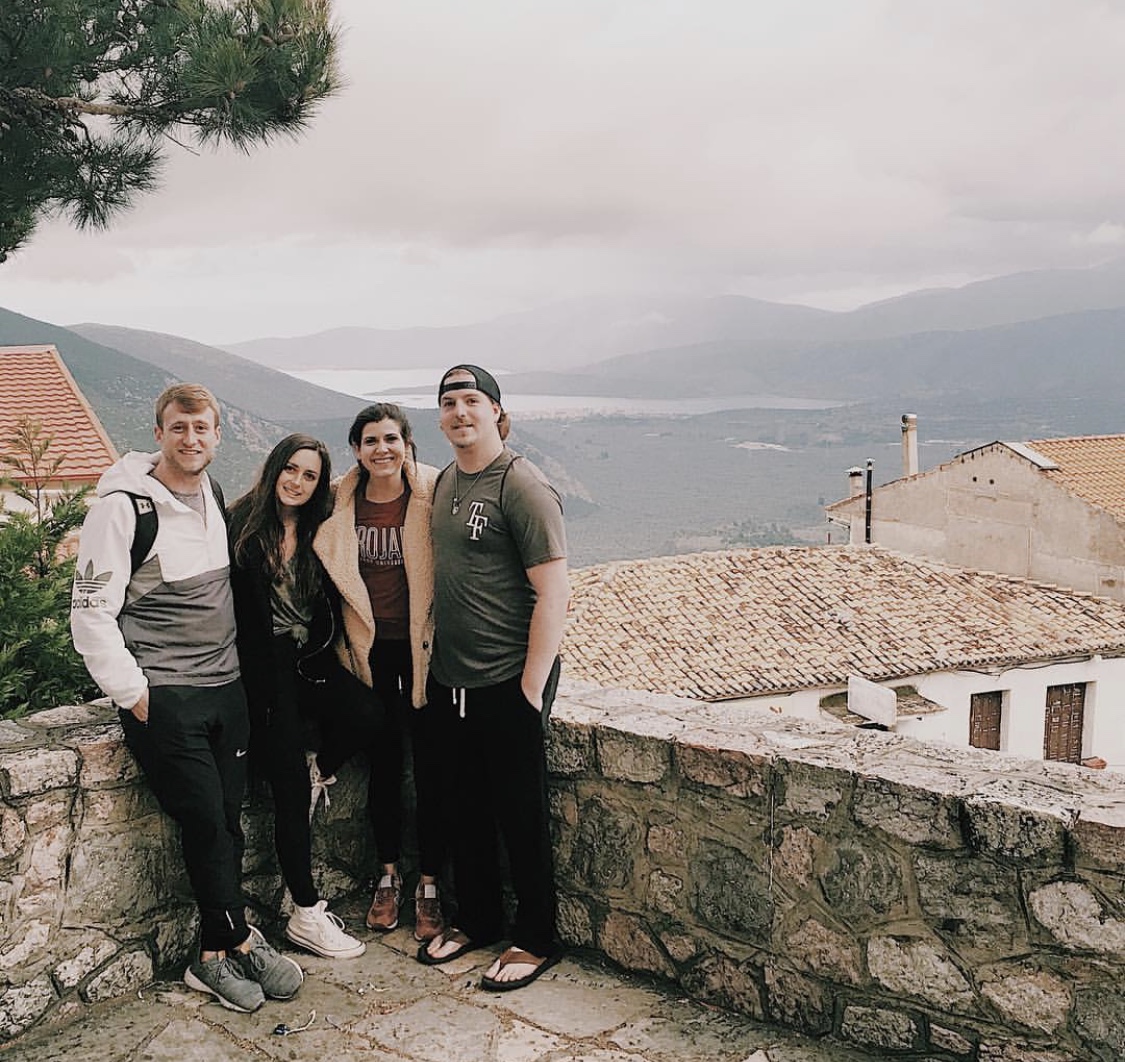 HSTM students: Jared, Madison, Leah, and John visiting a scenic overlook in Delphi, Greece.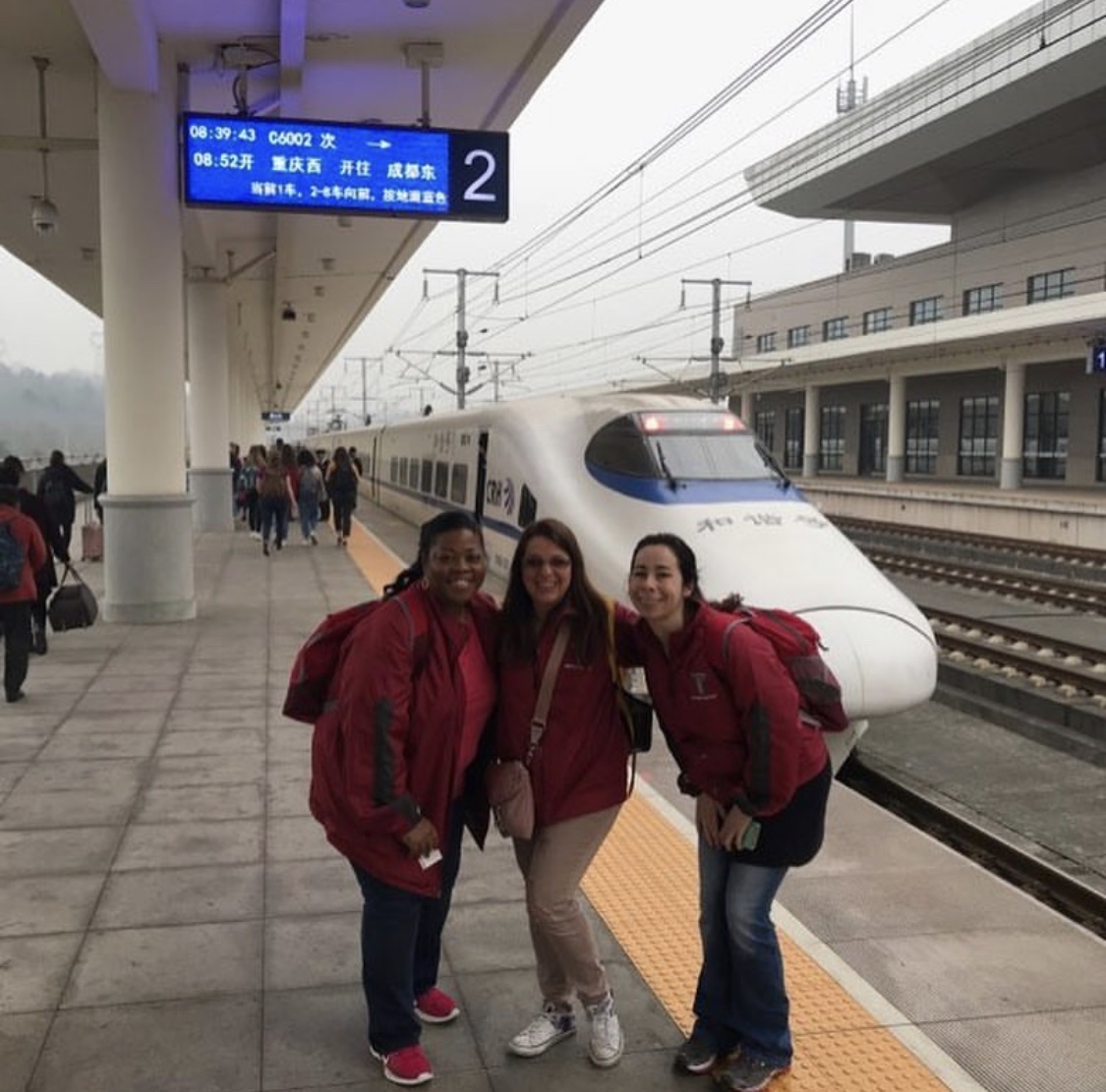 Dr. Price-Howard and her students before boarding the Bullet Train in China.
HSTM Studied Abroad
Over the last two years, the School of HSTM has been actively promoting faculty-led study abroad opportunities for our students. In the spring semester alone, HSTM students and faculty traveled to China, Greece, Ireland, Scotland, and Switzerland to learn and experience new cultures.
Dr. Dixon led a group of students to Ireland and Scotland over spring break to visit many historical and prominent tourism spots. The trip began in Dublin where they visited St. Patrick's Cathedral, Trinity College Book of Kells, and the Jameson Whiskey Distillery. Next, traveled to Belfast and visited filming locations for the popular television show, Game of Thrones. From Belfast, the group traveled on to Scotland where they visited the Edinburgh Castle which has loomed over the capital city for more than 1,000 years. Overall the trip was a success and the students thoroughly enjoyed their time spent in Ireland and Scotland.
At the same time, Dr. Lewis and Dr. Xu led a group of students to Greece and Switzerland. Their trip began by arriving in Athens, Greece where students visited many historical landmarks with the Acropolis, Parthenon, and Temple of Athena being favorites of the group. Students also got to spend time shopping in the historical Plaka District and try many local delicacy along the way. After spending time in Athens, the group moved on to other regions of Greece that included Delphi, Tolo, and Ancient Olympia. Students got to see the historical location of the original Olympic games as well as the 2004 Olympic games. A highlight for many of the students was the Saronic Gulf Cruise that took the students to several smaller Grecian islands to explore local culture, artistry, and cuisine. On the way home, the group made a quick stop in Switzerland before continuing their travels back to the states.
Dr. Price-Howard also helped in leading a study abroad trip to China over spring break that was hosted by the Troy University Confucius Institute. There were two HSTM students who took advantage of this fantastic opportunity to visit different cities in China and learn about the language, culture, history, and Chinese cuisines. While in China, the group had the opportunity to climb the Great Wall of China, visit a panda habitat, ride the Bullet Train, and take part in a traditional Chinese tea ceremony.
Upcoming Study Abroad Opportunity from HSTM
Dr. Dixon is currently offering a faculty-led study abroad opportunity to Switzerland, Germany, and Austria. This trip will take place December 10-18, 2019. Some of the trip highlights include touring the BMW headquarters in Munich, Dashuau Concentration Camp & Memorial tour, and visits to the Nymphenburg Palace and St. Stephen's Cathedral. For more information on this trip, please visit TROY Abroad or email Dr. Dixon at awdixon@troy.edu.
HSTM Student Spotlight
Morgan Long, HSTM - Sports Management student is the newly elected SGA President

Morgan Long is a senior Sport Management major with a minor in Leadership Development. He has been able to serve Troy as a member of Freshman Forum, an IMPACT Leader, SGA Senator, Trojan Ambassador, and Vice President of Campus Activities. He was recently elected as the 2019-2020 SGA President and also serves as the Ambassador Association President. This foundation has given Morgan opportunities to learn and develop as a professional in and out of the classroom. While a student in the HSTM program, Morgan has had the opportunity to work for the Birmingham Barons for the past two summers as a Stadium Operations Intern and he currently works there as a Group Sales Intern.
How has your education and coursework in the HSTM program helped prepare you for your future career path?
It is amazing the amount of times I have been tasked with project at work that directly correlates with the material I have learned in class. Through these experiences it is evident that the course work we go over in our classes gives us an obvious advantage once we enter our respective professions.
What advice would you give to other Troy and HSTM students?
If I tell any student one thing it is to get involved; there are tons of opportunities and organizations on and off campus for students to not just experience and join but to thrive in. Take this time in your life to find out what you are passionate about and then go for it! You will be provided every opportunity as an HSTM student to get involved in Sports, Hospitality, and Tourism, but it is up to you to take advantage of these opportunities! Enjoy this time in college and don't be afraid to ask questions to fellow students and faculty. GO TROJANS!
Congratulations, Morgan; we are excited to see what you will accomplish to better Troy University during the 2019-2020 academic year!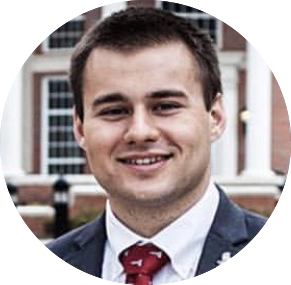 Cameron Christopher, HSTM - Sports Management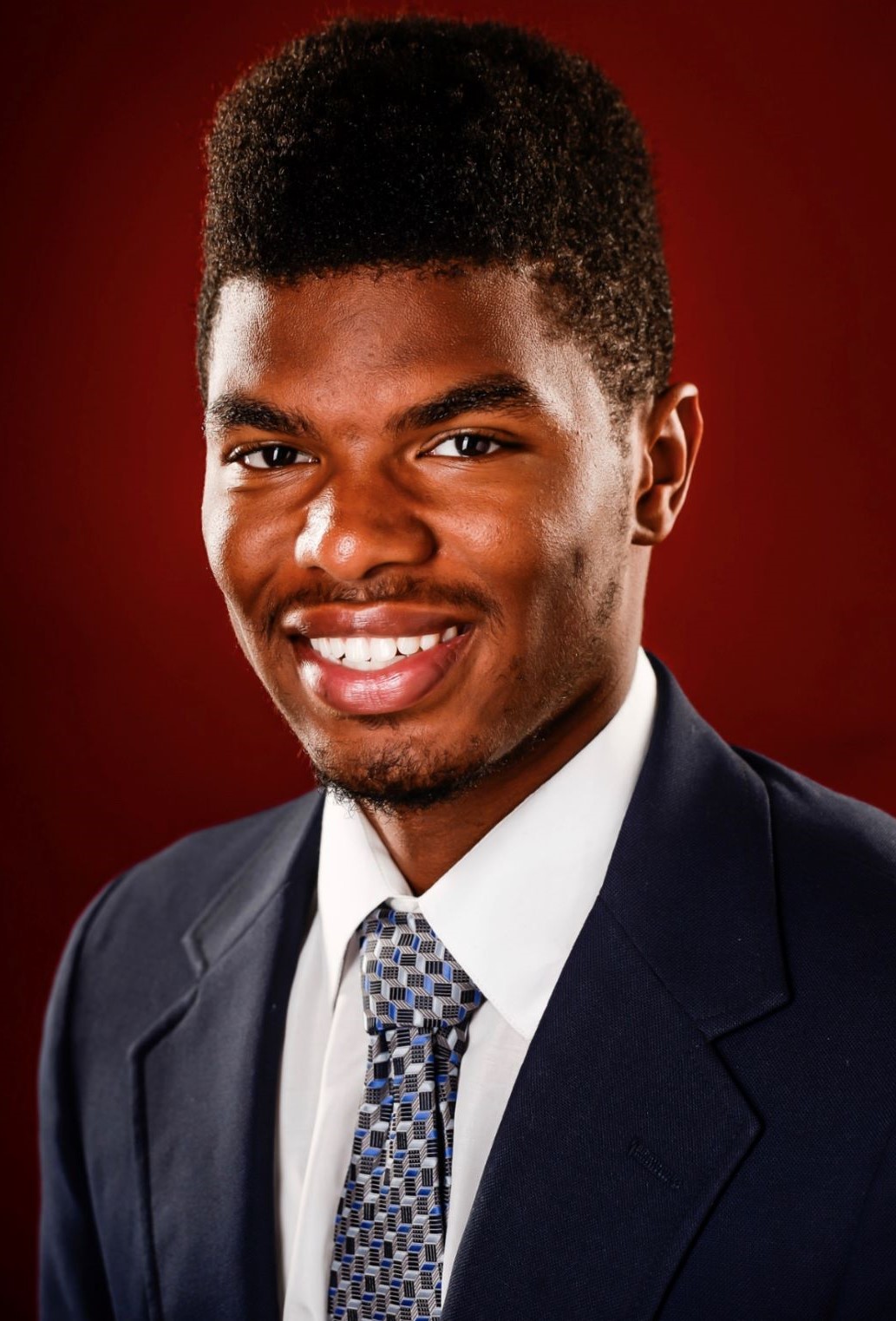 Cameron Christopher is a senior majoring in Sports Management with a minor in Global Business from Anniston, AL. During the summer months, Cameron had the opportunity to work on the BMW Ultimate Driving Experience Tour.
What has this experience provided to you?
The BMW Tour was an amazing experience - I had the chance to drive $100,000+ BMW's around and work alongside professional race car drivers on the racecourse. I also had the opportunity to go to California this summer for the first time while touring with BMW. Working in Miami, Florida and San Francisco, California has opened my mind to wanting a career that allows me to travel.
What advice would you give to fellow HSTM students?
The last thing I would like to tell everyone would be to never give up on a company you are passionate about because I received this job offer a year after I applied and I never expected to hear back.
Cameron has been invited back to California by his superiors to work in Los Angeles next month on the BMW Tour. He enjoyed his experiences with the BMW Tour and told us, "whether you're looking to learn, try out the latest innovations in driving, or just have a good time, the BMW Ultimate Driving Experience is the place to go."
Now that Cameron has returned to campus to finish out his senior year, he will be working in Campus Manager role doing marketing work for Amazon prime. The faculty and staff within the School of HSTM are very proud of Cameron and his accomplishments during his time here at Troy University.
Gemma Finch, HSTM - Sport Management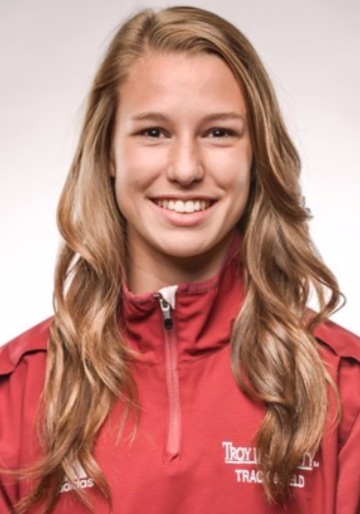 Gemma Finch, an International student from the beautiful country of England, has expressed her love and appreciation for the Troy University family. When asked what attracted her to Troy U, Gemma states that Troy gave her the opportunity to combine her undergraduate studies while allowing her to compete in the sport that she loves, track & field, at the Division I level.
I've always been involved with sport from a young age and loved the idea of being able to incorporate that into my career. Sport management gives me the ability to combine my passion for sport with business and the opportunity to have a career in something I love. I don't have my sights set on a specific career; however, over the last two years in the HSTM program I have developed a keen interest for event management. I like the idea of being able to see the process of planning and managing an event from start to finish, while combining both business roles and practical experiences. The summer of 2018, I interned with TRACS, Inc., a sports marketing and event management company in Boston, MA. While working with TRACS, Inc. I was able to work closely with the CEO on multiple business opportunities including the full planning and implementation of a 5K event at the American Diabetes Association Conference in Orlando, FL with over 2000 participants. I was fortunate enough to travel to Orlando with the TRACS, Inc. team to manage the event and represent the client, Novo Nordisk, at the conference expo. From this experience I learned that planning an event and being able to create a live experience gave me a great feeling of accomplishment and enjoyment. After completing my internship with TRACS, Inc. I am sure that sport event management is a career path I wish to pursue, but I would also like to gain experience in managing more elite level sport events.
HSTM Events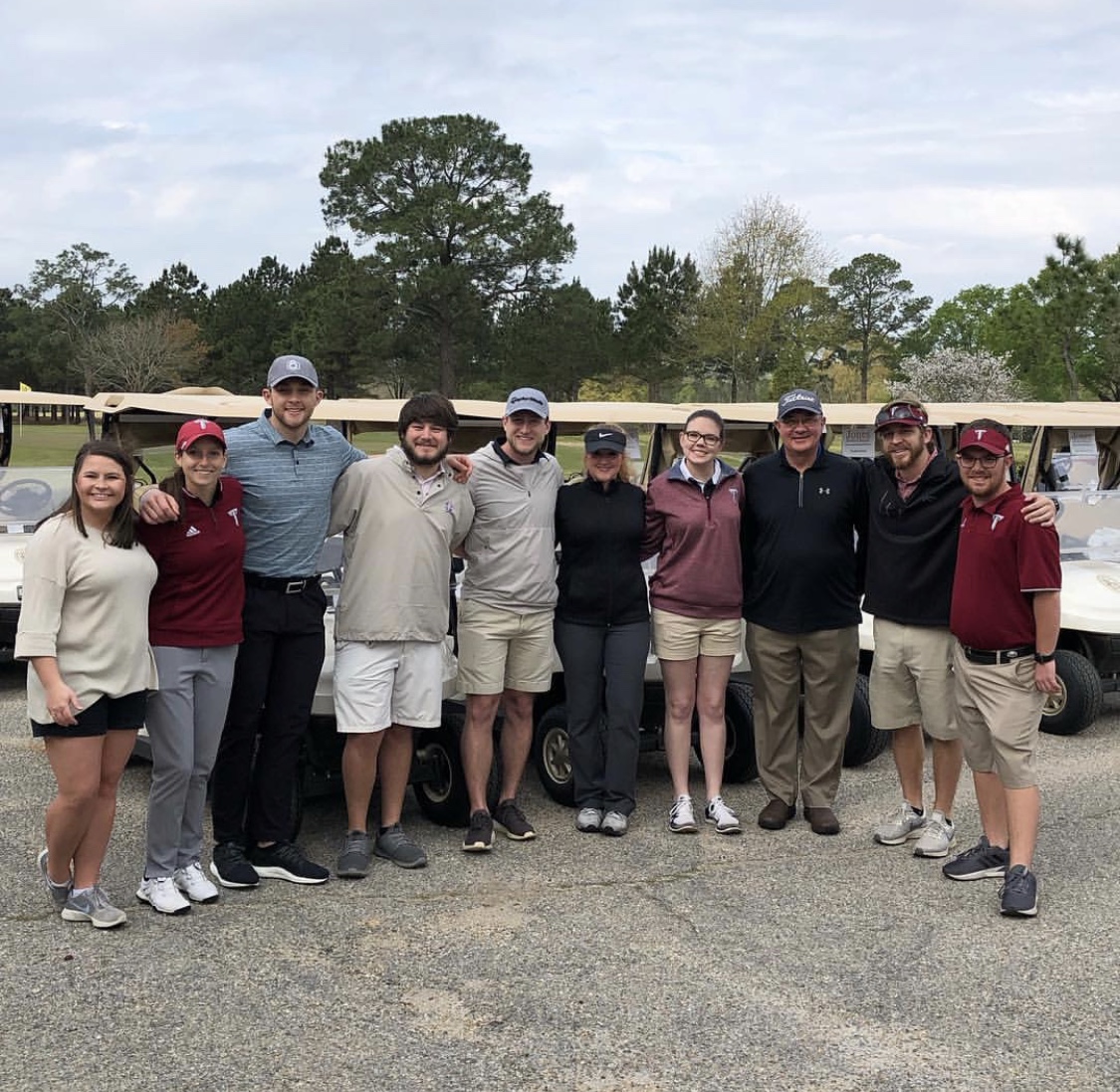 The hardworking students who organized the 11th Annual HSTM Charity Golf Tournament to raise money for the Boys and Girls Club of Troy.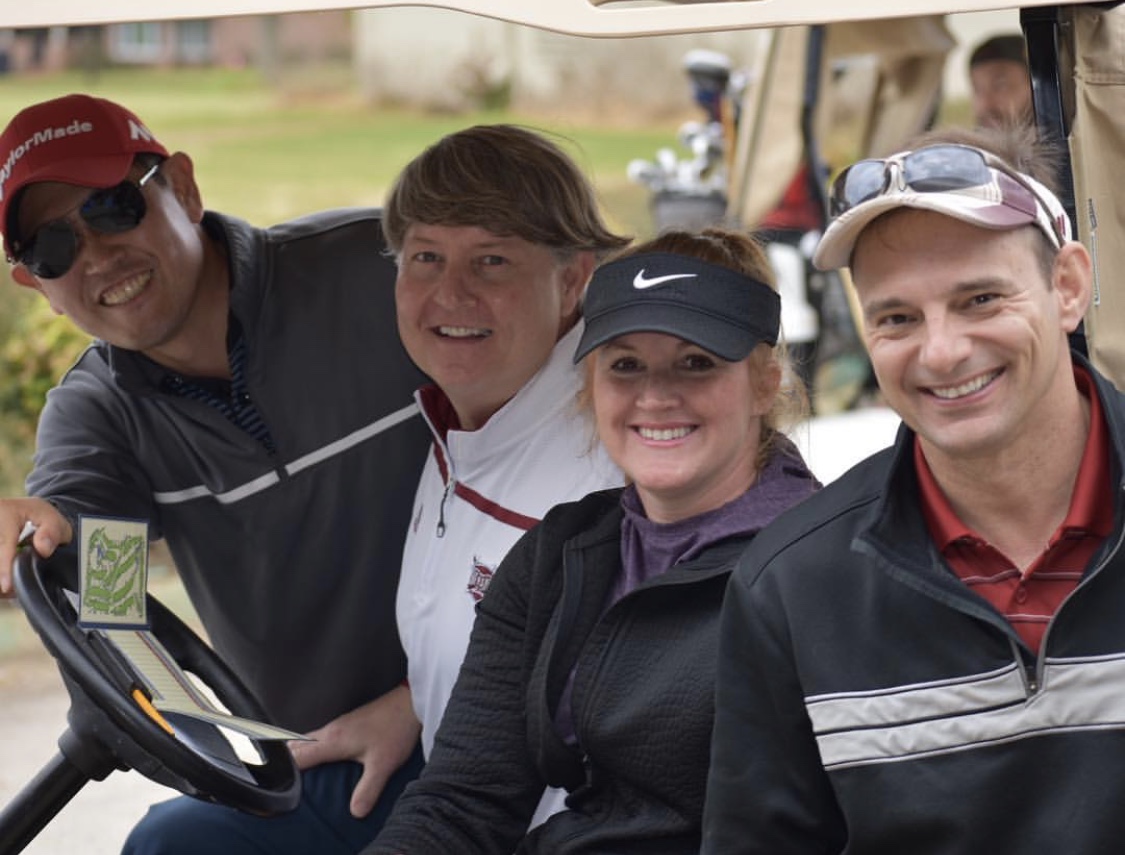 HSTM faculty members enjoyed the Charity Golf Tournament and supporting our students.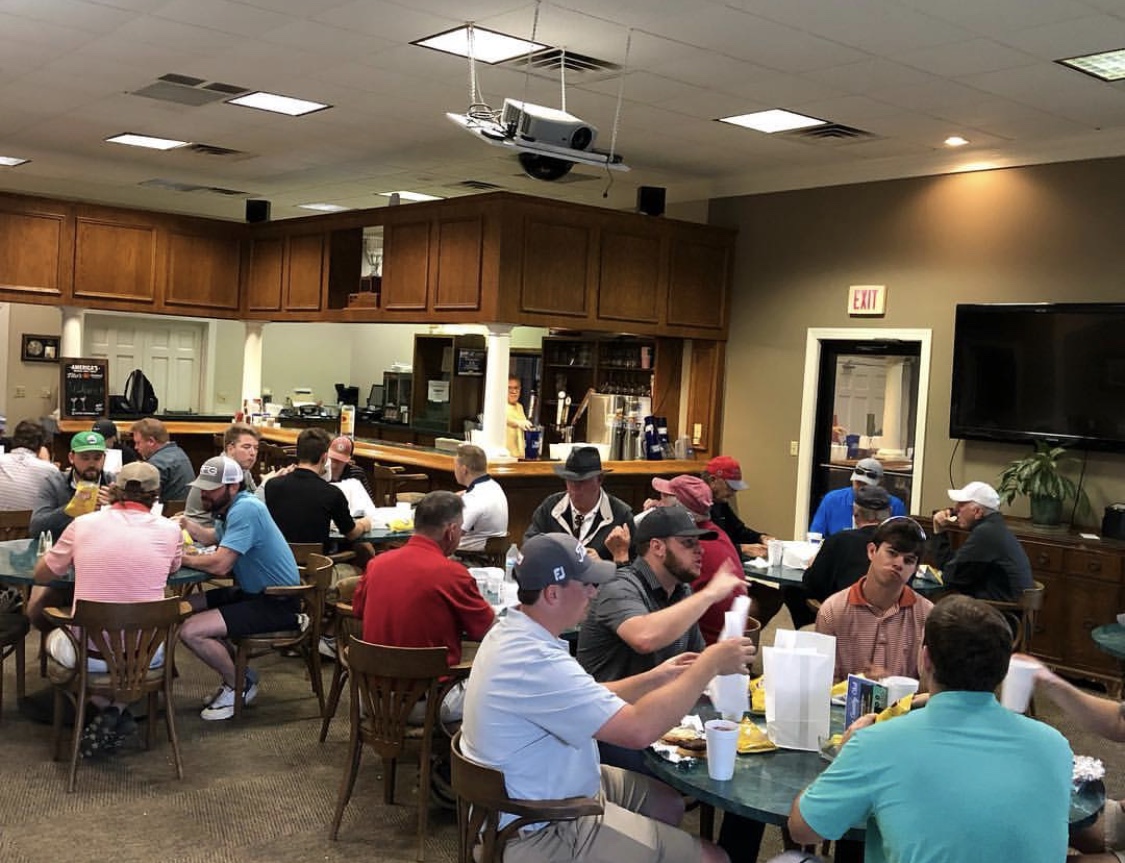 Thank you to all of the participants and teams who came together to make our HSTM Charity Golf Tournament a success!

HSTM Fun Fest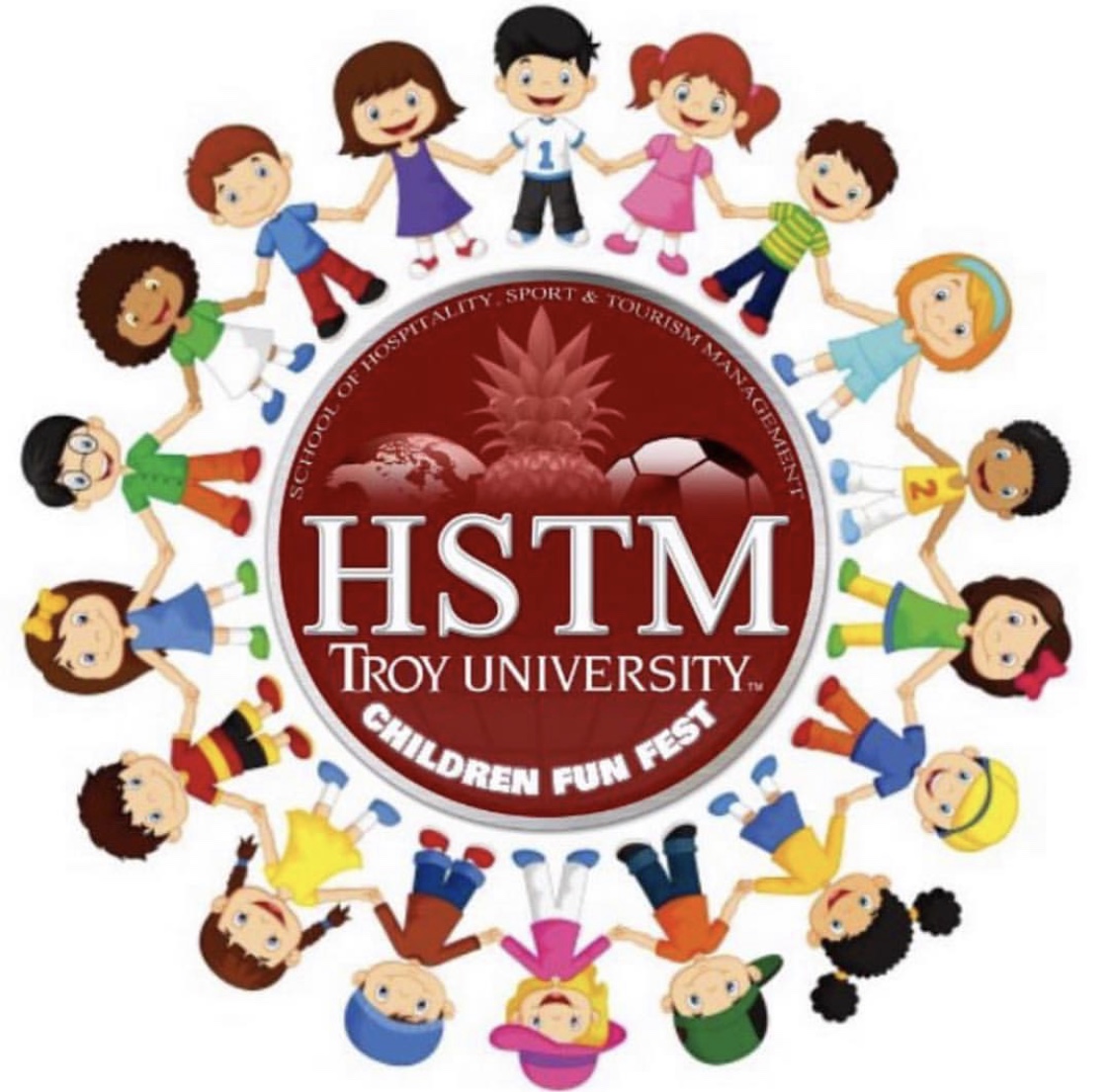 The HSTM Fun Fest held at the Troy SportsPlex was also another successful event put on by the HSTM students under the supervision of Dr. Christina Martin. The children of the community were given the opportunity to come out and have a good time by playing different games and engaging in activities such as relay races, bouncy houses, "home run derby", and softball pitching simulations amongst other fun activities. The undergraduate Event Management class was responsible for the overall planning, seeking out sponsors to assist with the funding of the event, and promoting the event to the community. There was a great turnout and all those involved, whether volunteering or participating, appeared to have a great time.
HSTM Etiquette Luncheon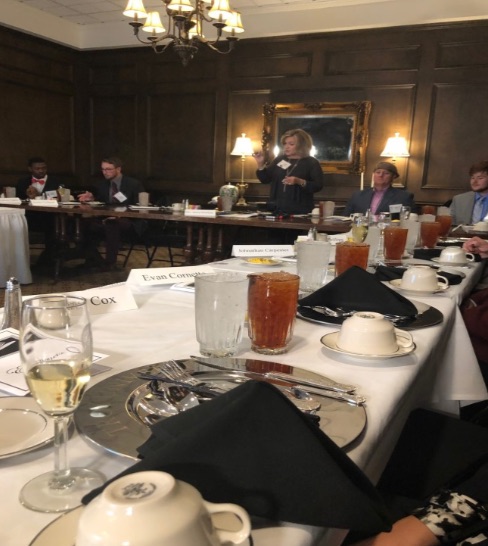 The HSTM Senior Capstone class capped off the ending of a great semester by attending a luncheon with Mrs. Janice Hawkins, the wife of current Chancellor Jack Hawkins. The luncheon was held to acknowledge and honor the hard work put forth this semester by the HSTM students. Additionally, the goal was to help current students learn the etiquette skills they need for career networking and job interviews, which often include lunches and dinners. This was a very positive experience for both students and faculty who were in attendance. Students were taught the different uses of each utensil, the proper way to excuse his or herself from a meal, and utilized a Q&A session that allowed Mrs. Hawkins to offer her insight into the correct way to display proper dining and professional etiquette.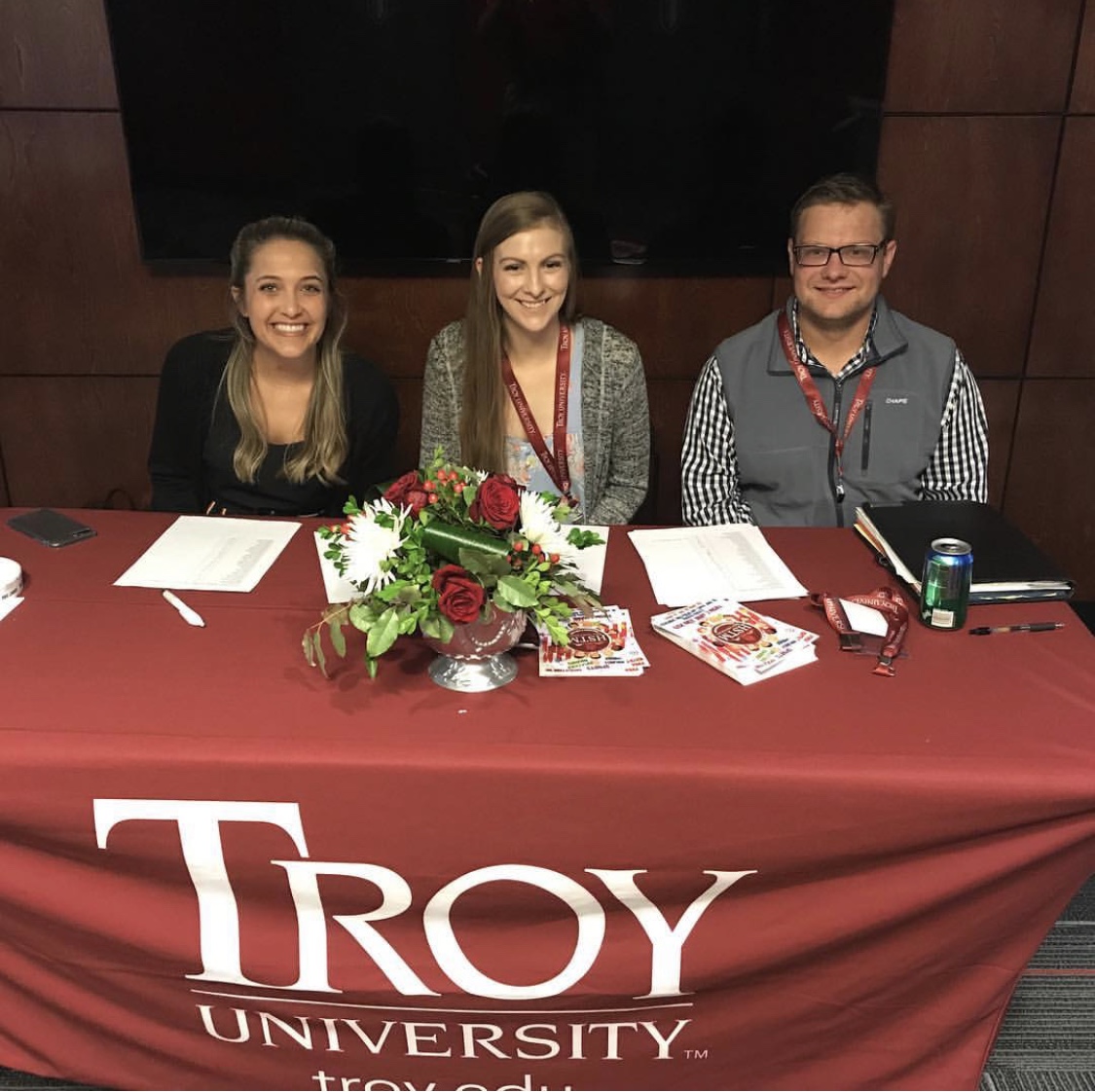 Our Event Management students did a great job planning and making the HSTM Summit a success.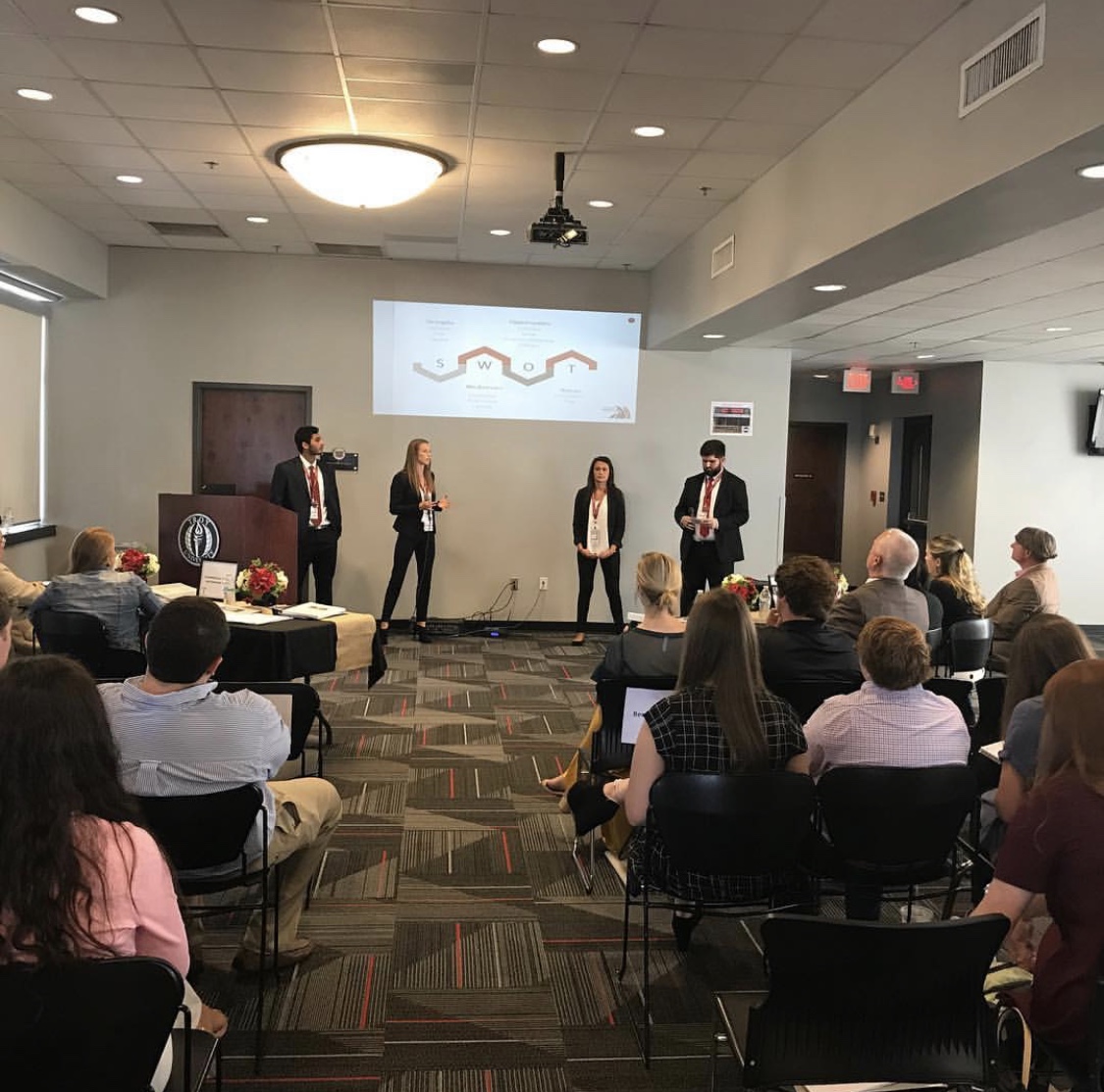 One of the HSTM Summit teams as they presented their Track Plex business plan to investors.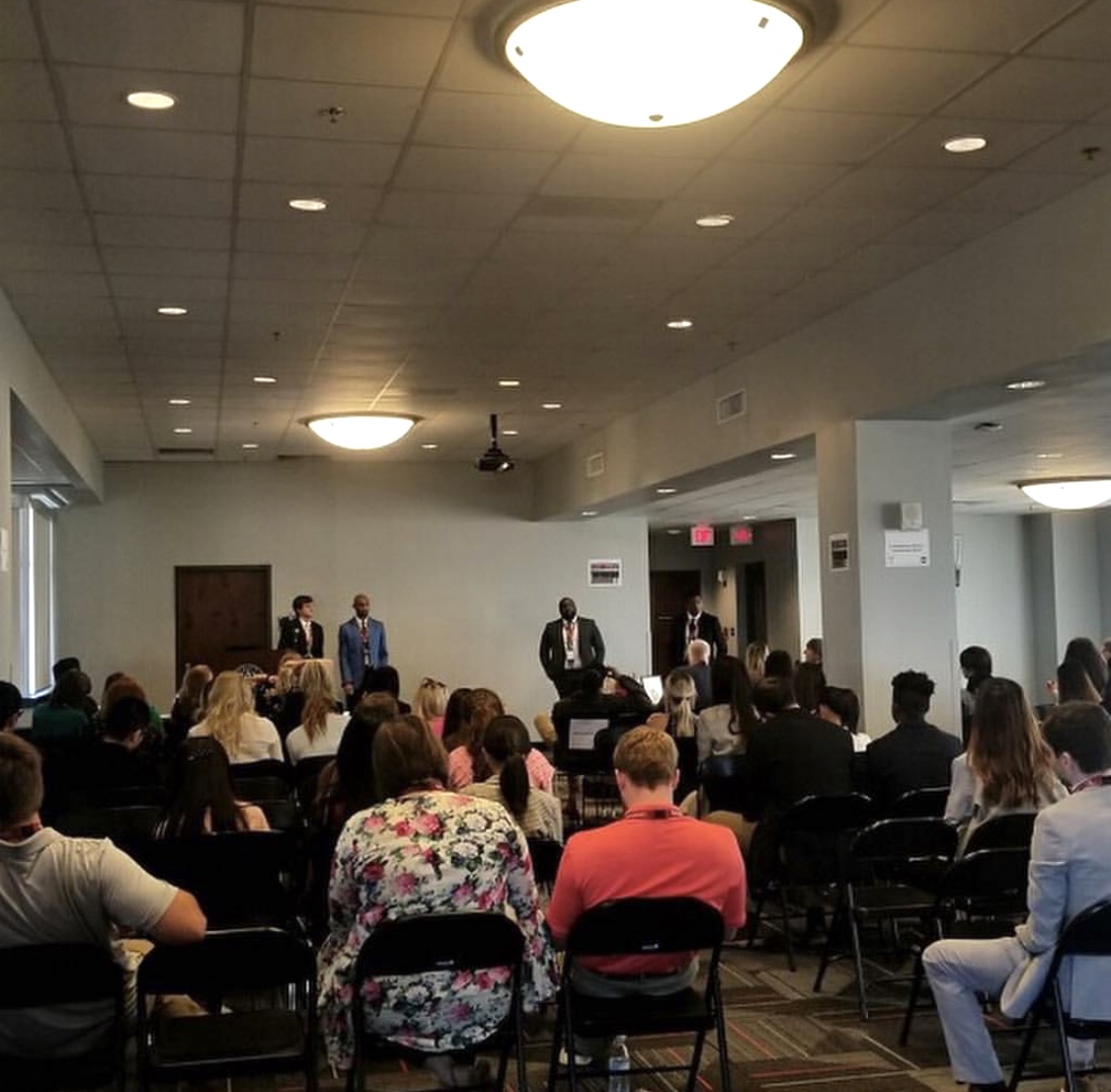 This HSTM Summit team presented their business plan idea to add sports betting to a casino.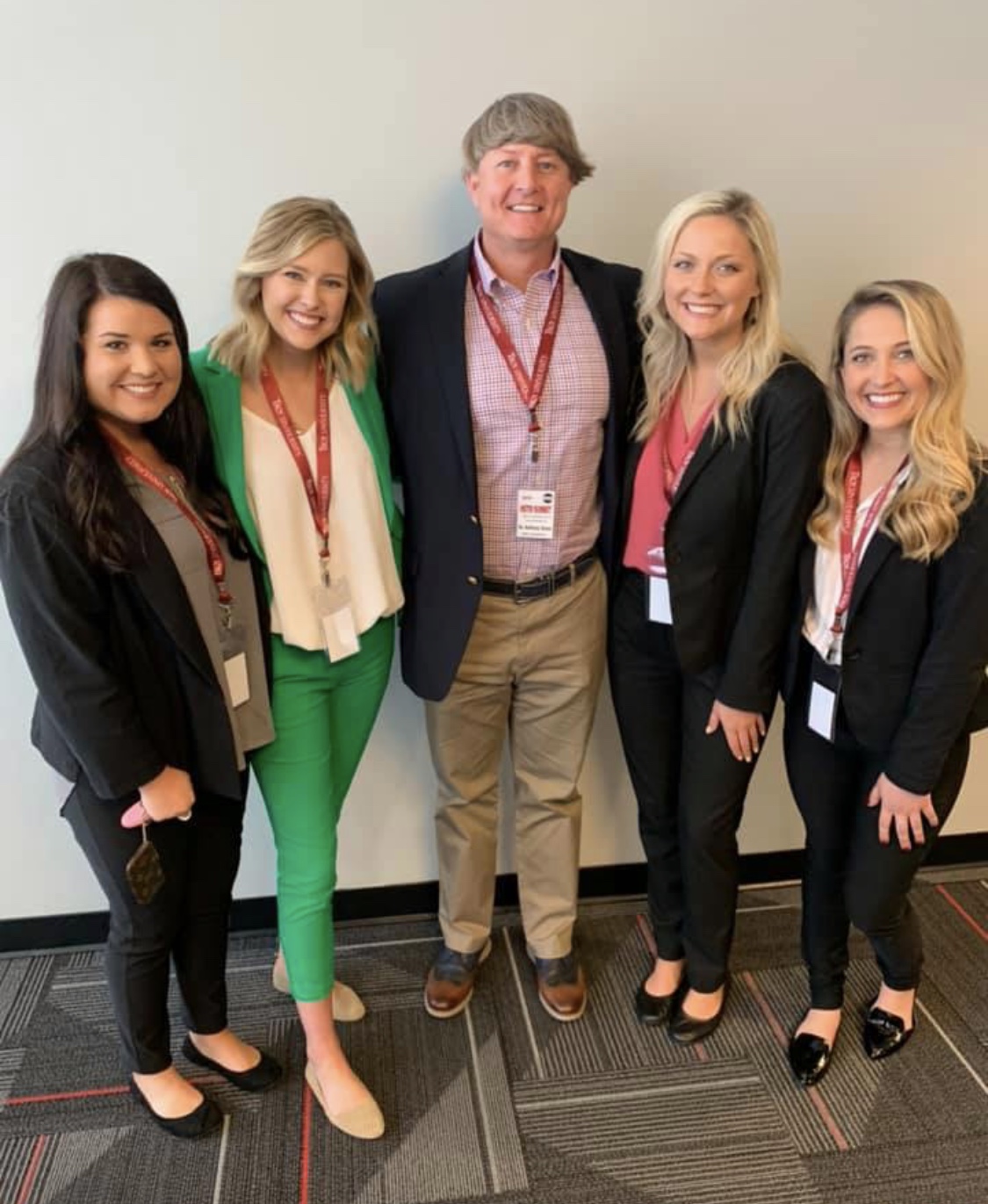 The Posh Plantation team with Dr. Dixon after their presentation had concluded.
HSTM Summit
Each semester, the HSTM Summit is held to allow our senior students the opportunity to present their business plan projects to a panel of faculty members. In the spring semester, there were eight team presentations and one solo presentation given. The students work diligently throughout the semester with faculty consultants to develop a business plan with components focusing on facilities, finances, and marketing. To conclude their presentation, they give an overall sales pitch asking the "investors" for support of their business based on the information they have presented. The floor is then opened for an intensive question and answer session to make sure the teams are well prepared and understand their business plan fully. Students came up with some great business ideas; we saw presentations ranging from The Yard, a food truck park eatery with a bar concept, to a team wanting to advance a Division II university to Division I. The ideas are limitless and it is always fun to see what the teams come up with each semester.
This is always a great event for the School of HSTM as all students are expected to attend, learn, and participate. Many of the students find watching the presentations to be of value to them for when it comes their turn to complete in the HSTM 4499-Seminar course. Once students successfully complete this major project, many feel a huge sense of relief as they realize graduation is waiting for them just around the corner. Thank you to our Event Management course students for organizing and hosting this elaborate event for us.
HSTM Banquet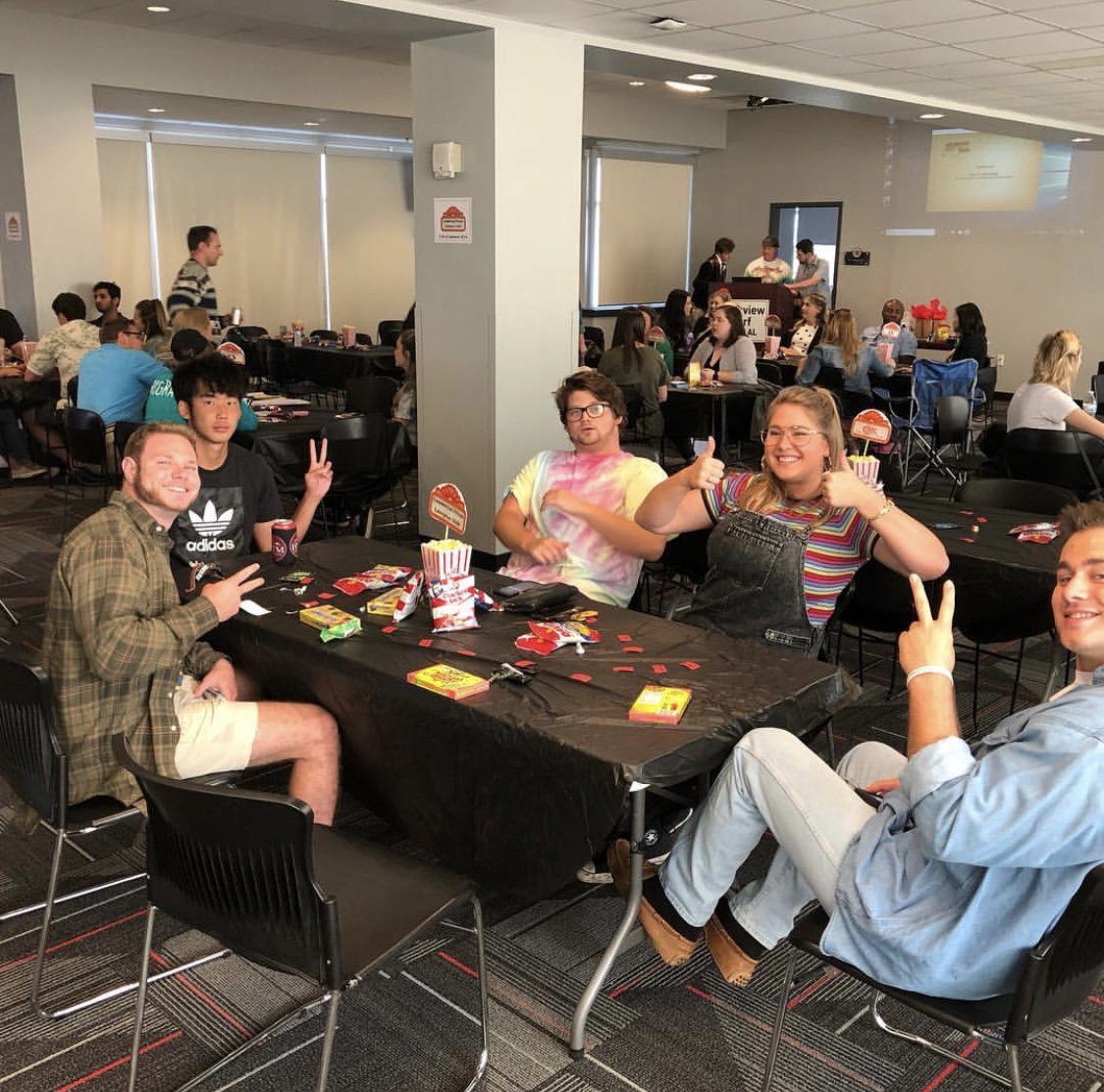 The HSTM Banquet was held the evening of April 17th after the events of the HSTM Summit had concluded. This event also served as another opportunity for the students in the Event Management class to plan and host an event from start to finish. Every year, a theme is chosen for the celebration and this year's selected theme was "Back to the Future" Students and faculty members were encouraged to dress in clothing from their favorite decade. This was a fun, celebratory event for our students to be praised for all of their hard work and accomplishments over the past academic year. Dr. Dixon shared a few words with everyone, awards were given out to students and delicious food was catered by Sips on the Square. In addition to food and awards, we also had fun playing 80's and 90's trivia and the students got a good laugh as the professors participated in a game to award superlatives again this year. All in all, this was a great event and those involved enjoyed themselves.
HSTM Internship Success Story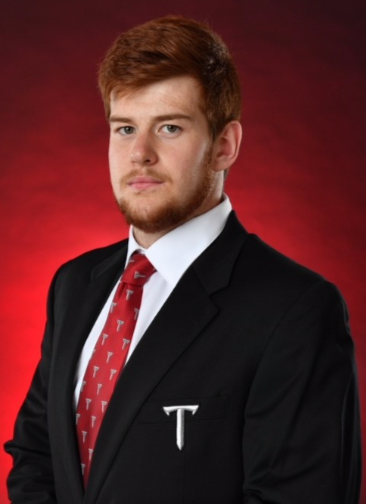 While finishing my last semester of undergraduate studies as a part of the School of HSTM, I started my internship with the Troy Athletics Development Staff. This role had many different components such as; premium ticket sales, relation building, event planning and management, and suite responsibilities. Each day came with a new challenge or situation that I was given the freedom to think creatively to fix. With the previous work experience in ticket sales, recreation, and in bar management, I had a set of skills that allowed me to be successful. During this 16 week period, the experience and knowledge that I gained will be invaluable to my career moving forward.
During my internship, I was given the opportunity to take on tasks that were above and beyond the normal duties of an intern. My mentors were using these tasks as a way to gauge the possibility of being an asset to the Troy Athletics Department. They gave me the opportunity to plan an auction, sell premium seats for football, manage local donors, manage suites, and run the Leadership Scholars/ volunteers. Based on my performance during this time period, they offered me the Graduate Assistant position for Development. I will be continuing my work with premium ticket sales, gift solicitation, financial management, and suite management. With me being the new graduate assistant, they are looking to expand my role with development even further than before.
I hope to use this position to springboard me through the development ranks in collegiate athletics. One day I would like to be an Athletic Director at a Power Five Conference school. This would not have been possible without the instrumental role the faculty of the School of HSTM played. While the classes and work may seem excessive, the lessons that they teach transfer into the workplace and life in general. The small things they harp on are the things that set you apart from your peers. They provide you with the knowledge and tools to become an invaluable part of the work force. As Dr. Mathner always says, "Drink the Kool-Aid".
2019 Internship Placements:
Sheila Blanchard: Housman & Associates
Leander, TX

Alex Breitling: Troy Athletics - Compliance
Troy, AL
Josie Boyd: St. Joe Club & Resorts - WaterSound Beach Club
WaterSound, FL
Richard Broady: Xtreme Fitness & Performance
Birmingham, AL

Yana Cai: LongYang District Huadu Hotel
Baoshan, Yunnan
Leah Calvert: Pike County Chamber of Commerce
Troy, AL
Yilin Chen: The Westin Pazhou Guangzhou
Guangzhou, Guangdong, China
John Conner: Troy Athletics - Equipment
Troy, AL
Jiaqi Duan: Nan Shan District Tennis Center
Shenzhen, Guang Dong

Leah Ellison: Soleil Management
Rosemary Beach, FL

Alex Finch: Edge @ Troy Apartments
Troy, AL

Brantley Fraker: Charlotte Independence
Charlotte, NC

Madison Friedman: Troy University - Student Athlete Services
Troy, AL
Bo Gaston: Baytowne Adventure Zone
Miramar Beach, FL
Claire Graves: Campus Outreach
Birmingham, AL
Matthew Hartigan: Troy Athletics - Compliance
Troy, AL
Brian Hodge: Troy Sports Properties
Troy, AL

Jason Leverson: Troy Athletics - Football Operations
Troy, AL

Carlee Lipscomb: Spectrum Resorts
Gulf Shores, AL
Peyton Loyless: Montgomery Area Chamber of Commerce
Montgomery, AL
Megan McFadden: Troy Athletics - Compliance
Troy, AL
Kelsey Miller: University of Southern Mississippi - Ticket Office
Hattiesburg, MS
Ankissa Mounsesse: L'envie Restaurant
St. Jean, Valence

Thao Nguyen: Binh Thuan Branch Dessole Beach Resort Muine
Phan Thiet, Binh Thuan, Vietnam

Matthew Pisarski: Souris Valley Sabre Dogs Baseball Club
Minot, ND

Percy Richards:Troy Athletics - Ticket Office
Troy, AL

Ella Rutledge: Fernwood Country Club
McComb, MS
Michael Stopak: Breckenridge Recreation Center
Breckenridge, CO

Madison Taylor: Honest Tea
Los Angeles, CA
Douglas Thomas: Tallassee Parks and Recreation
Tallassee, AL

Rodney Thrift: Troy Athletics - Track & Field/Cross Country
Troy, AL

Tate Upton: Pike County District Attorney
Troy, AL

Josh Whitehorn: Bismark Larks
Bismark, ND
Qianqian Xia: Chongqing Athestel Hotel
Chongqing, China
Yiwen Xu: DoubleTree by Hilton Chongqing Wanzhou
Chongqing, China

Yingqian, Yang: DoubleTree by Hilton Chongqing Wanzhou
Chongqing, China
HSTM Alumni Spotlight
Cor'Darious Washington, Membership Associate - Atlanta Hawks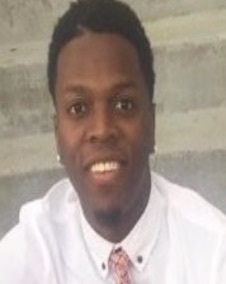 Cor'Darious graduated from Troy University in the Summer of 2018 with a Bachelor of Science in Hospitality, Sport, and Tourism with a concentration in Sport Management.
What is your job title and how do you believe you have adjusted so far?
My title with the Atlanta Hawks is Membership Associate. I have been here just over three months. I have adjusted well to my new role and change of scenery. My most essential duties are cold calling Ticketmaster buyers and prospecting different businesses in the Atlanta Metro area.
How did your experience at TROY help you prepare for your current position?
My experience as a Troy University HSTM student played a tremendous role in preparing me for my current position. The HSTM program not only gave me knowledge of the sports industry, but also the importance of carrying myself in a professional manner throughout the entirety of my career. The current HSTM students will soon realize that they have a staff that is not only teaching them a profound discipline but also preparing them to enter the workforce. I am truly honored to have been a part of the program. Go Trojans!
What are some challenges you have faced within your first few months on the job?

Some challenges I have faced include adjusting to a lifestyle that flows at a much faster pace than what I was previously used to and living in Atlanta, which is a much larger city than I was used to/ During my first few weeks of training, I faced mental challenges because of the large amount of information I needed to grasp in a very short amount of time. Lastly, I have realized that all the hard work I put in throughout my undergraduate years has finally paid off. It was important for me to realize that I needed to present myself with confidence in my new work environment.

Is your current position everything you thought it would be?

Honestly, because of my experiences through the Sport Management program, and working with the Troy Athletics ticket office, I believe I had a pretty good idea of what to expect out of this position.
Fletcher Whiddon, Sales Representative - Daktronics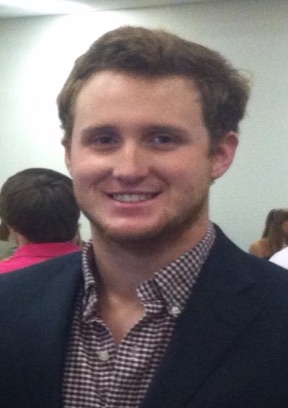 Fletcher graduated from Troy University in the Spring of 2018 with a Bachelor of Science in Hospitality, Sport, and Tourism with a concentration in Sport Management.
What are some of your duties as a Sales Representative of Daktronics?
My role in the company is to sell our products. I am in charge of the Louisiana and Mississippi regions and I manage those customers accounts as well as create new ones. I travel a lot within the two states cold calling and trying to spread the word about our products. Being though we sell scoreboards and scoring equipment I mainly work in the high school and community college market.
How did your experience at TROY help you find your first position after graduation?
I actually started an internship with the company before I graduated from Troy. As most HSTM students know you have to find an internship before you graduate. If it wasn't for this rule and my professors forcing me to be active in searching, then I would've never found the internship. After graduation and the internship, I applied for the regional sales position and I got the job. What prepared me the most was prepping for interviews in Senior Seminar. That class gave me the tools I needed in order to do as well in the interview process as I did.
What has been your most memorable experience since graduating from TROY?
Upon graduating from Troy in May I still had to fly back to South Dakota to complete my internship, I needed to get through August until it was over. During the summer I was able to travel all over the country because of the trade shows and demonstrations we do to showcase our products. I traveled to Oakland, San Fransisco, Las Vegas, and Washington DC. While they were business trips and not vacations, I still was able to experience new parts of the country as well as enjoy down time in each of my visits. I was lucky enough to be in Oakland the day of the Golden State Warriors Championship parade. That was an experience I will never forget.
Corrie Musgrove, Event Sales Consultant - GoPro Event Solutions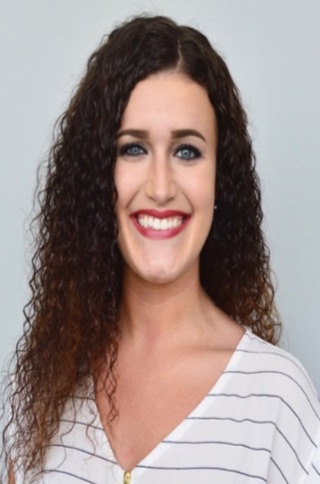 Corrie graduated from Troy University in the Spring of 2017 with a Bachelor of Science in Hospitality, Sport, and Tourism with a concentration in Hospitality Management.
What are some of your duties as the Assistant Director of Communications?
I wear many hats at my job because every event we do is different and my duties are always changing. We manage two event venues so I answer inquiries, conduct tours, and book events on a regular basis. I have taken on the task of revamping our social media and running all of those accounts. We do a variety of events such as large multi day corporate events, holiday parties, festivals, grand openings, weddings, fundraisers, and social events. With these my duties can include gathering proposals from vendors, managing registration plans, recruiting sponsors, and marketing to name a few.

How did your experience at TROY help you find your first position after graduation?
I discovered the company I work for through a friend who worked here previously. My experience at TROY, specifically in Seminar, is what I believe ultimately landed me my position. I cannot thank this class enough for the resume, cover letter, and interview skills we learned.

If you could give HSTM students one piece of advice, what would it be?
I believe the most important piece of advice I can give is to gain as much work experience as you can in college. Volunteer for things that would look good on your resume and take advantage of any internship opportunities you can, paid or unpaid. A connection I made at my first internship as a 20-year-old, with no pay or school credit, is what got me the position I have now. Best of luck to all of you!
Where are the HSTM Alumni now?
Maria Barnett (2019): Portofino Island Resort, Special Events Sales and Service Manager
Pensacola Beach, FL
Jared Dunn (2019): Troy Athletics Development Office, Graduate Assistant of Development
Troy, AL
Logan Dunn (2019): Monroe County Chamber of Commerce, Marketing and Membership Coordinator
Monroeville, AL
Matthew Powers (2019): Fayette County Parks and Recreation, Athletic Coordinator
Fayetteville, GA
Erika (Quinn) Allen (2018): Marathon Health, Practice Support Specialist
Chattanooga, TN

Baylee Smith (2019): The Club, Event Coordinator
Birmingham, AL
Josephine "Joie" Tucker (2019): Birmingham Barrons, Catering Manager
Birmingham, AL
If you are an HSTM graduate, please let us know of your career updates by emailing Morgan Sims at masims@troy.edu.