TROY Refunds
Student refunds/ BankMobile
To receive any refunds from the University, a student must select his or her refund preference with BankMobile. For more information about BankMobile, visit this link: http://bankmobiledisbursements.com/refundchoices/.

First, check the mail for your Refund Selection Kit, arriving in a bright green envelope. This will be sent to the address that you have on file with the University. You will also receive a Personal Code by email which will be sent to the email address on record with the school.
Once it arrives, simply follow these steps to make your refund preference selection:
Visit Refundselection.com
Enter your personal code (Found in your Refund Selection Kit)
Select how you'd like to receive your money
Your options for receiving your refunds are:
Deposit to an existing account – Money is transferred to an existing account the same business day BankMobile receives funds from your school. Typically, it takes 1 – 2 business days for the receiving bank to credit the money to your accoun
Deposit to a BankMobile Vibe account – If you open a BankMobile Vibe checking account (upon identity verification), money is deposited the same business day BankMobile receives funds from your school.
---
Frequently Asked Questions
The most common type of money BankMobile disburses to students is funds left over from financial aid offers, loans or grants after tuition has been paid. Other types of money may include reimbursement for tuition overpayment or a dropped class.
Mail: Look out for the green envelope, your code will be sent to the address you have on file with Troy.
Email: BankMobile will send you an email with your code.
On Demand: Visit refundselection.com and click on the Need a Code?
You may use any personal code assigned to you to make your refund preference selection.
Delivery of refund money is a multi-step process. First, TROY draws funds from the respective loan and/or grant provider and applies it to your student account. Once this information is verified, it is sent to BankMobile. Once the specific refund information is received, it is processed and disbursed according to your selection.
Yes. Just log into RefundSelection.com and select "refund preferences" from the "Refund" menu option. Once on the page, simply make your new selection and click "Update Preference" button to complete the process. Be aware that your selection will only impact future money you receive from TROY.
BankMobile will send you an email to the address you entered during setup. You can also view the status online at RefundSelection.com.
No. If you select the BankMobile Vibe account when you make your refund preference, a Debit MasterCard will be sent to you and linked to your Vibe account. BankMobile will send a temporary virtual Debit MasterCard to use until your physical card arrives in the mail.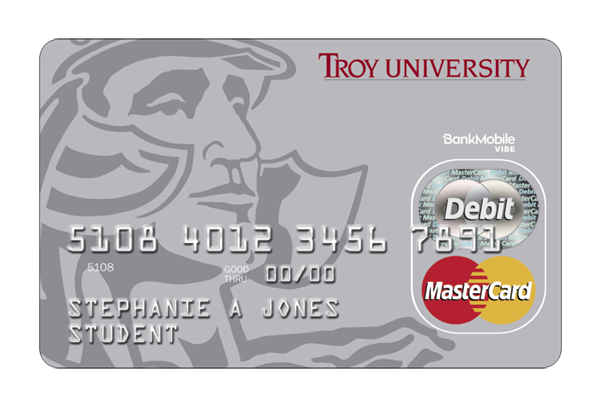 Designed exclusively with students in mind, BankMobile Vibe is a checking account that offers the power to bank anywhere, anytime.
Yes. The BankMobile Vibe checking account has a $2.99 monthly service fee, however, you may avoid this fee by making Qualifying Deposits totaling $300 or more per statement cycle. Qualifying Deposits include direct deposit, transfers from external bank accounts, check deposits, point-of-sale deposits and cash deposits such as those made via Green Dot® Reload @ the Register™. Financial aid refunds or other refunds issued by your school, interest earned on your account, promotional credits such as cash back offers, internal account transfers, fee waivers, fee credits, returned items or dispute credits are not eligible toward the $300 in total deposits. For more information, see the BankMobile Vibe Checking Account Fee Schedule and Interest Rate Information and Account Terms and Conditions.
Allpoint provides you with the freedom to get your cash where you want, when you want, wherever you are without the ATM fees. With over 55,000 ATMs in the Allpoint Network, your cash is never far away. Just look for the Allpoint logo or, better yet, use the locator tool at http://allpointnetwork.com or the mobile app to locate the nearest Allpoint ATM.
To view our institution's contract with BankMobile, a division of Customer Bank, click here.