Charles Cahn Baum and Family Atrium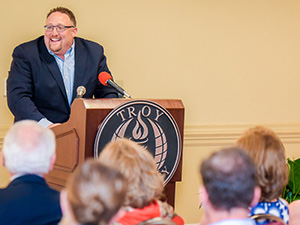 David Shapiro
Thank you. I feel incredibly fortunate to be introduced by a classmate of 12 years, a friend for decades, and someone I've known as family for most of my life- a person whose understated wisdom, drive, and pure goodness inspires in his roles now as an educator, brother, son, father, husband and friend.
And Patti, it is a tremendous honor and one I do not take lightly to be asked to speak today, with so many branches of the Baum family tree, in friendship, heritage, blood, and common purpose in attendance.
Thank you for creating this extraordinary weekend of learning, loving and togetherness. And thanks to John and Sylvia for spending time with me thinking about how best to express this moment together.
Thanks to the museum and the leaders and supporters who protect and grow the legacy of Rosa Parks historical impact through preservation and education.
To be in this city, in this place which celebrates righteous struggle, deliberate sacrifice, the stubborn progress of racial equity, and ultimately activism for universal human rights.
To me and I'm sure to many of you, especially in this time and with Charles in our hearts and minds, it just feels like home.
I share with many of you growing up in Baltimore.
And I received what proves to be one of the greatest forms of inheritance- social capital- the support and love of the close friends and colleagues of my parents who in a few cases we called Aunt and Uncle.
So, Charles was Uncle Charles.
He was boiled peanuts, Alabama football, Princeton, Bill Bradley, the Orioles, the New York Times, strategic incompetence, and so much more.
And for me, I will never forget Uncle Charles- about the time I started high school wrestling and football until the last time I saw him- would always put his hands around my neck and ask me where my neck went.
Anecdotally, that was what he was like- but it doesn't capture who he was and how he lives in all of us.
And here's where it gets a little harder- talking about the essence of man and how it brings us to the Rosa Parks museum today.
And that through line probably goes in many different directions for all of us.
But it begins for me with laughter, a twinkle in his eye, pride in where you come from, intellectual curiosity, and above all else, consistency and authenticity.
You can sense that when you're coming up- which adults seem comfortable with you and comfortable in their own skin- and boy did Uncle Charles.
And he occasionally teased my dad which is something you always take notice of as a little kid.
He was an advisor and friend to so many. Because in order, to be great in either role, one must have a real sense and embrace of self.
This carried over into much more serious matters as Charles reflected on being a White Jewish Southerner living in the times this museum calls us to--- and whose monuments to tragedy and triumph are noted and unnoted throughout the South and beyond.
Patti shared with me a letter- some of you heard Beth read it at his memorial- that Charles wrote to a friend who inquired about growing up in Montgomery.
One would expect even the slightest hint of backward looking dramatic hyperbole but not Charles. We have seen in books and movies, our history of elevating the status and role of white people as allies when we look backwards. But again, not Charles.
He owned who he was in his typical plain-spoken wit writing to his friend who had just seen the movie Selma, "The movie which captures me and my family is not Selma but Driving Miss Daisy."
When you hear that line, it so brilliantly captures his voice- true and authentic. It's like he's here. Charles goes on to describe he and his family as politically aligned with the plight of black southerners and imbued with values of kindness and sympathy but he also makes this assessment: "What we were not was brave. Nor courageous. Nor willing to risk our own comfort for a greater cause."
He concludes the letter talking about being haunted by the words of Dr. Martin Luther King Jr.: "History will have to record that the greatest tragedy of this period of social transition was not the strident clamor of the bad people, but the appalling silence of the good people."
This feels heartbreaking or equal to regret… But it's not because it brings us to this day.
It is the powerful bridge Charles created- because he had the clarity, the authenticity, the humility to self-examine like very few and to likely serve as a harsher judge of himself than anyone else.
As we look around our own lives and this time in humanity and leadership, we can agree that this amount of levity, lack of hubris, self-awareness is badly needed and Charles has shown us the way and called us to it.
He has shown us how our honest self-assessment can lead to productive action, to awakening, and to teaching as this museum does with so many young people through its many education programs.
Charles calls us to celebrate activism as we do in this place and with this new support for the museum. It awakens in our hearts the unending potential for taking action, that course correction is always within our grasp, and that regret need not be a wasted emotion but one that summons our best.
Rosa Parks' life demonstrated that as well as anyone. Hers was not a linear journey to one celebrated random action.
Rosa Parks lived and learned, perfected her skills as an activist and a pioneer, whether being mentored by Ella Baker or mentoring Fred Gray, and when her time came she was thrust into a spotlight she never sought.
She perfected a soft-spoken but strong willed and driven style of activism beginning in her youth. And her life, even her marriage to Raymond was guided by this sense of self, this heroic intentionality, of who she was and needed and wanted to be in the world as a champion for equal rights.
It takes discipline and consistency to create change and the actions aren't always celebrated or even realized in our lifetimes.
As the renowned sociologist Harry Edwards said, "Follow through is the difference between a mob and a movement." Rosa followed through. Charles is following through.
And as I reflect on Rosa's journey and Charles' honoring of her legacy and the movement, I reflect on the good fortune that has me standing before you all today.
I've been lucky my whole life to be surrounded by love, stability, and the security to dream and course correct. Anything I am able to pursue is rooted in that above all is else and it is represented by my dad and so many of you in this room.
My work has been in trying to close the mentoring gap for our young people so they have the relationships to strive and thrive.
Throughout the country as we work to advance the mentoring movement, whether with the program Growing Kings down the road in Birmingham or with President Obama's My Brother's Keeper effort, I have seen the power of relationship to break down otherness.
Connection confronts destructive isolation. And it is both an individual and a communal action that requires a commitment from all to try to figure out how we broaden and make more forgiving the pathways to thriving and striving.
I learn every day from bearing witness to courageous, resilient, innovative parents, educators, public servants, organizations and communities that show the way to solutions day in and day out.
Rather than leading with the easy elixirs of division and fear, they show how we thread together our common humanity, prosperity, and shared fates as did so many of the everyday heroes of the Civil Rights movement.
Today we bind together two great mentors.
My faith and resilience has never been tested in the way that Rosa's was. But I am immensely inspired by it as was Charles and I know all of you. And it is our place on this earth to honor, elevate, and extend all it represents as is done in these halls.
Our hope, represented in this Atrium, is that this dedication of a physical space leaves us all re-dedicated to celebrate the heroism of those who work for--- not what we are--- but what we can be, whose values are rooted in a belief in equal human rights, who seek to alleviate the plight of others, not demonize them and cast blame.
We had the privilege to spend time with the Equal Justice Initiative today. In his recent seminal book Just Mercy, Bryan Stevenson, in depicting his own discovery of the grossly uneven hand of justice for the poor and people of color, recounts a woman named Mrs. Jennings. She explains to Bryan why she has taken on the plight of a young man who is not her own.
She says, "Bryan, some have been through more than others. But if we don't expect more from each other, hope better for one another, and recover from the hurt we experience, we are surely doomed."
Our time here today, Rosa's legacy, and lessons Charles drew from his own life--- make clear that we must not only expect but demand more from ourselves and others in support of all people and find ways to ensure our paths cross, our fates are bound, and our prosperity is better shared.
To empower those whose possibility and mere presence are too often in peril.
To demonstrate that we were given two arms, one to reach forward and one most certainly to reach back.
And that goes for our individual action but also the approach we expect from a smart and humane government.
Rosa Parks took time to learn from others who came before, to be grounded in the history and culture of a grassroots movement. She served as a mentor to teens, organizing youth conferences and other events. She was a collaborator, participating in trainings and strategy sessions designed to determine the most effective way to move forward.
Charles was a hero to family and friends, a role model to me and many because he knew who he was, knew where he came from, had a kindness and clear perspective, and no matter what he accomplished or where he was, he sought to do more and today he crosses that bridge celebrated in the hero's journey.
At the end no matter how winding and challenging the journey, the hero always returns home transformed in ways that benefit others.
This is Charles legacy in celebrating Rosa's and the movement- it lives here and it lives within all of us as friends, loved ones, descendants, and keepers of the flame.
Uncle Charles, you remind us that every day and even in passing, we can confront Dr. King's description of "appalling silence," examine our own actions, and raise our voices to confront injustice on behalf of not only our neighbors but those we may never know.
Thank you for the gift of your life, love, and inspiring gift to honor and elevate the heroes amongst us and those we miss like you and Rosa who did it your own way and elevated all around you now and forever.
Thank you.