Charles Cahn Baum and Family Atrium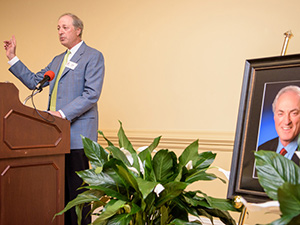 John Baum
I was only 5 years old when Rosa Parks refused to relinquish her seat on the bus. I have no real recollection of that event or the boycott which followed. I do recall, however, as a young boy, going to the Empire Theatre, which was an all-white theatre. Today, the Rosa Parks Museum now stands where that theatre was located.
When Sylvia and Charles graduated from Sidney Lanier H.S., it was all white. By the time I graduated, it was integrated.
In this audience today, are several African-American men and white Jewish men, all from Baltimore, who are members a group, known as the HeBros. Charles loved being a member of the HeBros. The group was formed for the purpose of fostering camaraderie among African American and Jewish men, who meet to discuss politics and civil rights, all the while making an attempt at playing golf.
In the audience is a black woman, originally from California, who was determined to be here today, and on her way, was particularly determined to visit the Tuskegee Airman National Historic Park,…, to stand on the site where her father trained as a WW II pilot.
Also, in the audience is a white man from Baltimore, who devoted his career to being a civil rights attorney, and has recently published a book about the plight of African Americans on the Eastern Shore of Maryland faced with segregation, Jim Crow laws and lynchings.
And the reason all of us are here today, some 60 years after a black woman refused to give up her seat to a white man,… is that a white woman made a very generous gift to the Museum, which honors the courage and deeds of that black woman…. And this Museum is recognizing that gift by naming its Atrium in the memory of a white man…
All of this is to say, that the arc of the moral universe, which Martin Luther King spoke about, is, indeed, long,…. but it does bend towards justice and equality. Sometimes it does not bend as quickly as we would like, but the presence of all of us here today is a vivid demonstration that the arc does continue to bend in the right direction.
Rosa Parks once remarked: "Memories of our lives, of our works and our deeds will continue in others."
There is no better illustration of remembering Charles' life and his good deeds, than Patti's gift to the Rosa Parks Museum.
On behalf of our extended family, Patti, I want to thank you for what this means to us. First and foremost, Charles would be immensely pleased and proud to have the Atrium named in his memory. He also would be very happy that Patti's gift will be used to fund camp activities for children, so they can learn more about the civil rights mission, and about Rosa Parks and other civil rights leaders.
Charles' lifetime connection to Montgomery and his commitment to social justice and civil rights make the gift to this place especially fitting.
Our Mother and Father would also be very proud to have our family name associated with the Rosa Parks Museum. Our parents lived their entire lives here; they were well known for their participation in various community and charitable activities.
Charles was proud of his Alabama roots, and his connection with Montgomery was maintained over the years through numerous visits with Jane, Katie, Matt and Deb, Patti, Staci and Andy, Beth and Dan, and also, of course with Bea and Max. (Charles, and all of us, loved the fact that there is another Max Baum…)
And that is another reason to thank Patti for her very thoughtful and meaningful gift. Her actions have, literally, produced a pilgrimage to Montgomery this weekend. I look out and see scores of out of town friends and family. I also see dozens of Charles' Montgomery friends with whom he maintained close contact throughout his lifetime.
There are three Baum family generations here, and it is especially heartwarming to see so many members of the third generation. For many of this youngest generation, this is their initial visit to Montgomery, and has been a wonderful opportunity for them to meet and play together for the first time. Included in this third generation is our grandson, Alex, whose 3rd birthday happens to be today. Also, our granddaughter, Charlotte, who was named for Charles…
So, Patti, we had much to be thankful for, when Charles brought you into his life and into our family, and now we are so very grateful for what you have done to maintain Charles' legacy, here, in our hometown.