Charles Cahn Baum and Family Atrium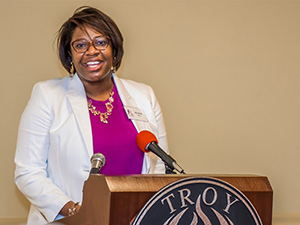 Dr. Felicia Bell
Good afternoon. Thank you all for joining us this evening. It's so good to see the Baum family! Patti was so kind to invite my staff and I to dinner last night with her family. I don't think I've ever met an entire family who was so friendly and welcoming! It was an honor to share your company.
I have had the privilege of serving as the director of the Rosa Parks Museum for almost two years now. Troy University has entrusted me to honor the legacy of Mrs. Parks by providing a platform for scholarly dialogue, civic engagement, and social activism for today's Civil Rights Movement. We meet this mission every day whether we give tours to groups of boisterous 4th graders, or when Troy University students give theatrical performances of different characters of the boycott, or when we open a new traveling exhibit in our gallery, or when we have a community forum about human trafficking. The museum serves as a living memorial to Mrs. Parks.
About a year ago, I was sitting at my desk conquering a normal 90-mile-an-hour day at the museum when the phone rang. On the other end of the line was the soft voice of a woman who introduced herself as Patti Baum. As she began to tell me about her husband named Charles who had recently passed away, I began to hear the heaviness of grief in her voice. At that moment, my 90-mile-an-hour day came to an abrupt halt and I began to pray. I asked God for guidance of how to comfort this woman and at the same time gain her trust. She told me about how Charles always wanted to do more to be involved with the Montgomery Bus Boycott and the Civil Rights Movement and she wanted to make a gift to the museum in his honor, specifically to educate and celebrate the diversity of children. Over the course of several months, I gained Patti's trust and friendship. I promised her that we would work diligently to ensure that her gift of $100,000 would honor Charles' wish to be active in the ongoing fight for civil rights.
Thanks to the generosity of Patti and Charles, last year we started a three-day summer camp for children in grades 6-8. It is modeled after Mrs. Parks' training in non-violent civil disobedience at the Highlander Folk School in Tennessee. We hired experts to conduct workshops with the children and teach them about diversity appreciation and acceptance as well as non-violent conflict resolution. At the end of the third day, one of the children asked me, "Are we coming back tomorrow? This is so cool!" So we know we're making a positive, memorable, and lasting impact on their lives.
Many of you have been so generous and have made a contribution to the Rosa Parks Museum in honor of Charles and we are so grateful for that. It will be used to create, develop, and expand our various educational programs. If you have not yet had the opportunity to make a contribution, please know that your generous gift or pledge today along with the others we've received will have just as much meaning and impact as Patti's and Charles'. Perhaps with your gift we can extend our three-day summer camp to a week or upgrade the technology throughout the museum or bring more powerful exhibits to our gallery or reach beyond our state and partner with museums in your community and other parts of the world--as Mrs. Parks' legacy is far-reaching. Think about the difference you can make in the life of a child or an adult who can benefit from our mission. While you are enjoying the reception tonight, we have pledge cards available for you in the atrium and we certainly appreciate your support and generosity.
We're so pleased to host you this weekend and do hope you enjoy your experience at the Rosa Parks Museum.