Charles Cahn Baum and Family Atrium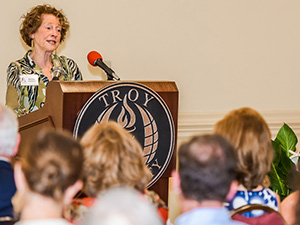 Sylvia Horowitz
With all due respect to one of the South's most acclaimed writers, Thomas Wolfe, I think this weekend attests to the fact that you can go home again. Charles, John and I – and many of our cousins – made life decisions that took us physically away from Montgomery, but much of what we experienced here growing up has remained deeply embedded in our hearts and souls. Ask our friends and relatives who tire of hearing what they think are our idealized stories and memories – but we insist, "No, it really was that way, that was our experience – our friends really were that wonderful, we really did have that much fun and life was really that good."
So when Patti chose Montgomery as the place to create a lasting memory of Charles, as the place to honor him, it seemed fitting. It's home in so many ways.
But Thomas Wolfe was also right because the theme of the book is that life is about change, and that's what we're here today to celebrate. Not all children in Montgomery were growing up the way we did – and many children did not experience the safety, comfort and security that we did. So today we're here to honor and pay tribute to the changemakers and to change itself. We want to honor the people who have taken risks and put themselves in harm's way and have worked to bring about change that makes life better for all of us – and the people who have made Montgomery a place more accepting of diversity. We feel pride to know that Montgomery is home to the Equal Justice Initiative, the Southern Poverty Law Center, the Rosa Parks Museum, the Civil Rights Memorial – and to many of our friends who have contributed in making Montgomery more open and inclusive. Charles and the rest of us are proud to be a part of this.
Martin Luther King said that one day the South will recognize its true heroes. We hope that today is a part of this recognition.