What is Title III?
"The purpose of the Title III Strengthening Institutions Program is to provide grants to eligible institutions of higher education to improve their academic programs, institutional management, and fiscal stability in order to increase their self sufficiency and strengthen their capacity to make a substantial contribution to the higher education resources of the Nation." (34 CFR 607.1)
What will the Title III Grant funds be used for?
The existing space located in the Rosa Parks Museum will be transformed into the new Center for Student Success, offering students a space where they can receive the support they need to succeed. Smart furniture with charging stations, strong wi-fi connections for students to work on assignments, full-time tutors, space for testing, academic and career counseling, mental health counseling, and disability services all in one central space. The Title III grant will bring much needed resources to students through a loaner laptop program, convenient study group spaces, a financial literacy program, an internship program, student success workshops, a mentorship program, the newest technology for tutoring and more. The new Center for Student Success on the 3rd floor of the Rosa Parks Museum will be available to all Troy University students.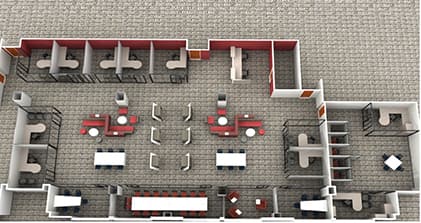 Renovation Updates