Welcome to the Division of Social Sciences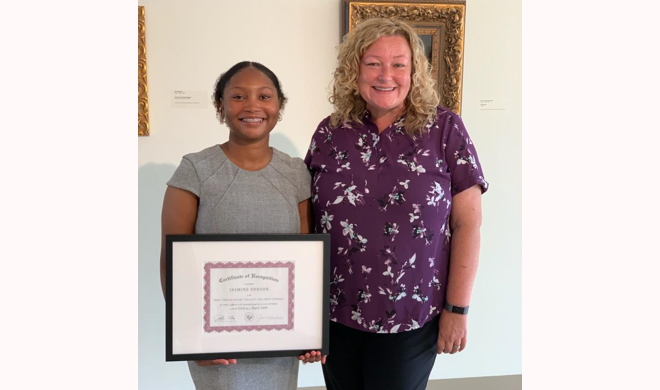 Sociology Student Receives Trojan Heart Award
Sociology Student Jasmine Denson Daughtry (left) was selected as the Best Overall receipient from 36 applicants for the Trojan Heart Award. Jasmine, who worked closely with her mentor Dr. Sharon Lindhorst Everhardt (right), earned the award for her work concerning food justice at Tutwiler prison and Valiant Cross Academy.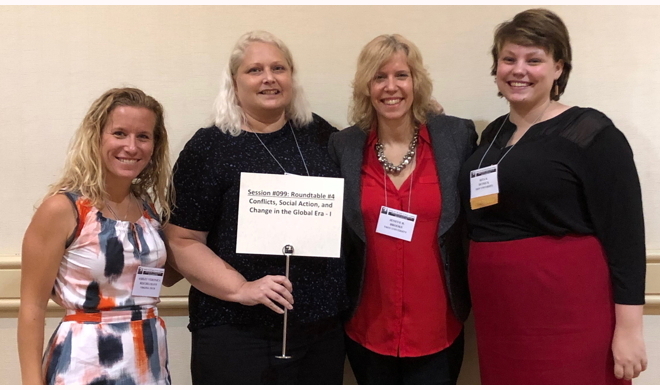 Students and Faculty Present Their Research in Philadelphia
Social Science Graduate Students Anna Lindzy (left), Rita Detrick (right) and Dr. Jeneve Brooks (center right) present their paper entitled God, Help Us: Utilizing Religion in Anti-war Music for Peacebuilding at the 68th Annual Meeting of the Society for the Study of Social Problems in Philadelphia, PA in August 2018.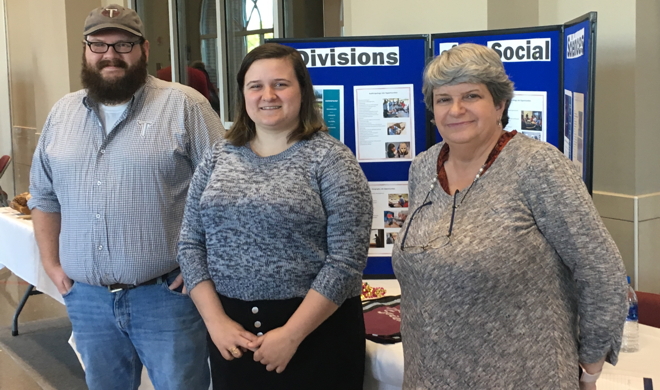 Social Sciences at Spring Trojan Browse Day
Anthropology undergraduate student Zach Smith (left), Sociology undergraduate student Courtney Bachelor (center), and Division of Social Sciences chair Dr. Annette Allen (right) spoke to prospective students about the social sciences at the Trojan Browse Day session in the Trojan Arena on March 23rd, 2019.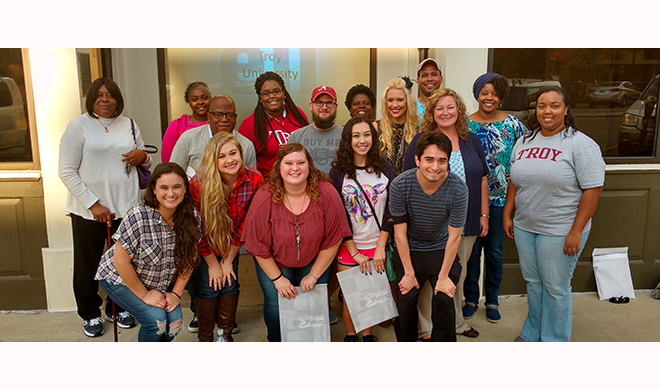 Troy Montgomery Social Justice Club Equal Justice Initiative Outing
Dr. Sharon Everhardt, Dr. Kevin Lynn, and the student members of the Social Justice Club visited the Equal Justice Initiative in October of 2017 to learn about the history of racial and economic injustice in American society.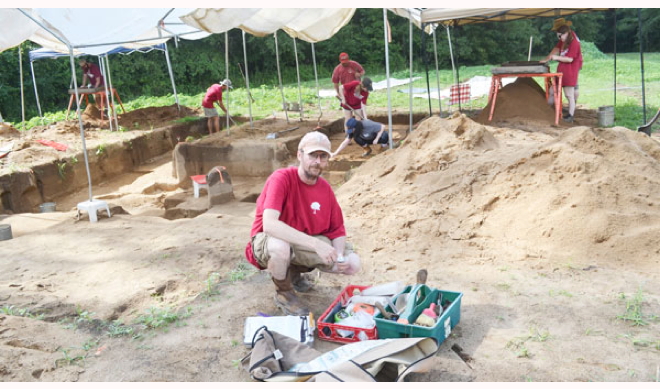 Jason Mann on an archaeological dig
Jason Mann and his students work at an excavation at a nearby archaeological site which dates to approximately 2500 BCE.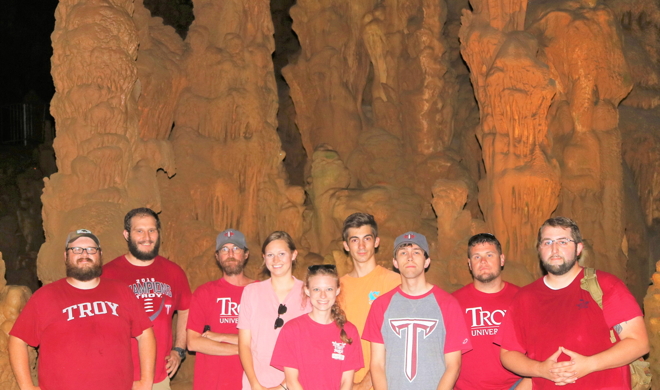 Anthropology Students Visit Cathedral Caverns
Jason Mann and his archaeological students were able to study the cave formations at Cathedral Caverns State Park during a contracted archeological survey conducted for the Alabama Department of Conservation and Natural Resources State Lands Division of State Parks.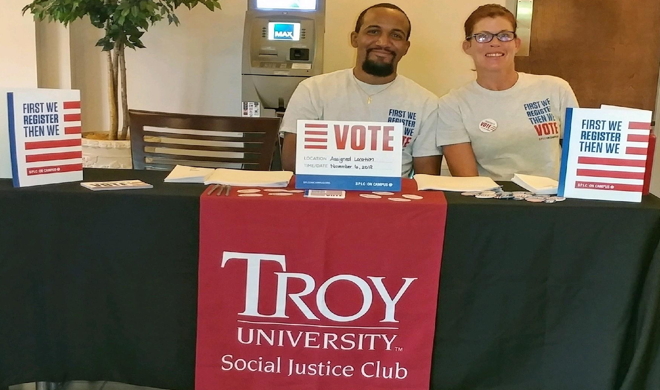 2018 Montgomery Campus Voter Registration Drive
Brandon Guy, Vice President of the Social Justice Club (left) and Chante' Pearson, President of the Social Justice Club (right) help to register students during the 2018 Montgomery Campus Voter Registration Drive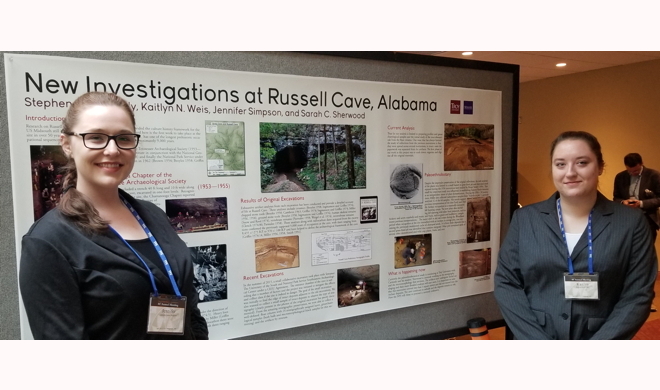 Students Present Their Research in New mexico
Troy University anthropology undergraduate students Jennifer Simpson (left) and Kaitlyn Weis (right) present a research poster entitled New Investigations at Russell Cave, Alabama at the 84th Annual Society of American Archaeology meeting in Albuquerque, New Mexico.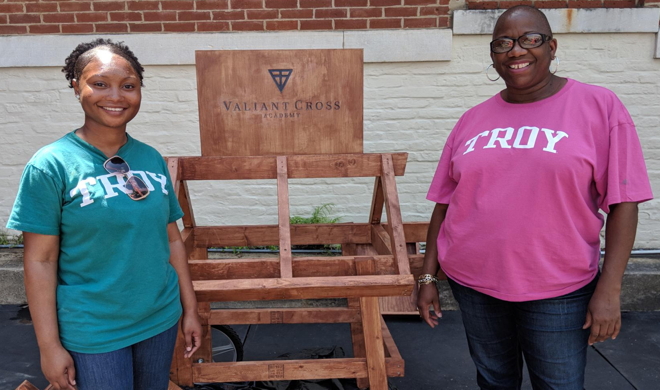 Sociology Students Work with Valiant Cross Academy
Sociology students Jasmine Denson Daughtry (left) and Sandy Simons (right) working on the Valiant Cross Academy Farm Stand to promote food security in Montgomery

The Social Sciences includes several disciplines that analyze society and the world around us. At Troy University, there are several core disciplines within the Division of Social Sciences. These include Accelerated Law, Anthropology, Applied Sciences, Social Sciences, Social Science Education, and Sociology.
Studying the Social Sciences uniquely prepares you for life in the 21st Century. A degree in the social sciences will teach you the latest research methods to address today's social problems in this increasingly multicultural and digitized era. We offer professional training in analytical software such SPSS and GIS. We also provide multiple hands-on research opportunities such as archaeological digs, focus group research in the community, applied sociological research projects, GIS mapping projects, and other community-based experiential projects.
Our numerous course offerings within the Division of Social Sciences are taught at the Troy home campus, the Troy Dothan campus, the Troy Montgomery Campus, and the Troy Online campus. We also offer a world class Masters in Social Science degree.
For information on the various undergraduate programs and the graduate program offered within the Division of Social Sciences, please feel free to contact us at socialsciences@troy.edu.