To our Audiences
It is our sincere desire to host live audiences for our 2021-2022 production season, and we are making every effort and taking all precautions to allow for us to return to that shared experience. We will continue to monitor the COVID-19 situation and respond and adjust as necessary, always with thoughtful consideration of our students, faculty, and community. Thank you for your continued support.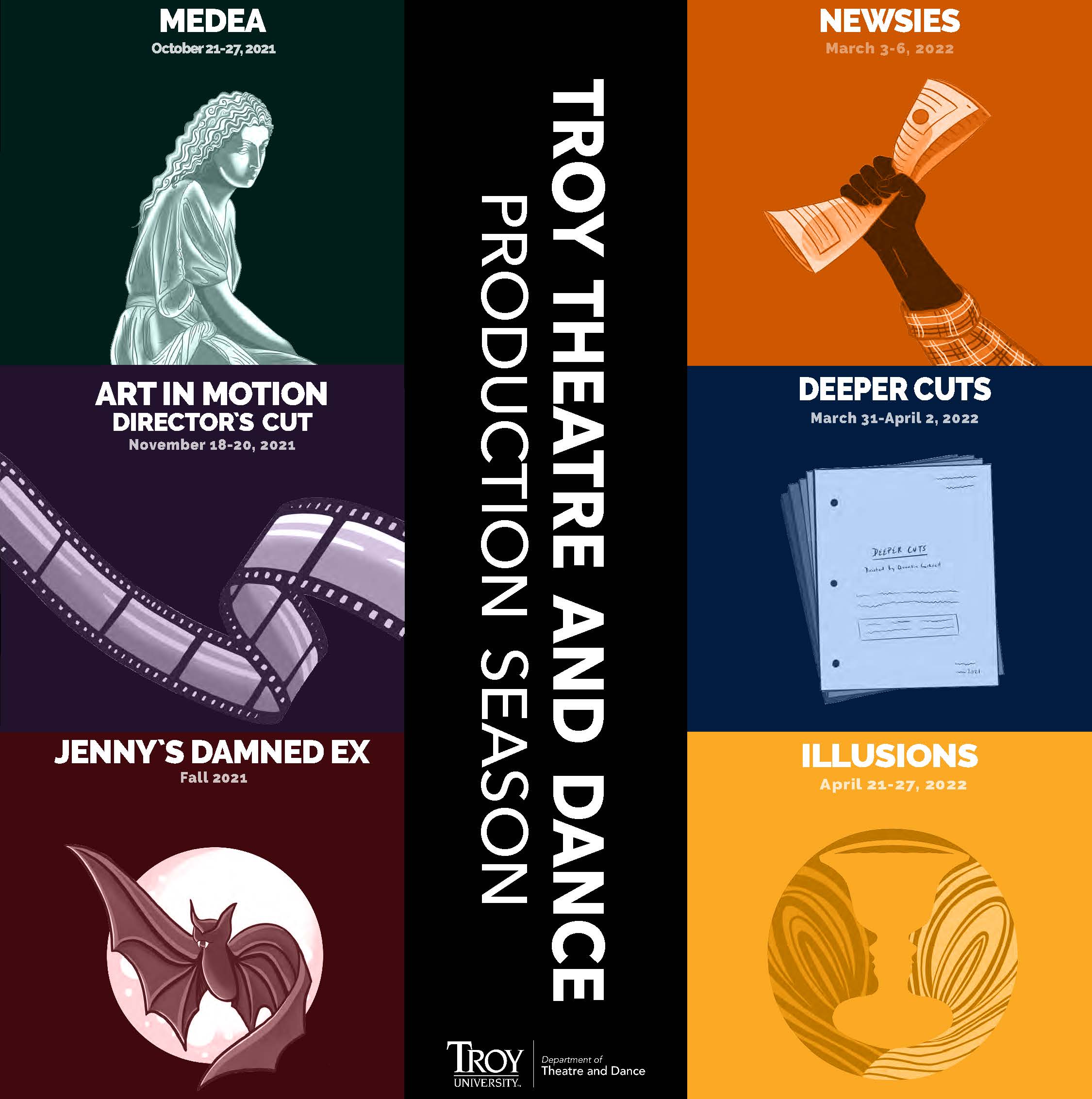 2021-2022 Production Season
Medea
October 21-27, 2021
Trojan Center Theater
The Classic Greek Tragedy by Euripides, Adaptation by Alistair Elliot
Directed by Quinton Cockrell
Page to Stage
November 4-5, 2021
Trojan Center Theater
A Short Play Festival directed by TROY Theatre students Sydney Cobb, Gracie Grant, Madeline Hill, Tyler Leary, Emma Littlefield, Tyreece Mayo, and Tyler McClellan


Art in Motion: Director's Cut

November 18-20, 2021
Trojan Center Theater
A Full Dance Production with Choreography by TROY Dance Students Mary Elizabeth Adams, Lexie Bowden, Ireland Clayton, Taylor Dewberry, Crystal DuBose, Alex Folkes, Caroline Gerhart, Maliya Harris, Erin Johnson, Michaela Pearse, Ethan Tyler
Artistic Direction by Adrienne Hicks
TICKETS ARE SOLD OUT



Jenny's Damned Ex

December 1, 2021

Trojan Center Theater

A New Musical Written and Directed by Tommy Newman
ONE NIGHT ONLY! TICKETS ARE LIMITED!



Newsies
March 3-6, 2022

Claudia Crosby Theater
A Musical with Music by Alan Menken, Lyrics by Jack Feldman, Book by Harvey Fierstein
Directed by Tori Lee Averett



Deeper Cuts
March 31 - April 2, 2022
Trojan Center Theater
An Acting Showcase Directed by Quinton Cockrell



Illusions
April 21-27, 2022
Trojan Center Theater
A Spring Dance Concert with Artistic Direction by James Boyd
---
Troy University Department of Theatre and Dance 2020-2021 Season
For Information Call 334-808-6142
A NOTE FOR OUR AUDIENCES: We are currently unable to host large audiences for live performances, but look for our productions to be shared via broadcast and online streaming. Links and information included in each production's description below.
---