Postcards showcased on the Traveling Exhibits
---
Montgomery - State Capitol Building
Montgomery, the current state capital and seat of Montgomery County was formed in 1819 by the merger of two villages, Alabama Town and New Philadelphia. Founder of New Philadelphia, Andrew Dexter, Jr., envisioned a prominent future for his town so he reserved the "Goat Hill" portion of his property for the location of the Alabama capitol building. His dream became a reality when Montgomery became the state capital in 1846. This postcard shows the Capitol in the early 1900s.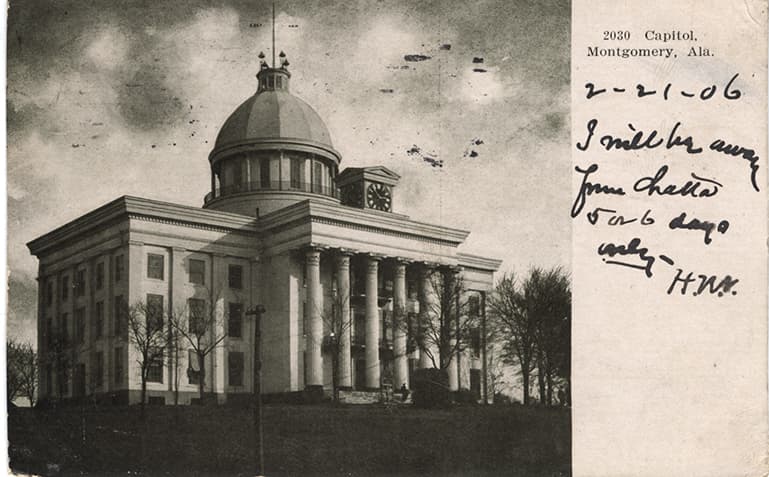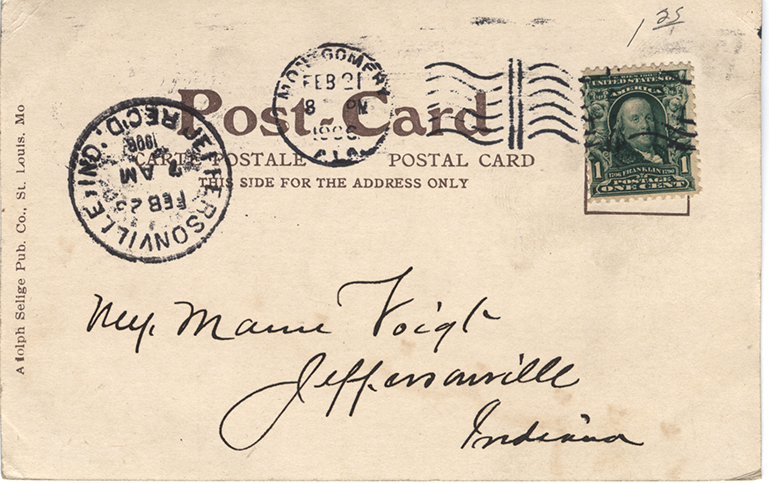 Transcription
2-21-06 I will be away from Chatta 5 or 6 days only- H. W. V. Addressed to: [illegible] Mame Foigt, Jeffersonville, Indiana
---
Montgomery - Maxwell Field
Maxwell-Gunter Air Force Base was founded in 1918 and occupies the site of the Wright Flying School. Designated Engine and Repair Depot No. 3 in World War I, it serviced several southeastern army flight schools. In 1922, it became an operations base named Maxwell Field in honor of Second Lieutenant William C. Maxwell, an Alabamian killed in an aircraft accident. In 1931, the Air Corps Tactical School (ACTS) moved from Virginia to Maxwell Field. The majority of the Army's most senior air officers in World War II graduated from ACTS. In 1939, ACTS was phased out and Maxwell became headquarters for all Army Air Forces (AAF) operational training in the eastern United States. In 1946, the base became the headquarters of Air University and a year later came under the command of the newly-formed United States Air Force. This is a colorized postcard from the early 1930s.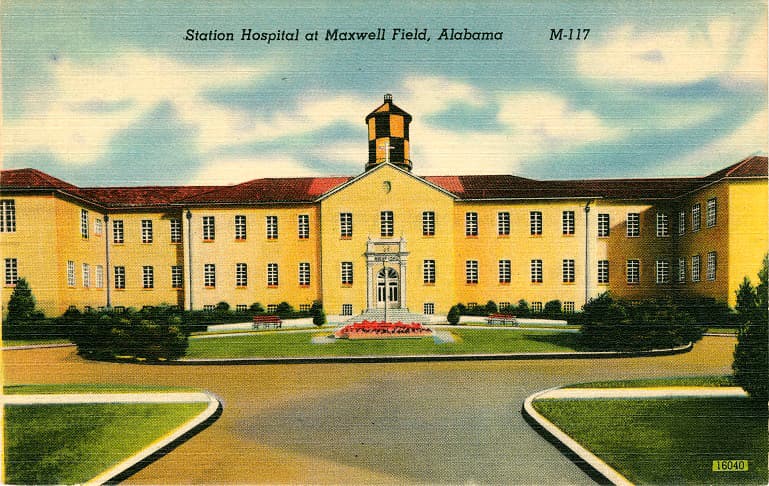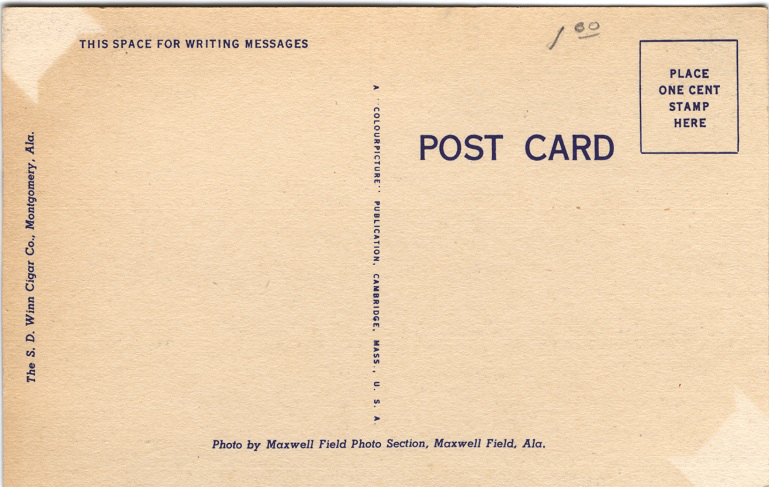 ---
Montgomery - State Department of Archives and History Building
Historian and lawyer Thomas McAdory Owen founded The Alabama Department of Archives and History (ADAH) in 1901. In 1893, he married Marie Bankhead, daughter of Alabama congressman John Hollis Bankhead. Her family's political connections helped advance his idea of creating a state archives. ADAH was the nation's first publicly funded, independent state archives agency. After Owen's death in 1920, the ADAH board appointed Marie Bankhead Owen as the new director. After two decades of trying to raise money to construct a permanent home for ADAH, she secured WPA (Work Projects Administration) funds to erect the War Memorial Building. ADAH moved its collections and offices from the state Senate cloakroom to the building in 1940 and still occupy that space.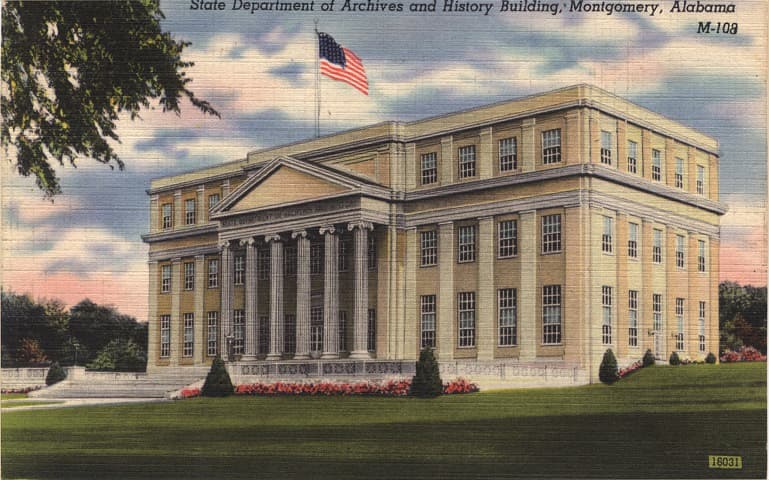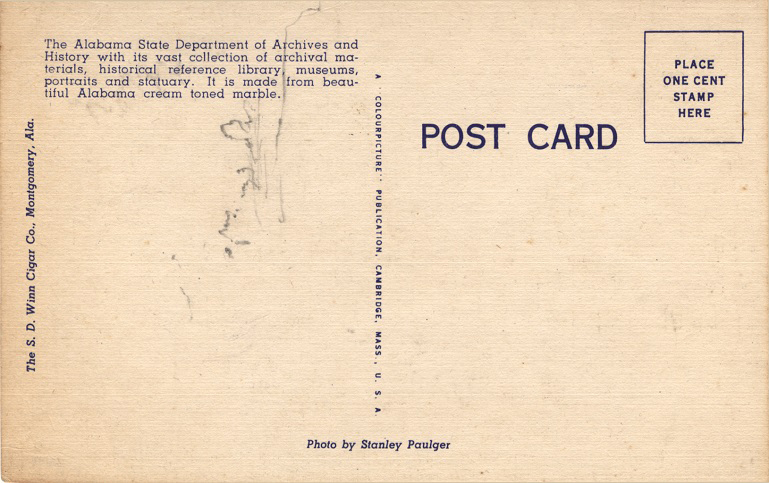 ---
Montgomery - City of Saint Jude
The City of St. Jude was founded by Father Harold Purcell in 1937 as a refuge to improve the lives of the downtrodden. He built a church and school in 1938 and a social center in 1939. The City of St. Jude was funded entirely through small donations from people throughout the country. Although Father Purcell died in 1952, his vision still lives on through St. Jude Catholic Church, St. Jude Social Services, St. Jude Apartments, and Father Purcell Memorial Exceptional Children's Center. This is a postcard of the church and rectory.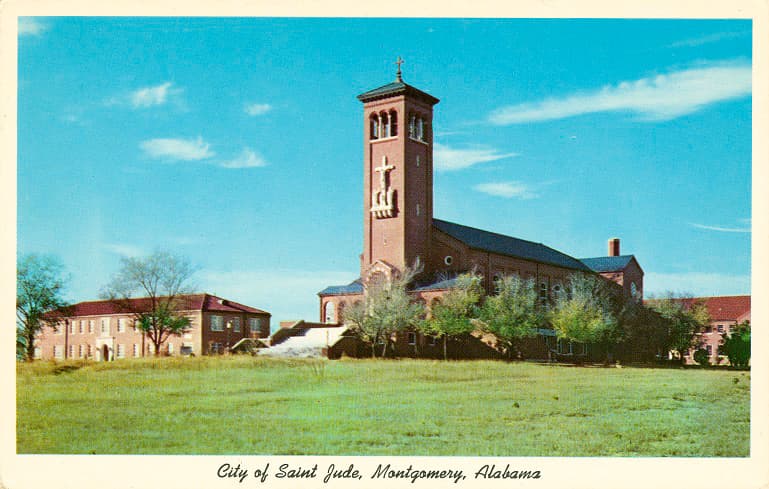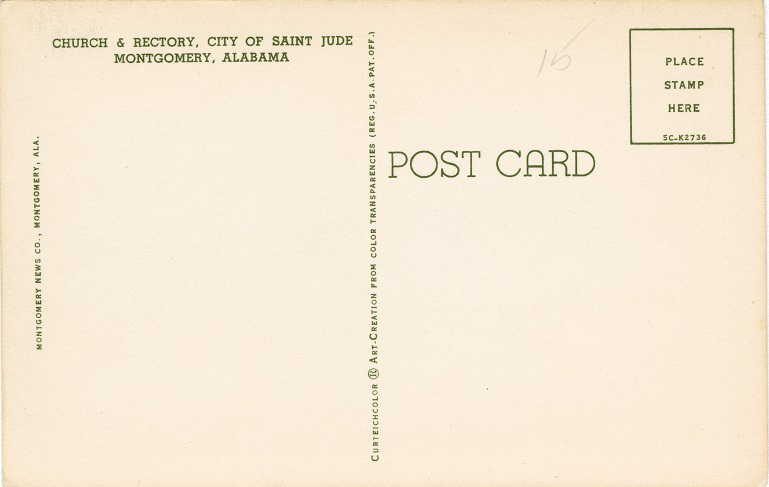 ---
Montgomery - Governor's Mansion
This is a postcard of the first Alabama Governor's Mansion. Before the state acquired it in 1911, governors lived in private homes or even in local hotels. This house was built in 1906 on the southwest corner of South Perry and South Streets. It was demolished in 1963. The current official residence superseded the original executive mansion in 1950. It is located at 1108 South Perry Street, just a few blocks away from this original mansion.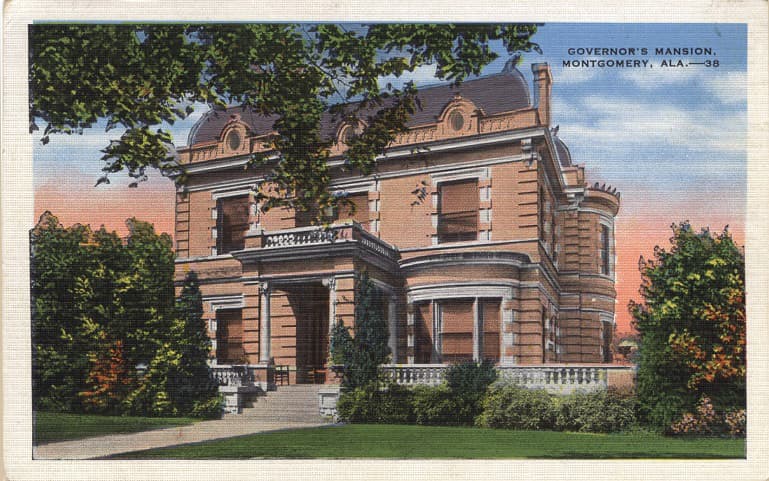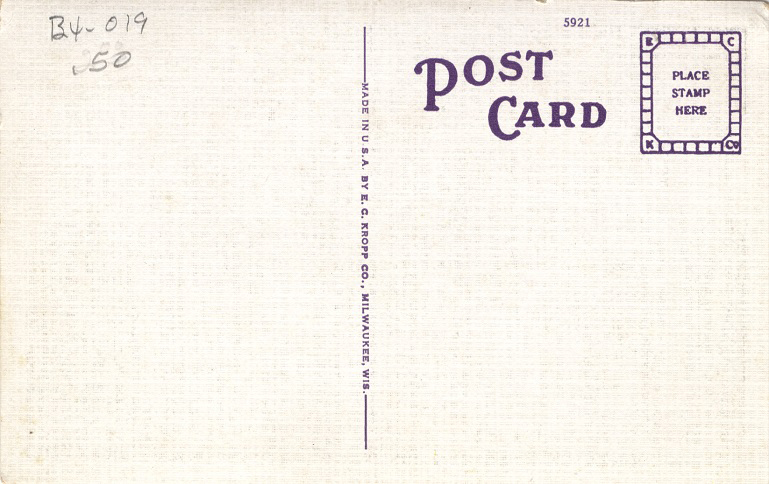 ---
Montgomery - Camp Sheridan
Named for Union cavalry commander General Phil Sheridan, Camp Sheridan was erected in 1917 as the training ground for Ohio's 37th Infantry "Buckeye" Division and the 9th Infantry Division. F. Scott Fitzgerald was a lieutenant in the 9th and met his future wife, Zelda Sayre, while stationed at Camp Sheridan. At the end of the war, Camp Sheridan became a demobilization center until it was abandoned in 1919. The American Library Association (ALA) established three dozen camp libraries between 1917 and 1920 and special uniforms were created for the camp librarians.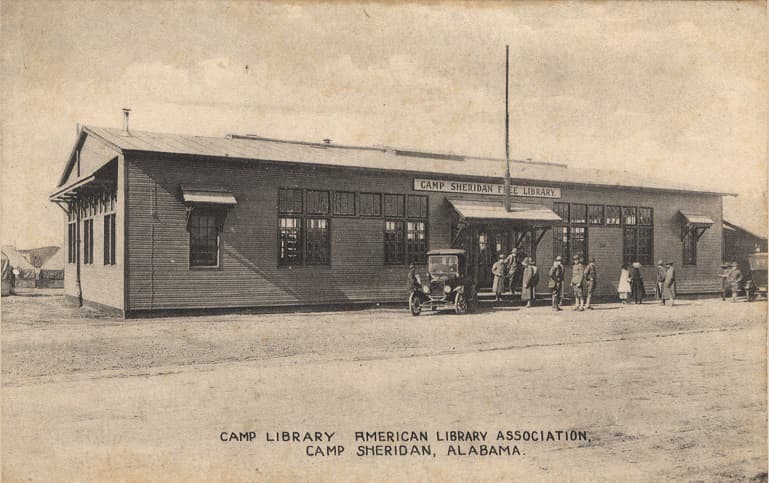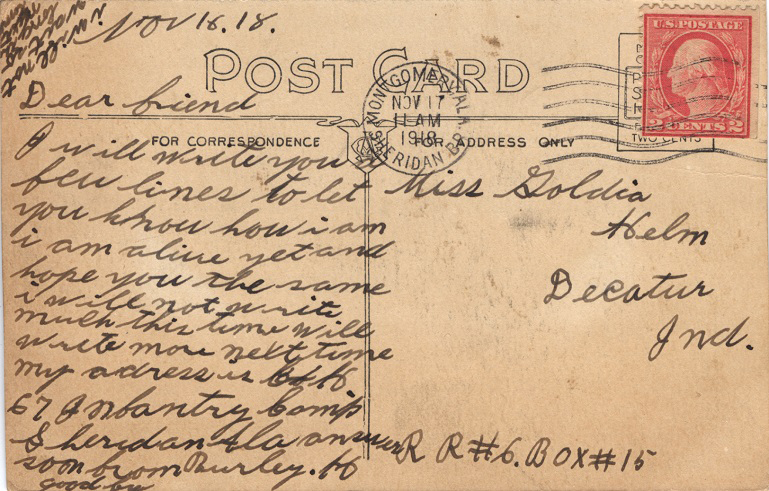 Transcription
Nov 16. 18. Dear friend, I will write you a few lines to let you know how i am i am alive yet and hope you the same i will not write much this time will write more next time my adress is [illegible] 67 Infantry Camp Sheridan Ala answer soon from Burley. [illegible] good by i will not wait so long next time Addressed to: Miss Goldia Helm Decatur Ind. RR#6. Box #15
---
Montgomery - First White House of the Confederacy
This is a colorized postcard of the First White House of the Confederacy, occupied by President Jefferson Davis and his family from February to May 1861, when Montgomery was the Confederacy's capital. William Sayre, an ancestor of F. Scott Fitzgerald's wife Zelda, built the house between 1832 and 1835. In 1897, the arduous and frustrating task of preserving the house began. In 1921, the house was moved from the southwest corner of Bibb and Lee Streets to its present location at 644 Washington Avenue and given to the people of Alabama.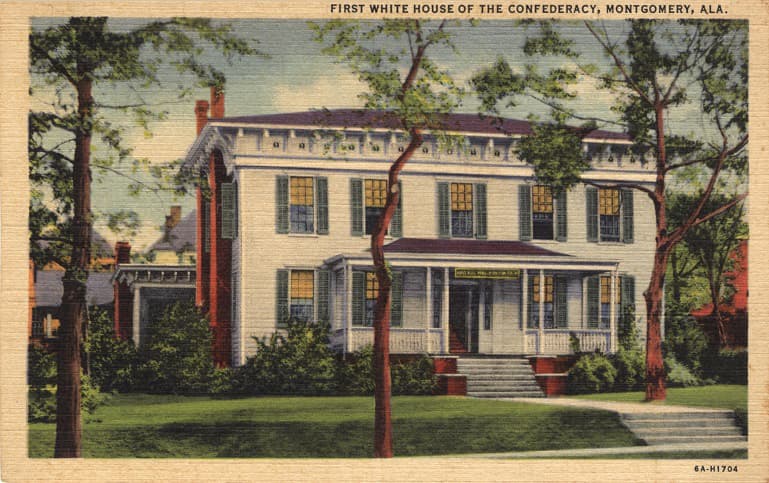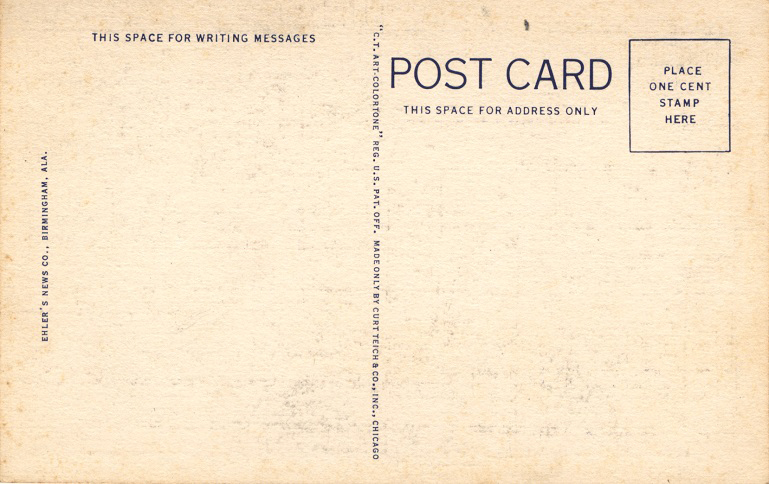 ---
Montgomery - St. Margaret's Hospital
In 1901, the Daughters of Charity bought the Watts Home on Adams Avenue to house St. Margaret's Hospital which opened in June 1902. In 1914, St. Joseph's was built as a separate building and connected to St. Margaret's by a walkway. The hospital's training program merged with Troy State College in 1957 to grant associate degrees in nursing. Generous donations of materials led to the formation of a library for the Troy nursing students at the hospital, which has become the Troy University Rosa Parks Library. This is a colorized postcard of the hospital in the 1910s.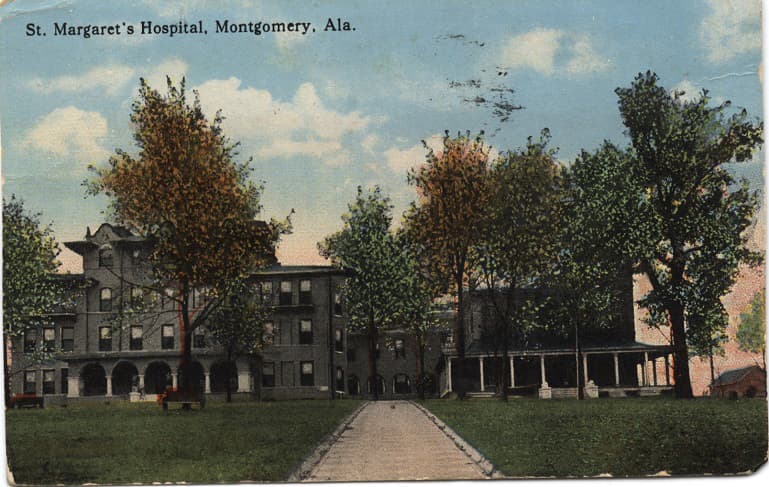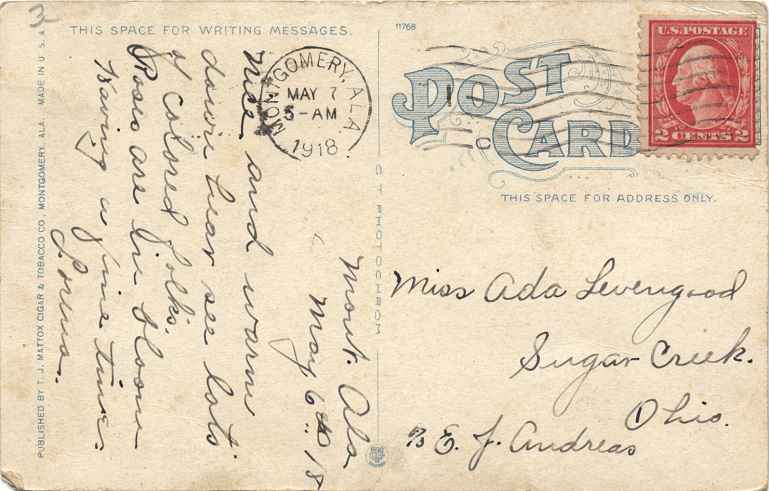 Transcription
Mont. Ala May 6th 18 nice and warm down hear see lots of colored folks. Roses are in bloom Having a fine time. Lorena. Addressed to: Miss Ada Levengood Sugar Creek. Ohio. c/o E. J. Andreas