Postcards showcased on the Traveling Exhibits
---
Athens - Athens College
Athens State University is the oldest continuously operating institution of higher education in Alabama. The town of Athens was incorporated in 1818 and the college was founded as Athens Female Academy in 1822 on five acres of land purchased by local citizens. In 1842, the owners transferred the school to the Methodist Church which then gave it to the state in 1975. Athens State College became the only college to serve as a two-year upper-division college within Alabama's community college system. This colorized postcard shows Founders Hall, the oldest building on the Athens State University campus.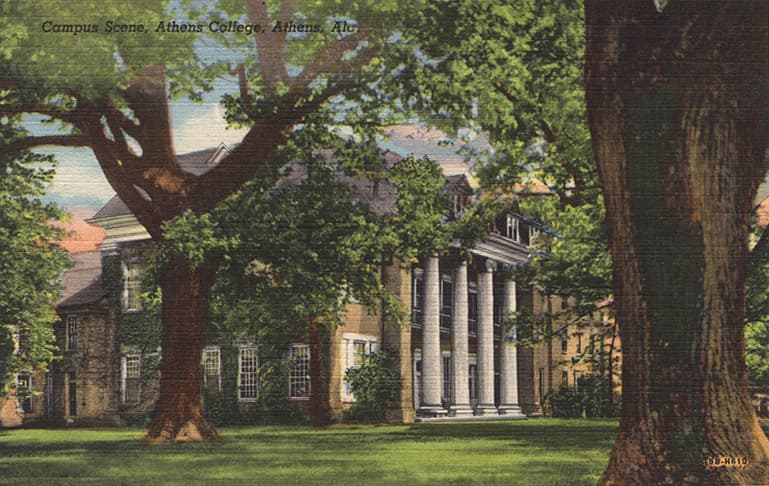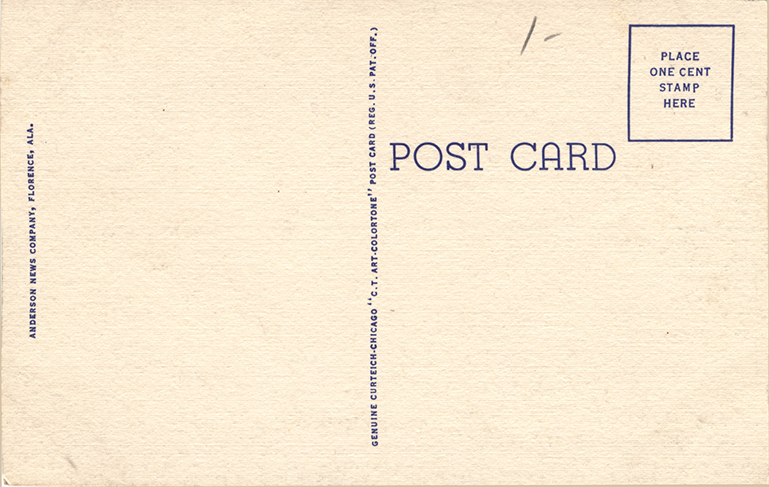 ---
Tuscumbia - Birthplace of Helen Keller
Seat of Colbert County since 1867, Tuscumbia was incorporated as Occocopoosa (Chickasaw for Cold Water Springs) in 1820. In 1821, the name changed to Big Springs and in 1822 to Tuscumbia in honor of a Chickasaw chief. By 1824, this junction of the military road and the stage routes had fewer than 1,000 people but four hotels. Tuscumbia boasts both the Alabama Music Hall of Fame and the birthplace of Helen Keller (1880-1968), Ivy Green, shown in this postcard.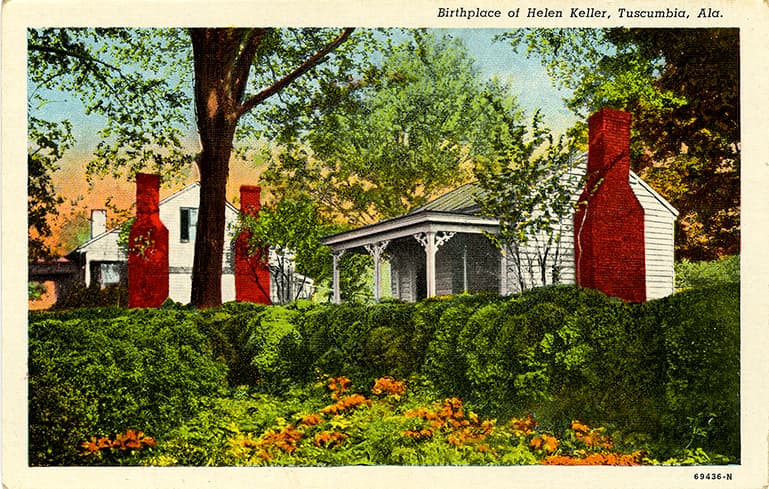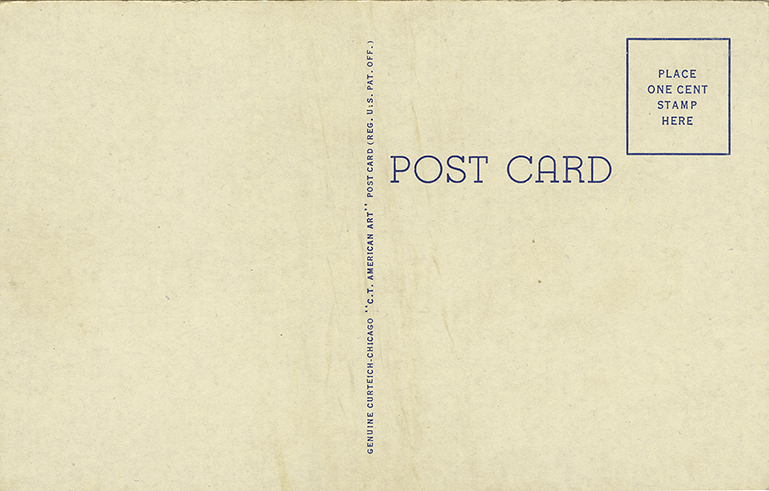 ---
Centre - Cherokee County High School
Athens Centre—Centre was settled in the early 1840s and became the seat of Cherokee County in 1844. The US Post Office listed the city as Center until 1939 when it complied with citizens' petitions and changed the spelling. Centre is the home of Weiss Lake and is known as "The Crappie Capital of The World." This postcard shows Cherokee County High School in 1915.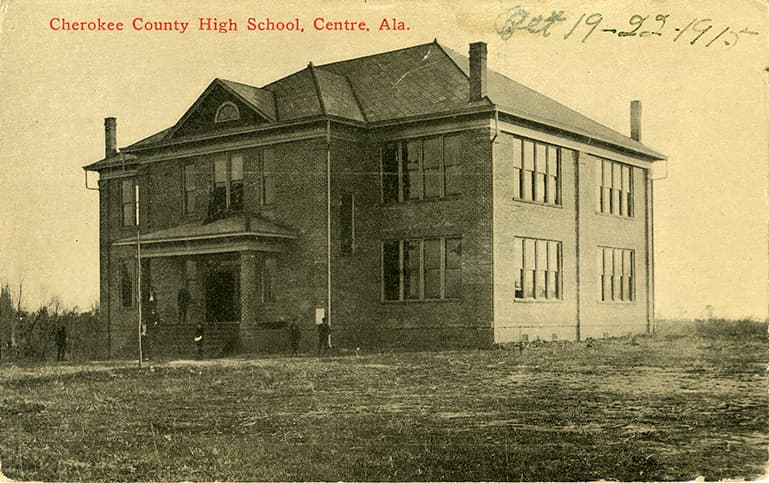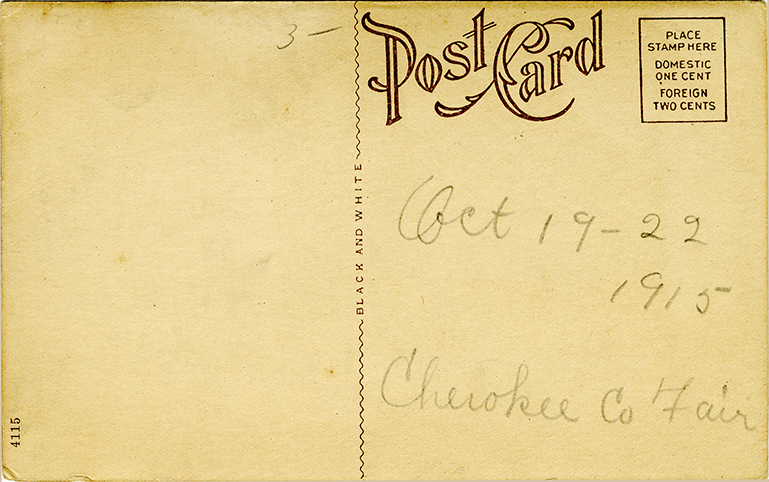 Transcription
Oct 19-22 1915 Cherokee Co Fair
---
Huntsville - Madison County Courthouse
Madison County was created by the Mississippi Territorial governor in 1808 and named for President James Madison. Huntsville, which also was known as Big Spring, Hunt's Spring, and Twickenham, became the county seat in 1810. The name was changed to Huntsville, in honor of original settler John Hunt, when it became Alabama's first incorporated town in 1811. Huntsville is considered the "birthplace" of Alabama since the state's original Constitutional Convention met here in 1819. This colorized postcard shows the courthouse built in 1838.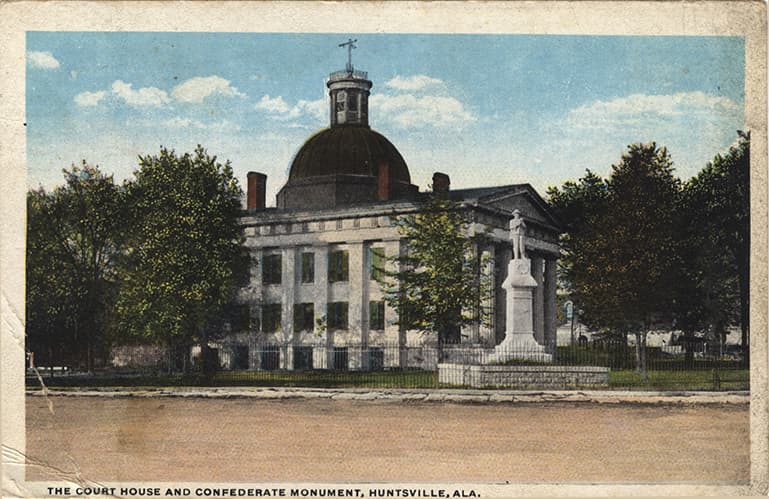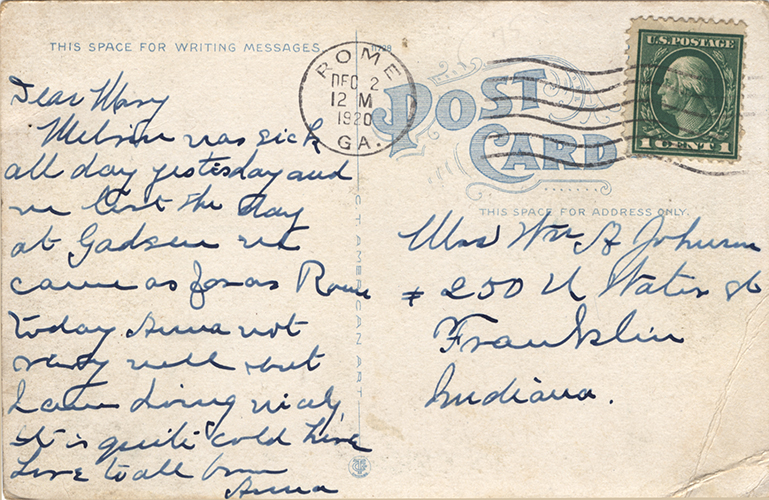 Transcription
Dear Mary [illegible] was sick all day yesterday and we [illegible] the day at Gadsden [illegible] came as far as Rome Tuesday [illegible] not very well but i am doing nicely. It is quite cold here. Love to all from Anna Addressed to: Mrs. Wm Johnson #250 N Waters St Franklin Indiana.
---
Florence - Churches
Florence—In 1818, Italian engineer Ferdinand Sannoner surveyed, designed, and then named Florence after the capital of Tuscany. It became the county seat of Lauderdale County in 1818 but was unincorporated until 1826. This postcard shows five of the oldest churches in Florence. The first, established in 1818, was the First Presbyterian Church. The First Methodist Church began in 1822, followed by Trinity Episcopal Church in 1836. The Poplar Street Church of Christ (now known as the Wood Avenue Church of Christ) began in 1886 and the First Baptist Church was organized in 1888.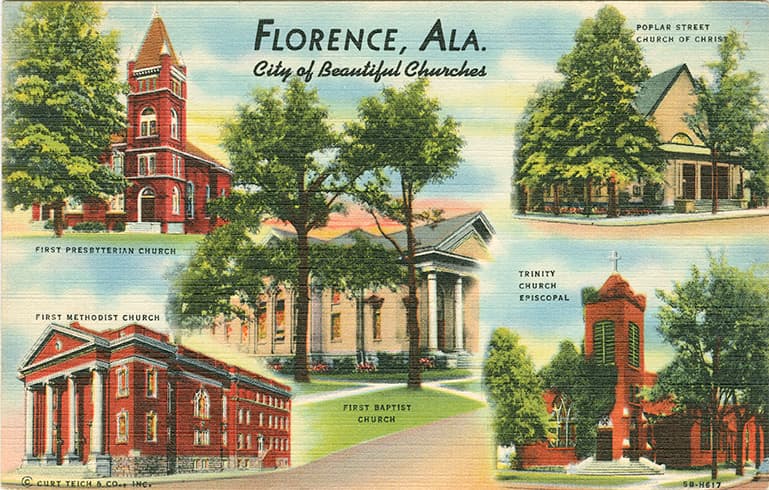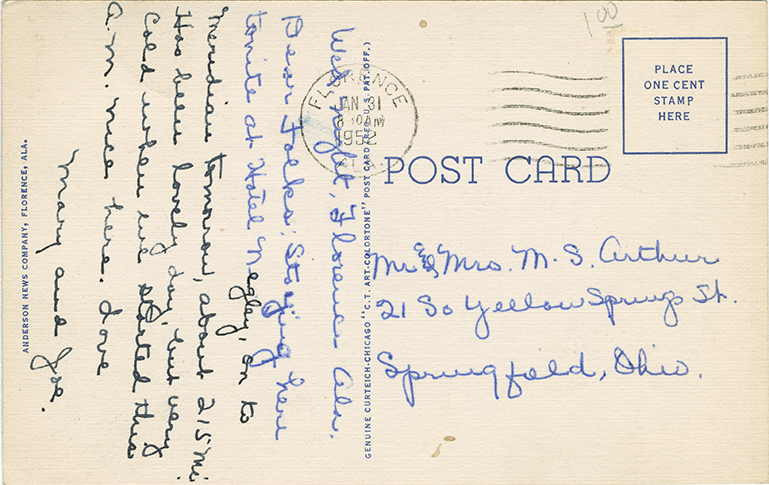 Transcription
Wed. night, Florence, Ala. Dear Folks: Staying here tonite at Hotel Negley, on to Meredian tomorrow, about 215 mi Has been lovely day, but very cold when we started this a.m. nice here. Love Mary and Joe. Addressed to Mr. and Mrs. M. S. Arthur 21 So Yellow Springs St. Springfield, Ohio.
---
Guntersville - Marshall County High School
Guntersville—Named after 1785 settler John Gunter who married the daughter of a Cherokee chief, Guntersville was incorporated in 1848 and is the seat of Marshall County. Originally called Gunter's Landing, the name changed to Guntersville in 1854. In the 1930s, the Tennessee Valley Authority (TVA) constructed a dam on the Tennessee River which created Lake Guntersville and left the town sitting on a peninsula. This postcard of Marshall County High School (1911-1969) shows the athletic field and gymnasium with the lake in the background.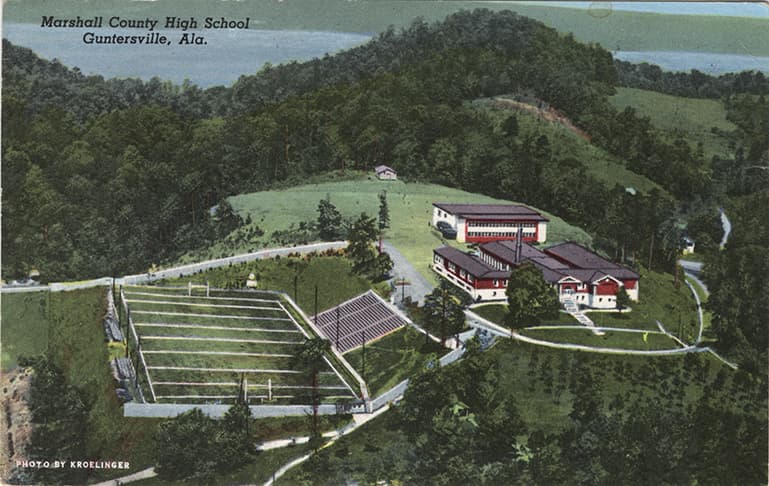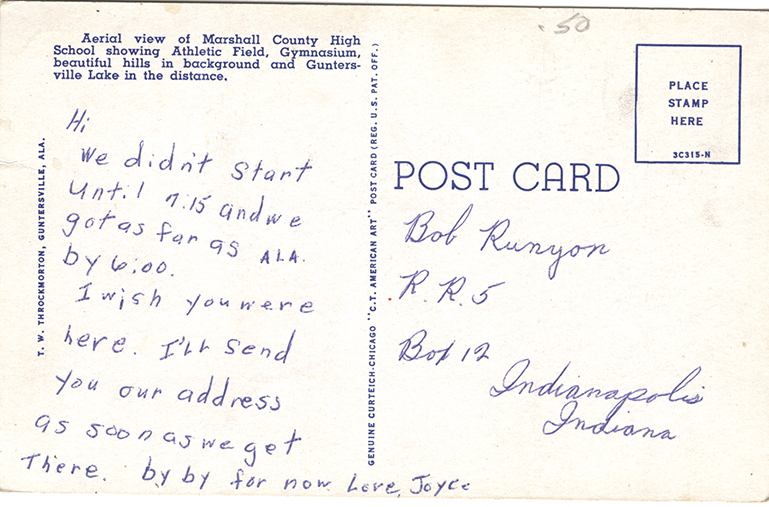 Transcription
Hi we didn't start until 7:15 and we got as far as ALA by 6:00. I wish you were here. I'll send you our address as soon as we get There. by by for now Love, Joyce Addressed to Bob Runyon R.R. 5 Box 12 Indianapolis, Indiana
---
Boaz - Snead Seminary
Boaz was founded in 1878 and incorporated in 1897. It was named for the Old Testament husband of Ruth. Boaz Seminary began as a preparatory school in the home of the Methodist minister E.B.L. Elder in 1898. Its name changed in 1906 to John H. Snead Seminary to honor a Boaz businessman who contributed land, money, and leadership to the school. The Methodist Church retained the school until 1967 when it became a part of the Alabama two-year college system. Snead State Community College is the oldest school in Alabama's community college system to award associate degrees. This postcard shows the seminary in the 1910s.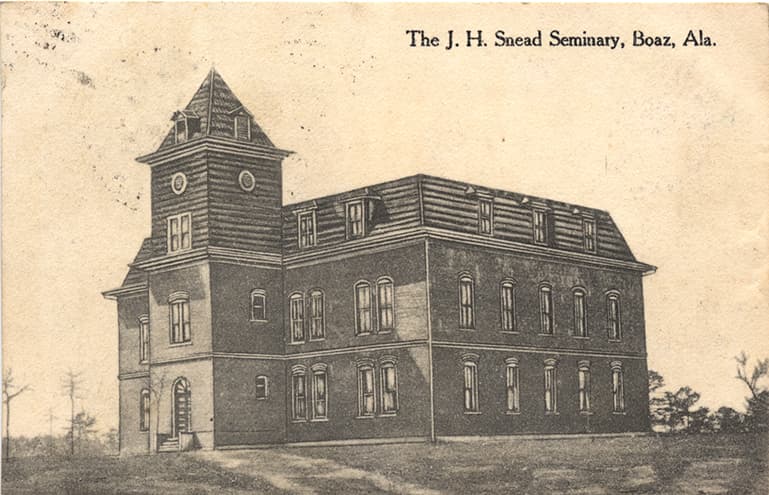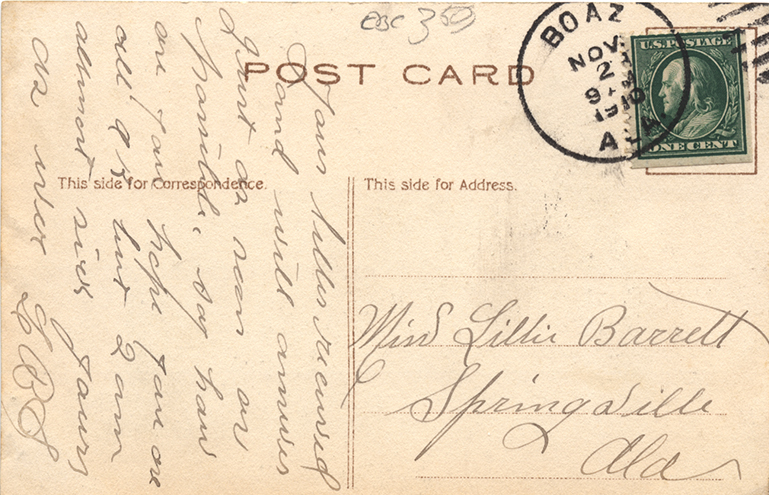 Transcription
Your letter received and will answer just as soon as possible. Say how are you hope you are all O.K. but I am almost sick. Yours as ever. LBS Addressed to: Miss Lillie Barrett Springville Ala
---
Scottsboro - Jackson County Courthouse
Jackson County was created and named by the state legislature in 1819 in honor of General, later President, Andrew Jackson. Scottsboro, incorporated in 1870, was named after its founder Robert T. Scott who, in the 1850s, convinced the Memphis and Charleston railroad to run the rail line through his property. The railroad is one of the main reasons Scottsboro became the county seat. The first courthouse was built in the late 1860s at its current location in the public square. This is a postcard of the current courthouse which was built in 1912 after its predecessor burned.