Postcards showcased on the Traveling Exhibits
---
Birmingham - East Lake Park
The East Lake Land Company developed this park as a private attraction in 1886 and began offering day trips by special rail line for tourists from Birmingham in 1887. East Lake Park featured a lake, hotel, theatre, dance pavilion, boat docks as well as amusement park rides. Birmingham bought the property in 1917 and kept many of its attractions open over the following decades while adding other recreational facilities. "Shoot the Chute" was a popular amusement ride at the park. East Lake Park no longer offers rides but it is one of the largest municipal recreational facilities in Alabama.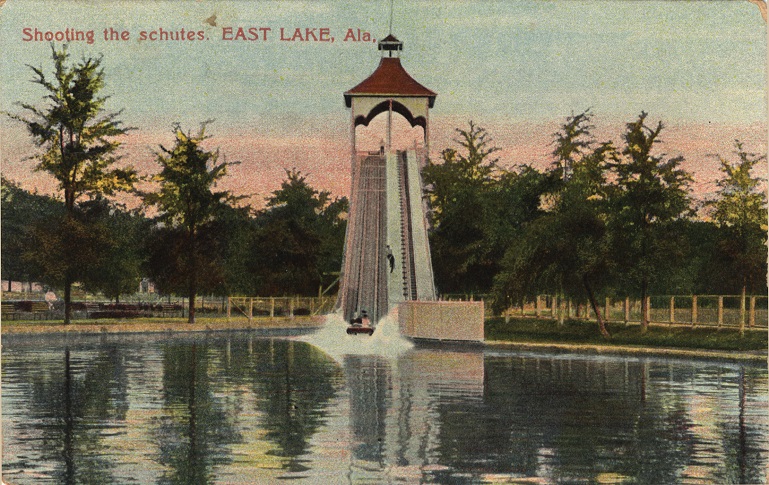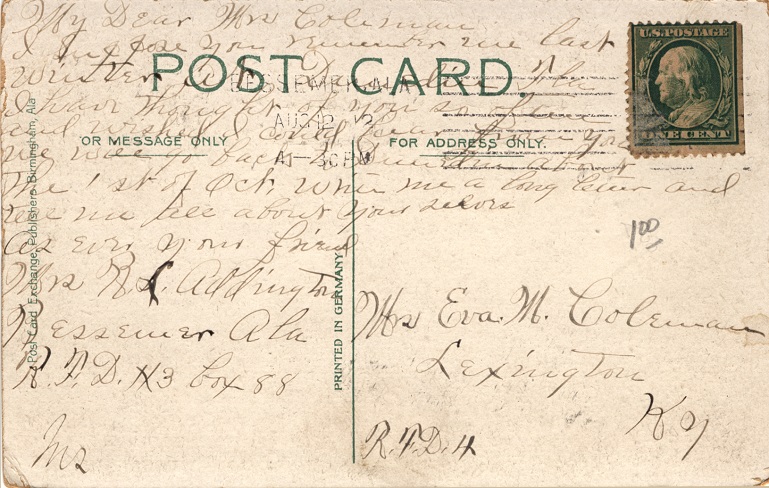 Transcription
My Dear Mrs Coleman I suppose you [illegible] we last Written at Dunedin Fla I have thought of you so often and wished I could hear from you We will go back to Dunedin about the 1st of Oct. Write me a long letter and tell me all about your [illegible] As ever your friend Mrs R.C. Addington Bessemer Ala. R. F. D. #3 box 88 Ms Addressed to: Mrs Eva M. Coleman Lexington Ky R. F. D. 4
---
Bridgeport - Aldhous Block
Bridgeport, first known as Jonesville, was founded in 1845 along the Tennessee River in the far northeast corner of the state. In the 1850s, a river port and the Nashville and Chattanooga railroad river bridge led to the name change. In 1887, Frank J. Kilpatrick and other New York natives started investing and promoting Bridgeport as the "New York of the South." The dream was fast becoming a reality until the economic panic of 1893. Investors pulled out, but they left behind a large concentration of "Queen-Anne" houses with more than 30 homes in its 3 square miles. The Aldhous Block, pictured here, was completed in early 1893 and housed a bowling alley, the First National Bank, and other establishments.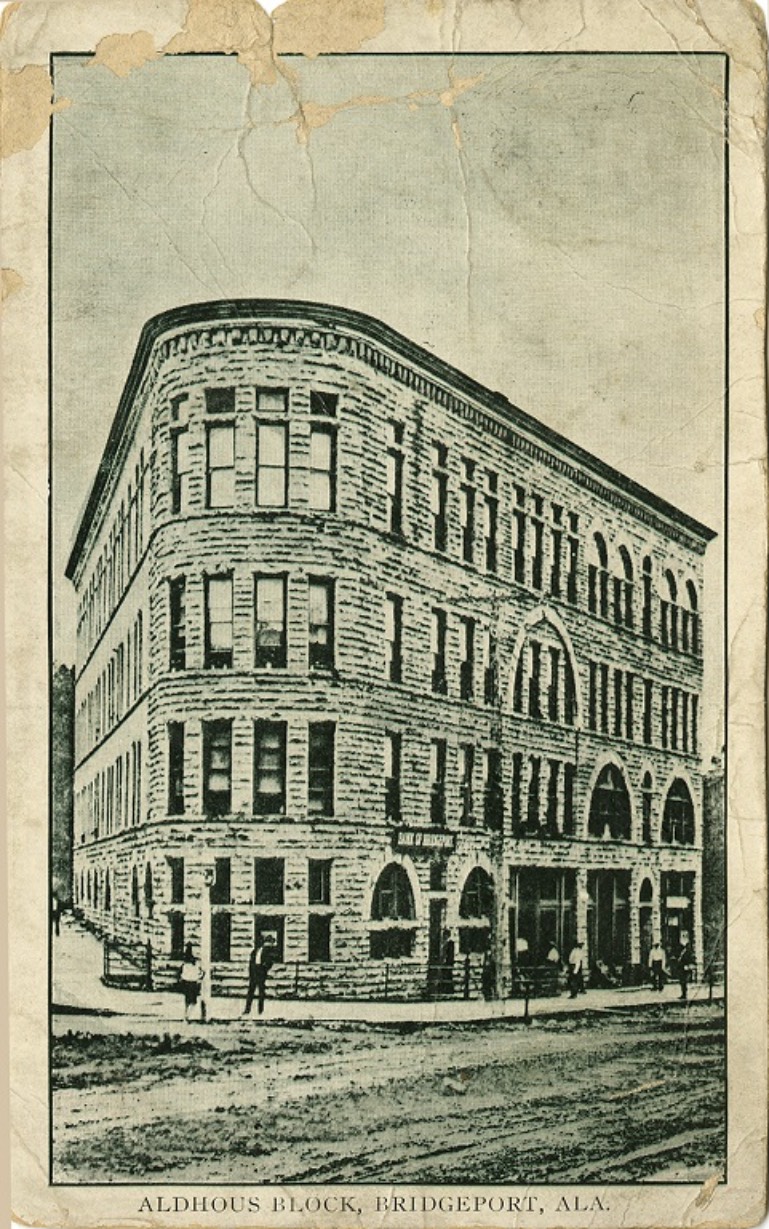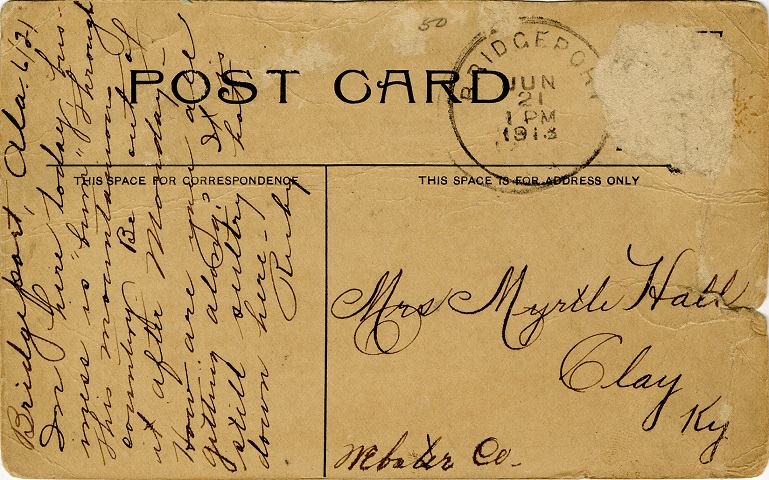 Transcription
Bridgeport, Ala. 6/21 Im here today, business is "bum" through this mountainous country. Be out of it after Monday - How are you all getting along? It is still sultry hot down here - Ruby Addressed to: Mrs Myrtle Hall Clay Ky Webster Co.
---
Cullman - Ave Maria Grotto
The Ave Maria Grotto in Cullman is home to a unique collection of over 125 miniature replicas of famous churches, shrines, and buildings, as well as fantasy scenes. Joseph Zoettl, a brother at the Saint Bernard Abbey for almost 70 years, hand-built the collection. In 1918, he began building models from leftover construction materials and decorating them with a variety of everyday items. He assembled the edifices from photographs or textual descriptions. Brother Joe built his last model, the Basilica in Lourdes, in 1958 at the age of 80. This postcard shows only a small portion of Brother Joseph's work.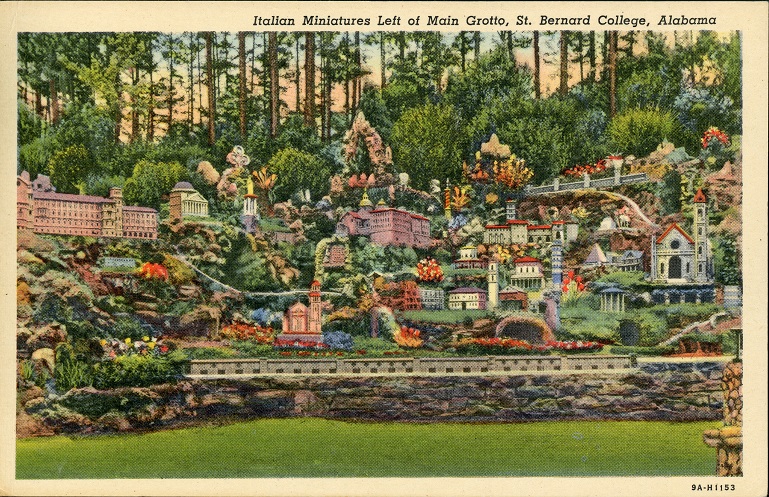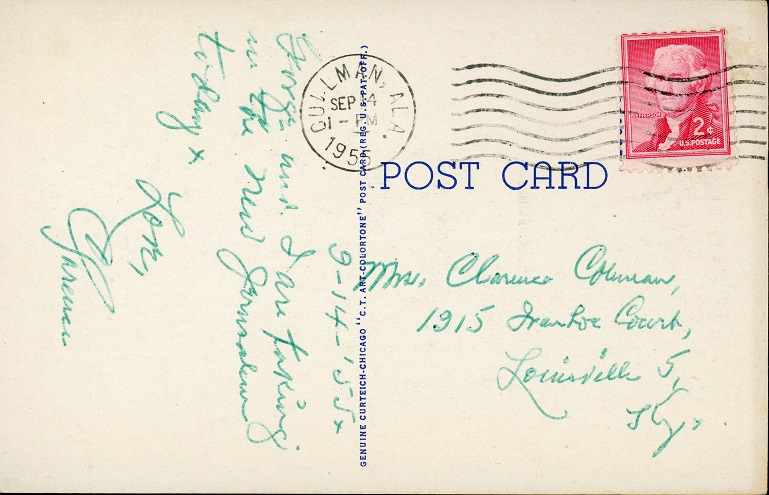 Transcription
9-14-'55x George and I are taking in the New Jerusalem today x Love, Clarence Addressed to: Mrs. Clarence Coleman, 1215 Ivanhoe Court, Louisville 5, Ky.
---
Dothan - Peanut Festival
On November 10, 1938, George Washington Carver spoke to a crowd of 6,000 initiating the National Peanut Festival. This three-day event included a parade, a historical play, and a ball. Since 1947, the celebration has been held each autumn to recognize the impact the peanut and the peanut industry have had on the southeastern United States. The celebration is now a 10-day event with carnival rides, livestock shows, live music, arts and crafts, pageants, and plenty of peanuts. The National Peanut Festival is the largest peanut festival in the nation.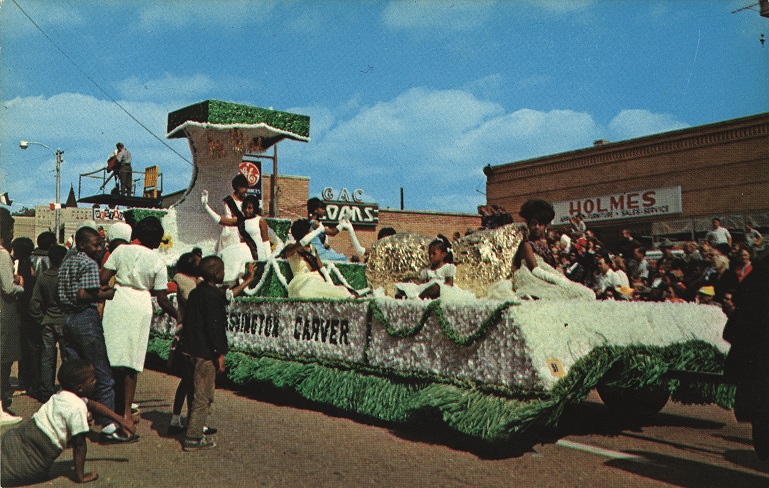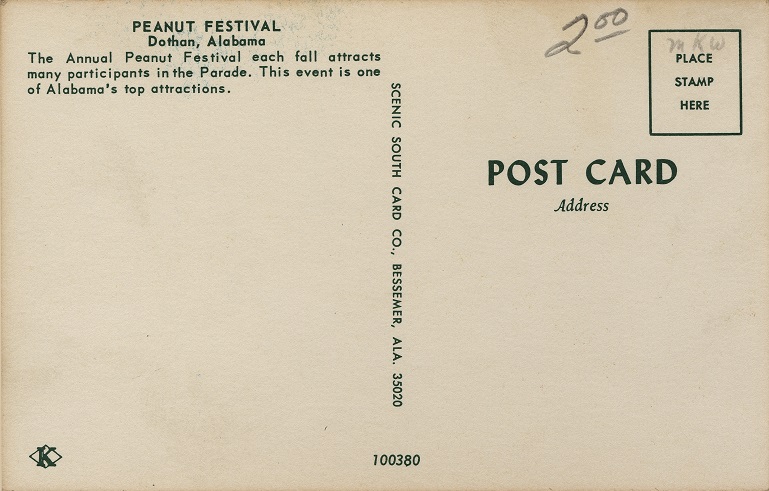 ---
Gulf Shores - Fort Morgan
Fort Morgan and Fort Gaines were built on opposite sides of the Mobile Channel at the entrance to Mobile Bay to protect the coastline. Construction on Fort Morgan was completed in 1834, but it was rarely garrisoned. During the Civil War, the fort defended Confederate Mobile and was heavily damaged by a Union naval assault. It was repaired in 1867, upgraded in 1895, and made into a large military base by 1900. However, when WWI ended, the Army reduced the fort's garrison and in 1927 sold the closed fort to Alabama for use as a state park. The US military re-garrisoned the fort in WWII to defend against German U-boats, but withdrew in 1944, thus officially ending Fort Morgan's role in America's coast defense.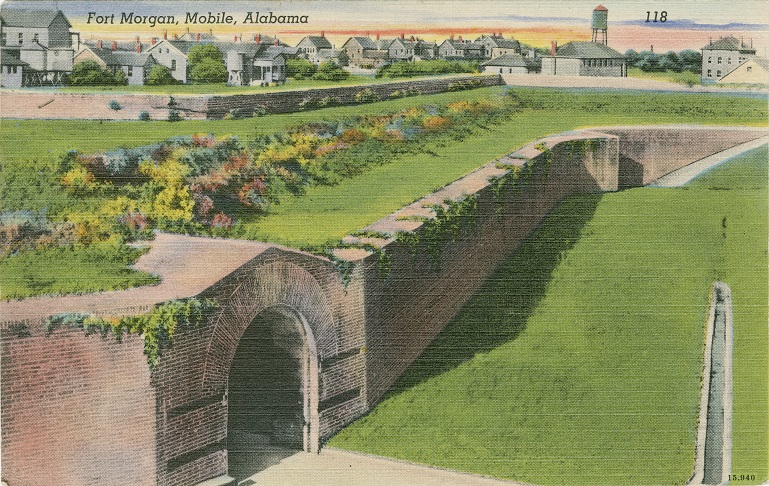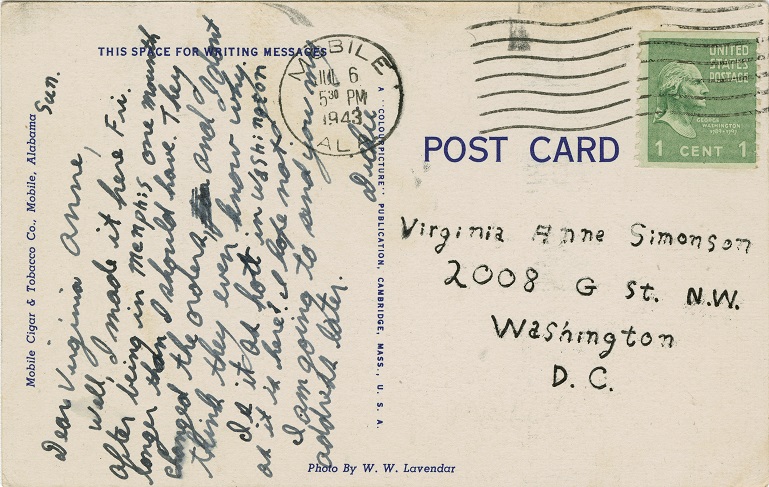 Transcription
Sun. Dear Virginia Anne, Well, I made it here Fri. after being in Memphis one month longer than I should have. They changed the orders, and I dont think they even know why. Is it as hot in Washington as it is here? I hope not. I am going to send you me address later. Dickie Addressed to: Virginia Anne Simonson 2008 G St. N.W. Washington D. C.'
---
Mobile - Mardi Gras
Mobile is the birthplace of Mardi Gras in America. French Catholics founded the town in 1702 and the first Mardi Gras was celebrated in 1703. The city's first parade was held in 1711, but the rich tradition of masked parading began in 1830 when a group of locals "armed" themselves with a variety of farm implements and cowbells and marched through the streets. Mardi Gras was canceled during the Civil War, but in 1866, Joe Cain revived Carnival by costuming as a Native American chief and leading a procession through occupied Mobile. The annual tradition has now evolved into a multi-week celebration where parades and festivities engulf the streets of downtown Mobile.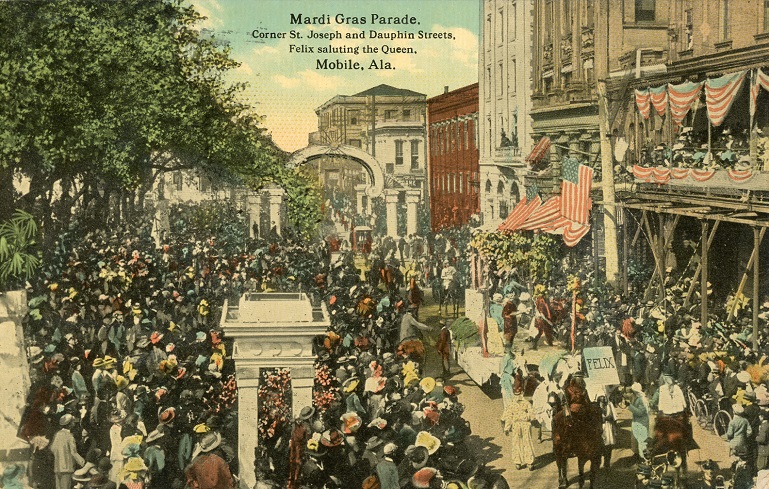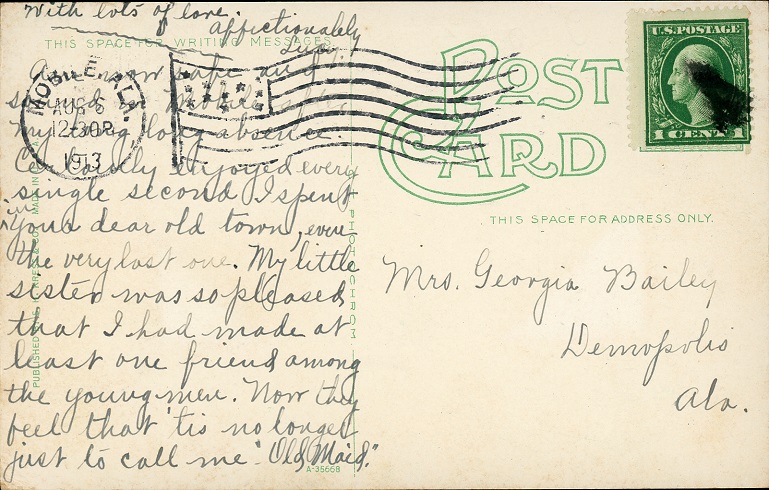 Transcription
Are you safe and sound in Mobile after my long, long absence. Certainly enjoyed every single second I spent in your dear old town, even the very last one. My little sister was so pleased that I had made at least one friend among the young men. Now they feel that 'tis no longer just to call me - "Old Maid". With lots of love, affectionately Lucy. Addressed to: Mrs. Georgia Bailey Demopolis Ala.
---
Montgomery - Pickett Springs
In the 1880s, the Western Railroad of Alabama turned Pickett Springs, just north of Montgomery, into a tourist attraction. People from Montgomery flocked to the park that offered a dance pavilion, bowling alley, shooting gallery, carousel, flying swing, billiard parlor, and roller coaster. In September 1886, Montgomery Advertiser called Pickett Springs the "best public resort." In the early 1900s, the popularity had declined and the area was being used as a camp for the homeless. In 1917, Pickett Springs and the adjacent Vandiver Park were absorbed by Camp Sheridan, a 5000-acre National Guard mobilization and training camp.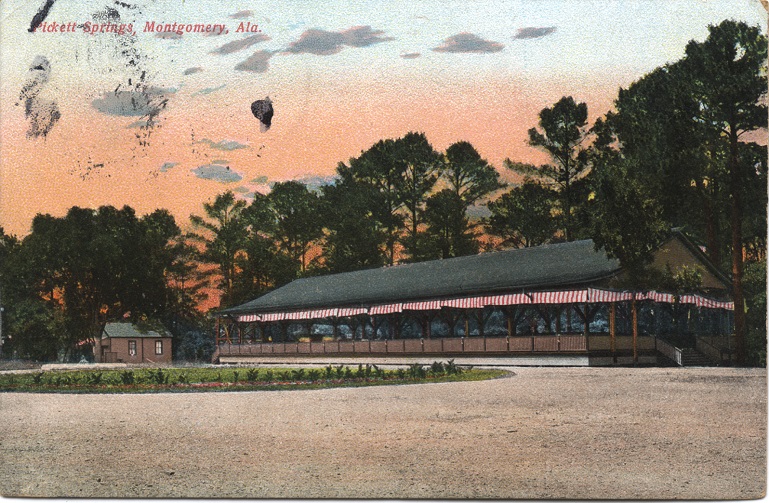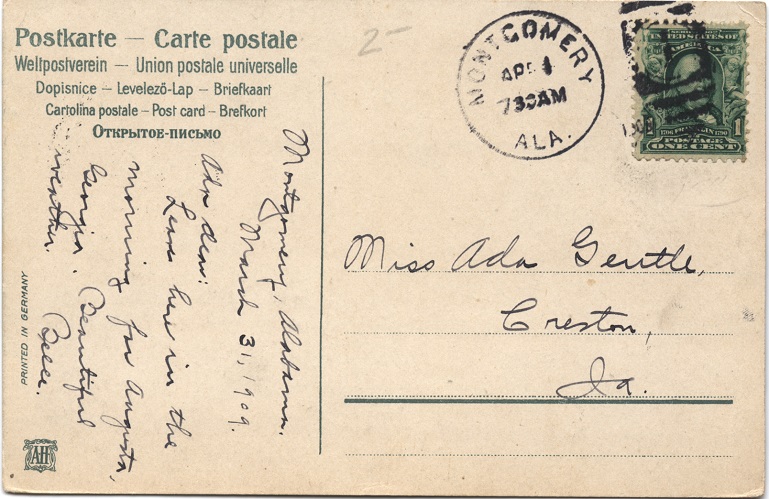 Transcription
Montgomery, Alabama. March 31, 1909. Ada dear: Leave here in the morning for Augusta, Georgia. Beautiful weather. Belle. Addressed to: Miss Ada Gentle, Creston, Ia.
---
Oxford - Oxford Lake and Park
Oxford, in Calhoun County, was incorporated in 1852. In the late 1880s, a lake was built around Marble Springs, and Oxford Lake became a social and recreational center. This postcard shows boat houses and pavilions on the far side of the lake where boat rides were available. The popularity of the area declined during the 1930s, but rebounded during WWII. In 1955, Oxford purchased the lake and added a civic center in the 1970s. In 1990, Coldwater Covered Bridge, built in 1850, was added to the scenic pathway that circles Oxford Lake.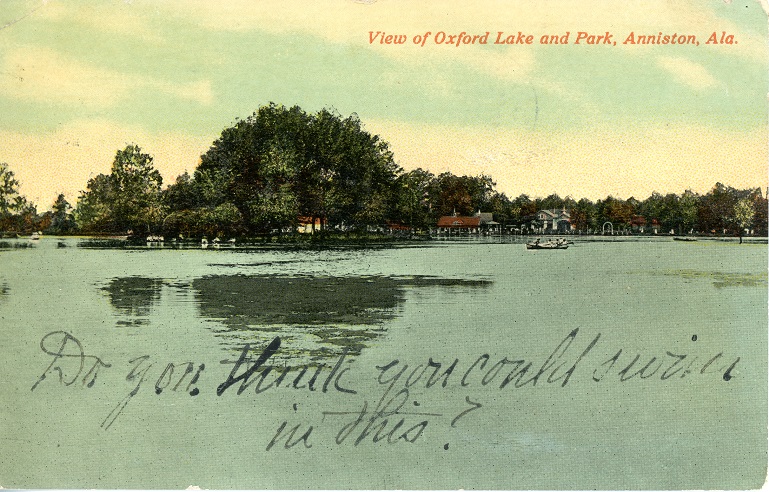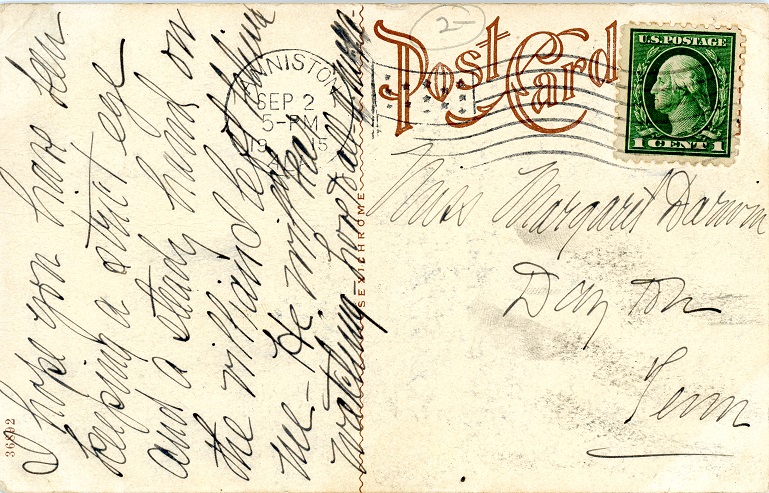 Transcription
Do you think you could swim in this? I hope you have been keeping a strict eye and a steady hand on the villian I left behind me - He will bear watching - Love to all [illegible] Addressed to: Miss Margaret Darwin Dayton Tenn