Postcards showcased on the Traveling Exhibits
---
Bessemer - Wigwam Village
Wigwam Village No. 5, one of a chain of seven, built in 1941 on "Bessemer Super Highway" (U.S. Highway 11), Jefferson County, consisted of fifteen wigwams arranged in a horseshoe around a large central wigwam that housed offices and a restaurant. Frank A. Redford developed the concept and built the first village in Kentucky in 1933 and patented the idea and design in 1936. Each unit was approximately 25 feet in diameter at the base; featured Native American themed furniture and décor, a bath, and hot and cold running water. The village closed in 1964 and was demolished soon afterward.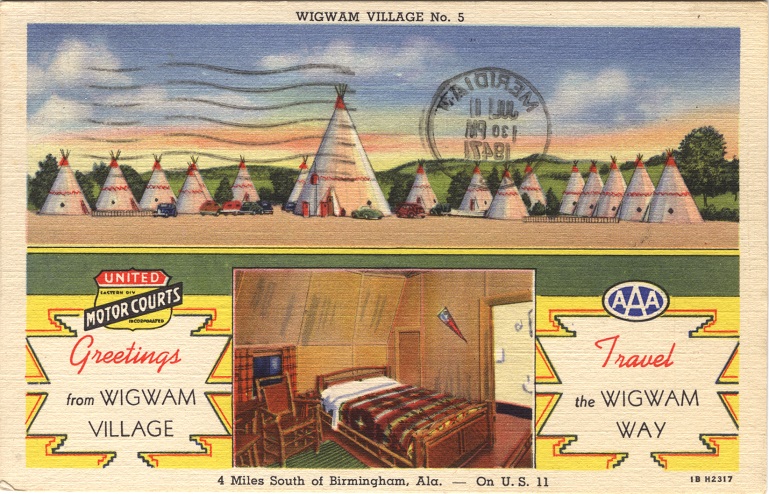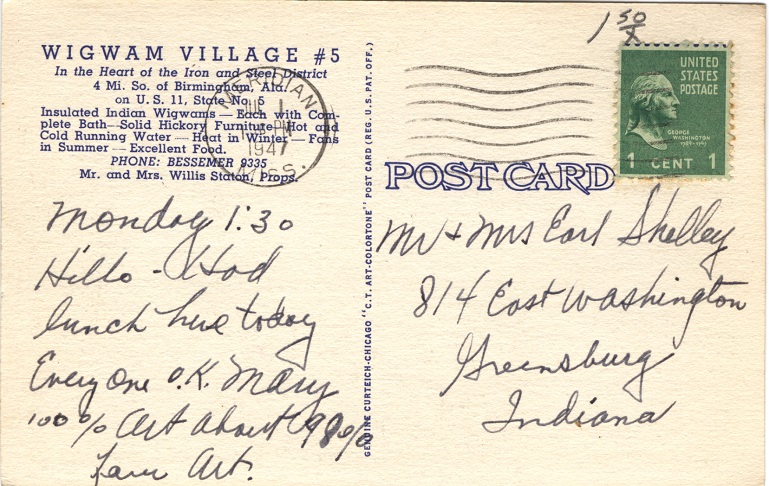 Transcription
Monday 1:30 Hillo - Had lunch here today Every One O.K. Mary 100% Art about 98% Love Art. Addressed to: Mr & Mrs Earl Shelley 814 East Washington Greensburg Indiana
---
Borden Springs - Borden-Wheeler Springs Hotel
In 1903, the Borden-Wheeler Company purchased the Fruithurst Inn, an elaborate hotel built in the 1890s and had it dismantled and reconstructed in Borden Springs, an area known for mineral springs in Cleburne County. The "new" Borden Springs Hotel, with over 100 rooms, cottages, dancing pavilion, swimming pool, golf course, and lavish amenities, became the weekend retreat for the noteworthy of Georgia and Alabama. J. C. Bass ran the hotel until his death in 1920, when his son took over operations until 1927. Leon Prine of Ft. Meade, Florida, bought the property and operated the hotel until it closed in 1933. A fire destroyed the property in 1935.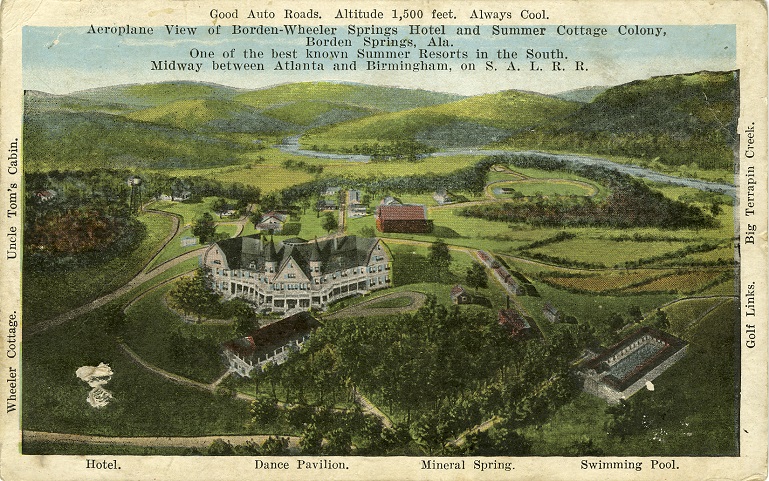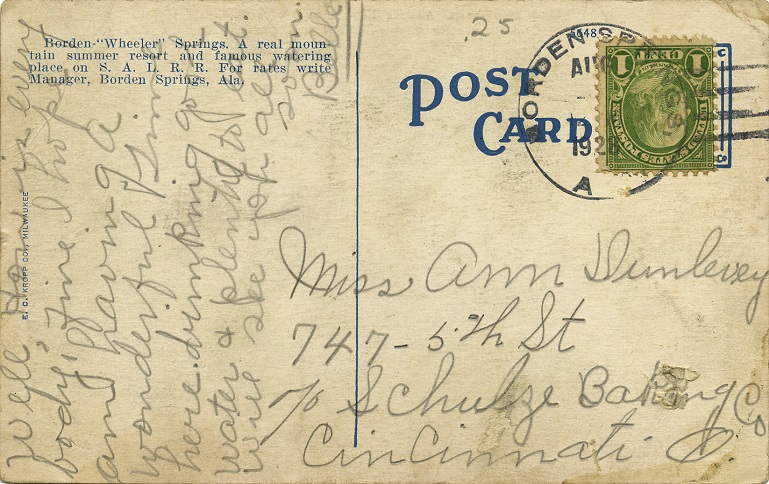 Transcription
Well, How is everybody? Fine I hope am having a wonderful time here. drinking good water & plenty to eat. will see you all soon. Belle Addressed to: Miss Ann Dunlevey 747 - 5th St. c/o Schulze Baking Co. Cincinnati -O.
---
Dauphin Island - Holiday Inn
The inhabitants of Dauphin Island, an island in Mobile Bay, date back to Native Americans of the Mississippian Period. In the early days of Mobile, seagoing ships uploaded cargo and passengers on the Island because of the Bay's shallow waters. A bridge to the mainland, built in 1955, led to growth at the beaches and Dauphin Island going from a village to a town with hotels, restaurants, and other tourism-related businesses. In 1952, Kemmons Wilson opened the first Holiday Inn which offered guests a comfortable, clean, family friendly hotel and restaurant similar to the one pictured here.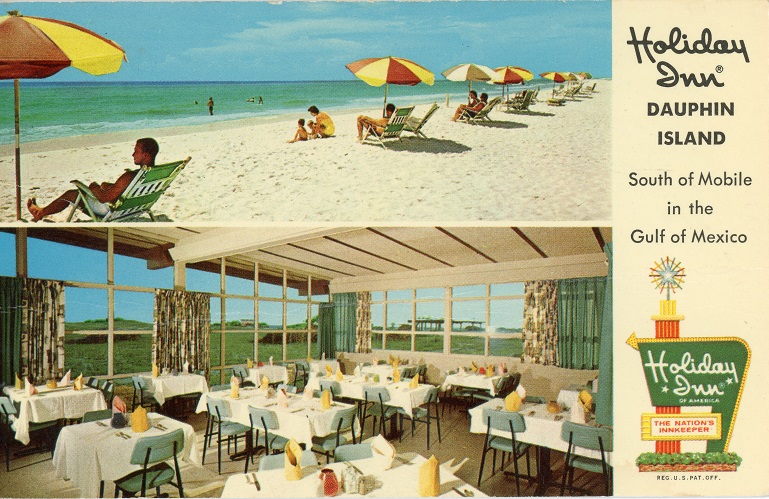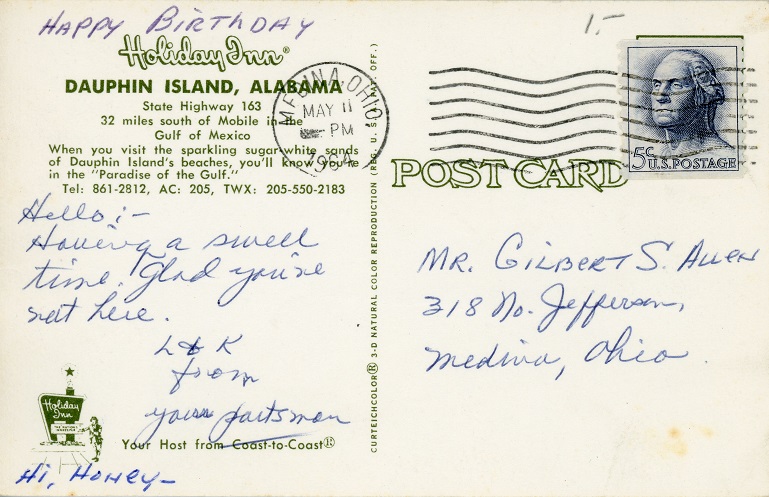 Transcription
Happy Birthday Hello; - Having a swell time. Glad you're not here. L & K from your partsman Hi, Honey- Addressed to: Mr. Gilbert S. Allen 318 No. Jefferson, Medina, Ohio
---
Florala - Colonial Hotel
The Colonial Hotel, in Florala, Covington County, was built by W. H. Britton and opened for business on August 8, 1906, with 33 rooms. It was located on Lake Jackson, a natural lake on the Alabama-Florida state line. Guest speakers and musicians for the Chautuaqua Sessions, a movement that brought learning and culture to small towns in the late 1800s and early 1900s, were all guests of the Colonial Hotel. This postcard shows the Colonial Hotel and people in a private covered pier. The hotel burned in 1966.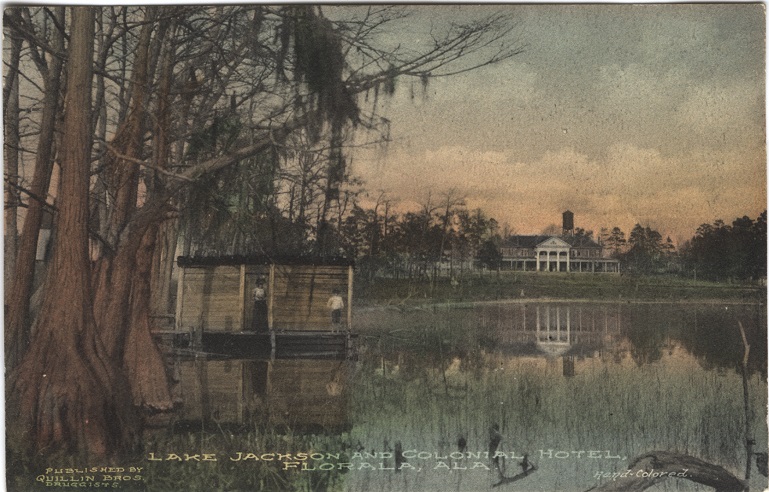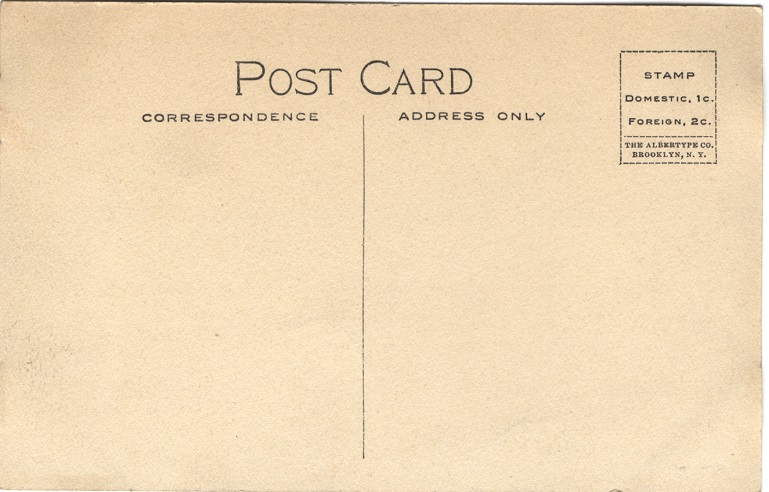 ---
Gulf Shores - Key Way Cottages
A small fishing community has existed in Gulf Shores, Baldwin County, since the 1800s. The completion of the Gulf Intracoastal Waterway in 1937 opened the area to tourism. In the early 1940s, there was one hotel on the beach, but this changed after WWII. With the end of rationing, Americans "hit the road" and stayed in cottages with the car parked next to their unit and filling stations and cafés available onsite. By the 1960s, Gulf Shores was a thriving community with restaurants, cottages, and motels for tourists. In 1979, Hurricane Frederic devastated the area, but it also led to a construction boom that took Gulf Shores from a town to city.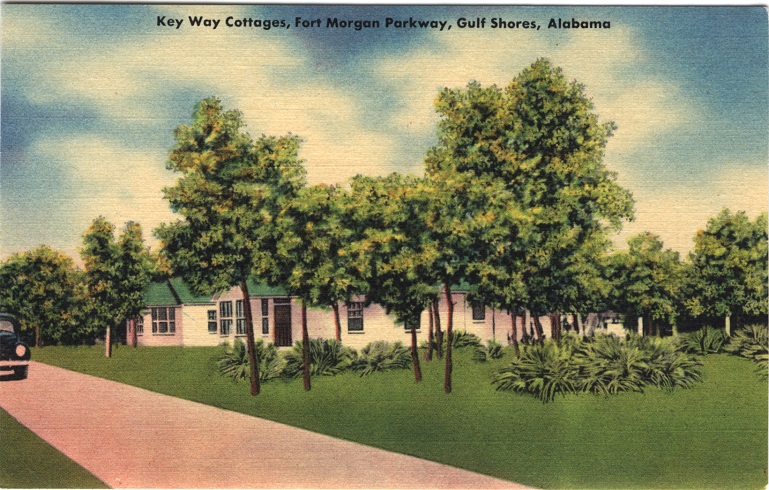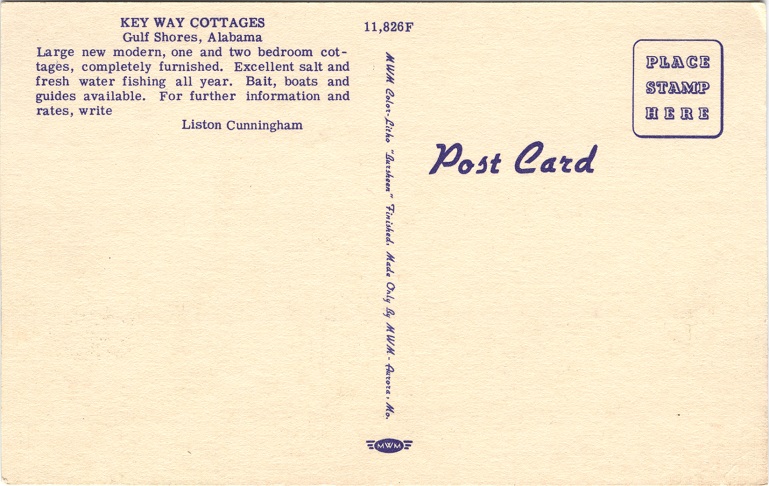 ---
Hillsboro - Pond Spring
The main attraction of Pond Spring, a 50-acre historic site located in Hillsboro, Lawrence County, is Benjamin Sherrod's 1827 Federal-style dwelling that is connected by a covered walkway, to the home General Joe Wheeler and his wife built in the 1870s. Because this area lacked lodgings, guests likely stayed in the Sherrod house, known as the west wing, when they visited. In 1994, Pond Spring was donated to the Alabama Historical Commission, which restored the house and outbuildings and opened it to the public. The house contains artifacts of Joe Wheeler, a general in the Confederate Army, a U.S. Congressman, and a general in the U.S. Army during the Spanish-American War and Philippine Insurrection.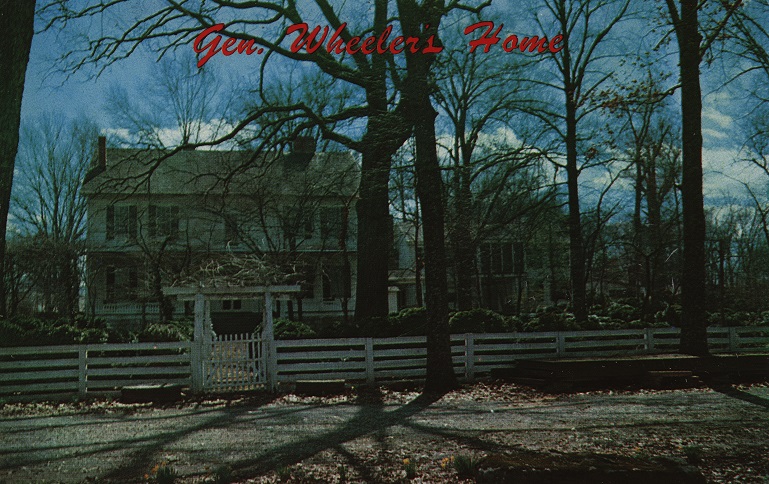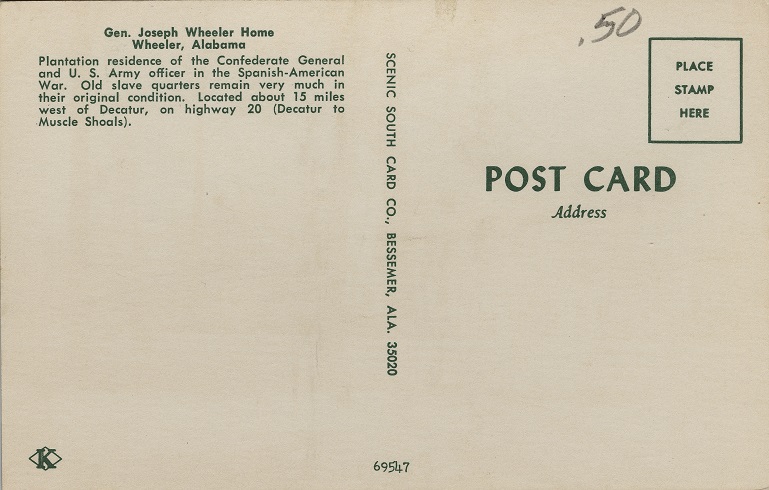 ---
Mentone - Mentone Springs Hotel
In 1884, J. Frank Caldwell built the Mentone Springs Hotel on Lookout Mountain in DeKalb County. Alice, daughter of John Mason with whom Caldwell had been staying, named Mentone after a French resort. Caldwell promoted the inn as a health resort because of the mineral springs and its location above the fetid, swampy air believed to carry disease. The Great Depression led to the hotel's closing and, in 1950, it was purchased as a private home. It was reopened as a hotel in 2001, included in 1,000 Places to See Before You Die in the USA and Canada in 2007, and renovated in 2010–11. The hotel burned in 2014. The Mentone area offers tourists many attractions including the Cloudmont Ski and Golf Resorts, Alabama's only ski slopes, although covered with manmade snow.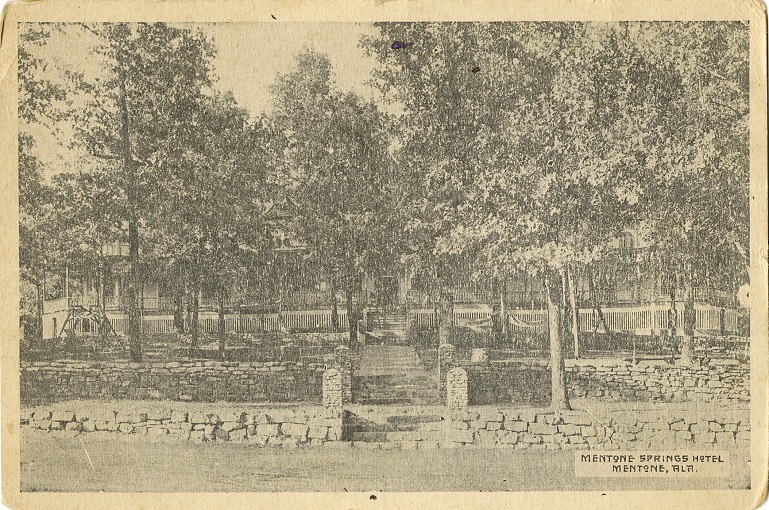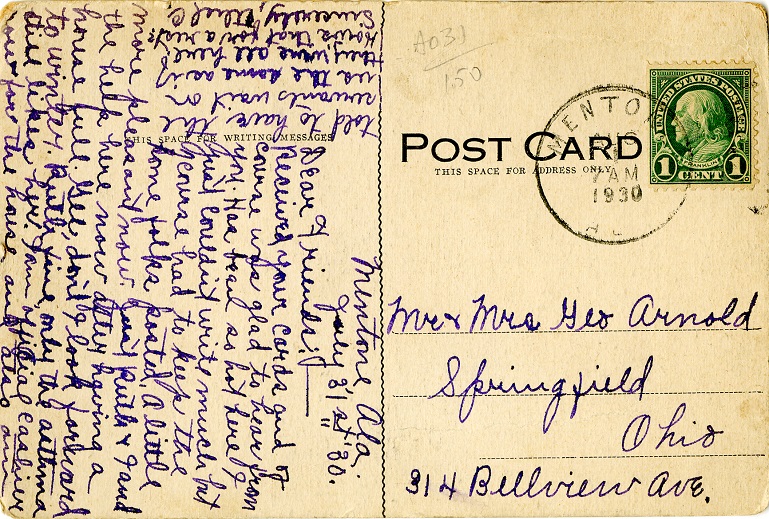 Transcription
Mentone Ala. July 31st '30. Dear Friends:- Received your cards and of course was glad to hear from you. Has bean so hot here I just couldn't write much but of course had to keep the home folks posted. A little more pleasant now. Just Ruth & I and the help here now after having a house full. Gee, don't I look forward to winter. Ruth fine only the asthma still liker her. I am official cashier now for the house and also am told to have the servants wait on us the same as if they were all here. How's that for a rest? Sincerely, Ethel C. Addressed to: Mr & Mrs Geo Arnold Springfield Ohio 314 Bellview Ave.
---
Point Clear - Grand Hotel
F. H. Chamberlain built the Grand, initially called the Point Clear Hotel, in 1847 with two stories, 40 rooms, and access only by boat. It became the Grand in 1875 when Henry C. Baldwin rebuilt a larger, classier hotel on the original foundation. He catered to the Southern elite, and his hotel became known as "the Queen of Southern Resorts." The Grand served as a hospital during the Civil War and hosted training operations during World War II. There is a 150-grave Confederate cemetery adjacent to the Azalea golf course. In its 170 years of existence, the Grand has had several owners, extensive renovations, survived fires, floods, and hurricanes; and yet, it remains the Queen of Southern Resorts.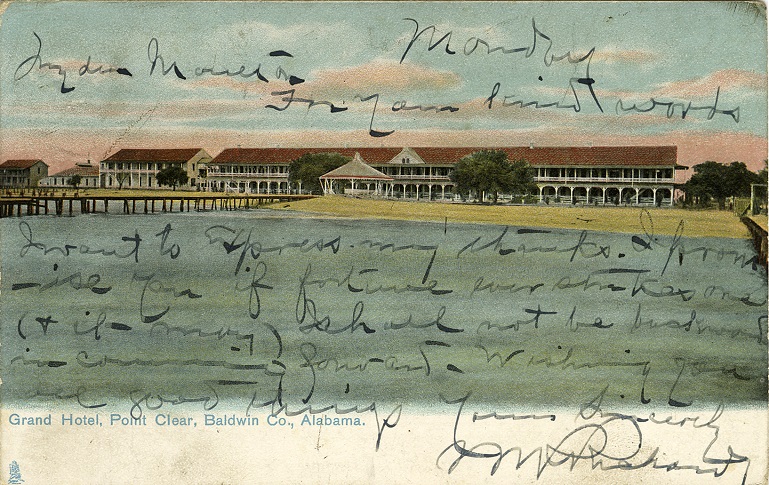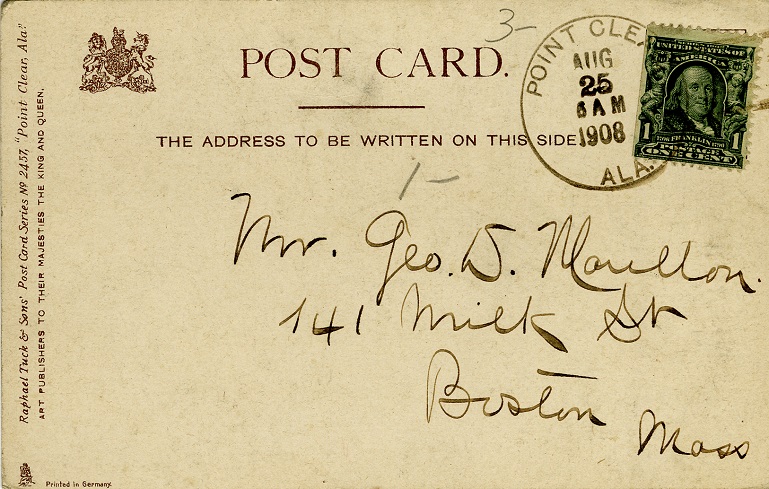 Transcription
Monday My dear [illegible] I want to express my thanks. I promise you if fortune ever strikes me (& it may). I shall not be backward in coming forward. Wishing you all good things. Yours Sincerely [illegible] Addressed to: Mr. Geo. D. Maullon 141 Milk St Boston Mass