Postcards showcased on the Traveling Exhibits
---
The Narrows: Railroad, River and Highway
Historically, Alabama has relied on a three-part system to transport freight and people over long distances. This postcard of "The Narrows" between Birmingham and Chelsea in Jefferson County shows them all: natural waterways were first, followed by railroads in the 19th century, then "perfected" in the 20th century by state-built highways that "start somewhere and end somewhere," according to Governor Emmet O'Neal in 1914. Each mode of transportation developed services for travelers, from inns along waterways (and early federal post and military roads), to hotels in cities served by rail lines, to roadside restaurants along the asphalt trails.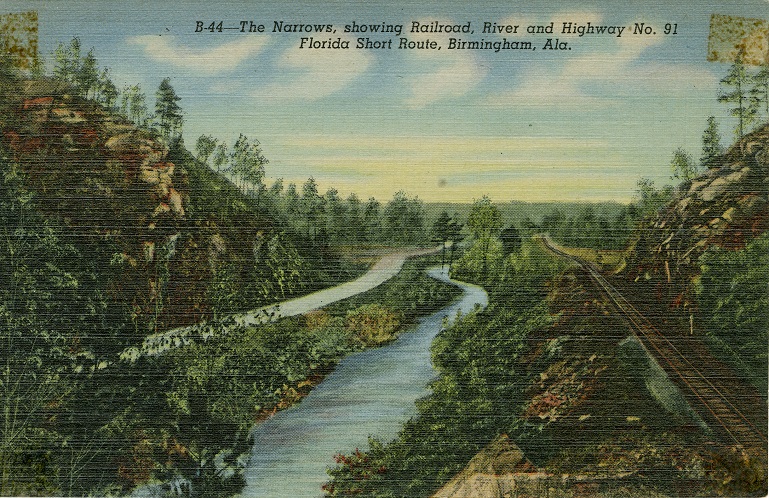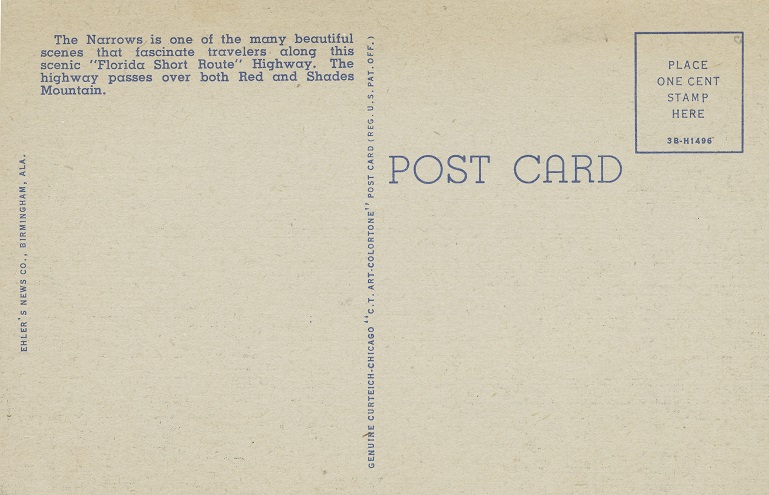 ---
Demopolis - Boats on the Tombigbee River
The transportation of goods and people over the state's 132,000 plus miles of rivers and streams was critical to the founding of the state. The advent of steamboats in the early 1800s made trade and transportation easier and led to the growth of the state's most important cities, evidenced by all five capitals being river towns. The Mobile bound steamboats stopped at landings to load cotton and returned with cargoes of sugar, coffee, household goods, and other supplies for merchants upriver. This image of a Demopolis dock on the Tombigbee River shows a variety of boats that navigated Alabama rivers.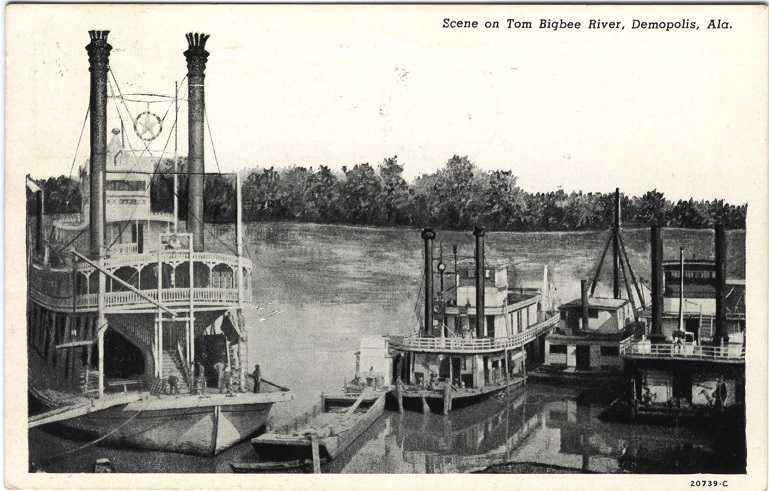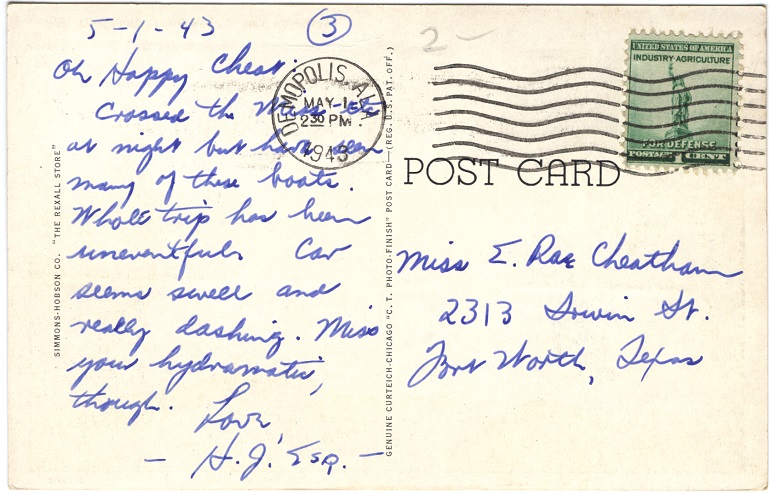 Transcription
5-1-43 Oh Happy Cheat: Crossed the Miss - etc at night but have seen many of these boats. Whole trip has been uneventful. Car seems swell and really dashing. Miss your hydramatic, though. Love, H. J. Esq. - Addressed to: Miss E. Rae Cheatham 2313 Gowin St. Fort Worth, Texas
---
Selma - Old Depot
Ironically, the first railroad in Alabama, the Tuscumbia, Courtland, and Decatur Railroad opened in 1832, was built to convey river traffic around the shell middens at Muscle Shoals. At that time, there were only 23 miles of tracks in the entire country, but that grew to 93,000 miles by 1880, which allowed trains to become the primary way to transport passengers and cargo. Railroads did not have to follow twisted waterways, thus trains were more direct, faster, and allowed for towns and cities to develop along their routes. Selma, Dallas County, was a river and a railroad town. The L&N Railroad Depot, constructed in 1891, is now the Old Depot Museum and contains artifacts and exhibits depicting Selma's history.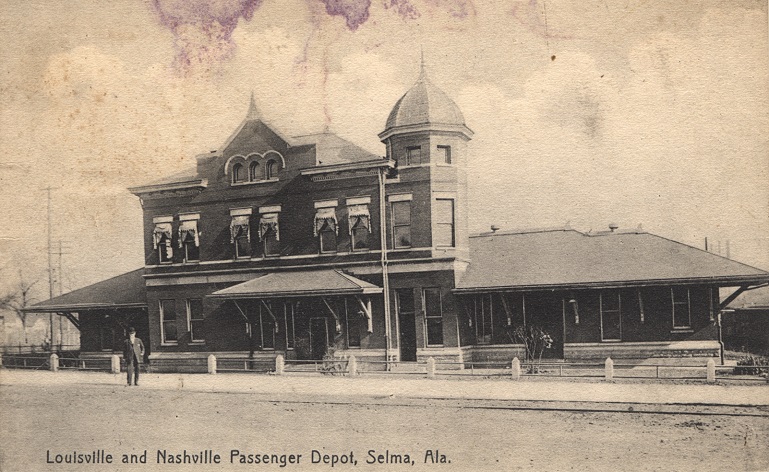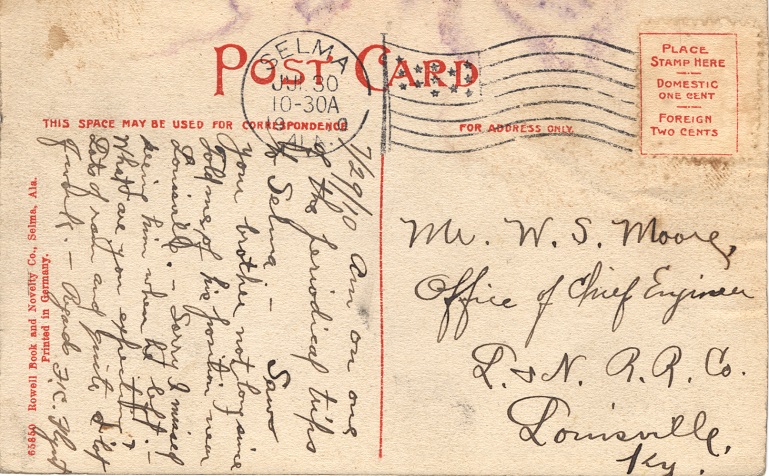 Transcription
7/29/10 Am on one of the periodical trips to Selma. - Saw your brother not long since Told me of his position near Louisville. - Sorry I missed seeing him when he left. - What are you expecting? Lots of rain and quite a lot of work. - Regards F. C. Flynt Addressed to: Mr. W. S. Moore, Office of Chief Engineer L. & N. R. R. Co. Louisville, Ky.
---
Flomaton - Flomaton Bus Station Cafe
In 1869, Flomaton, Escambia County, was settled at the junction of three railroad lines making it an important connection through the early 1900s. From the 1930s through the 1950s, its location at the intersection of U.S. Highway 29 and 31 on the Florida and Alabama border made it an important bus stop. Sights like this one were common across the United States in this era when Greyhound saw its greatest growth, aided by slogans such as, "Spend less … and have the best vacation ever!", "Leave the Driving to Us", "This Army Moves By Greyhound", and "Serve America Now So You Can See America Later".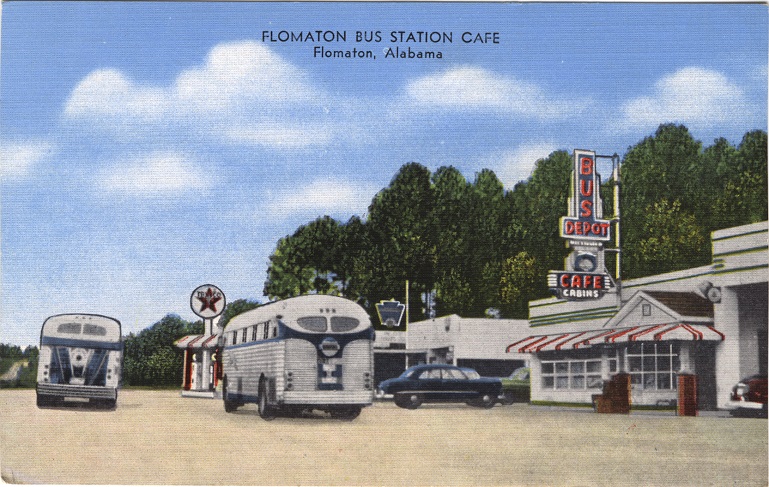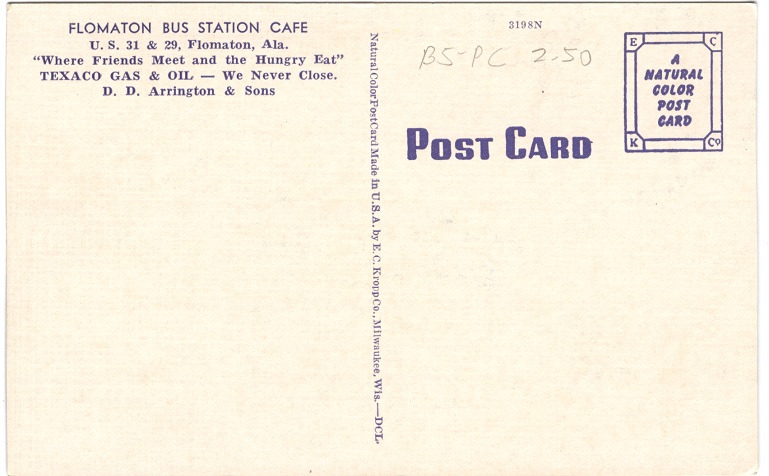 ---
Montgomery - Municipal Airport
Since 1910, Montgomery has intertwined commercial and military aviation with Wilbur and Orville Wright opening America's first civilian flying school on land that later became Maxwell Air Force Base. Montgomery's original municipal airport, named Gunter Field in honor of long-time mayor William A. Gunter, opened in 1929, but was acquired by the US Army Air Corps as a pilot training facility in 1940. This increased the congestion at Gunter Field causing commercial air traffic to temporarily move to Maxwell and the city to purchase property for civilian air traffic. In 1943, Dannelly Field Airport, later renamed Montgomery Regional Airport, opened and air service began in 1946.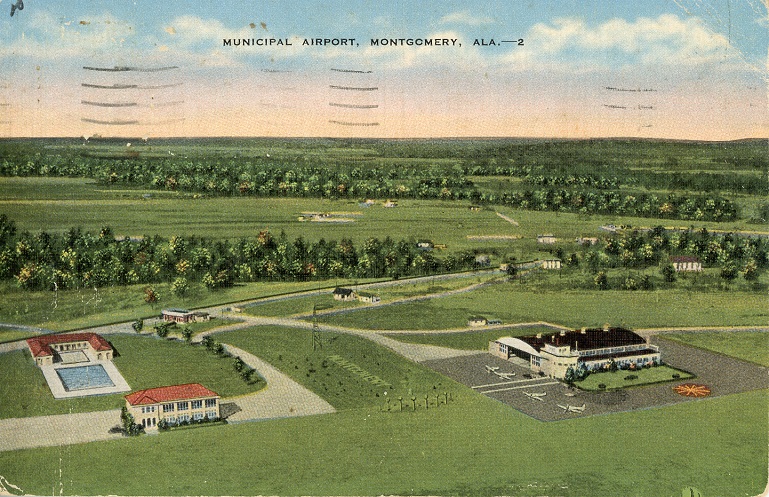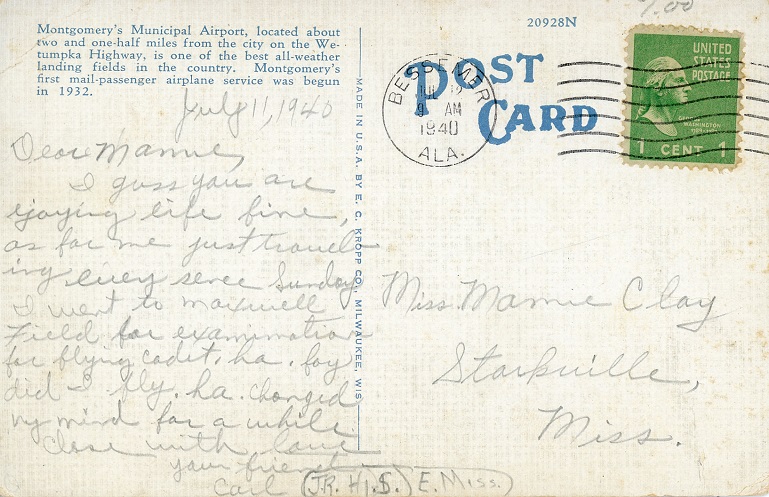 Transcription
July 11, 1940 Dear Mamie, I guss you are enjoying life fine, as for me just traveling evey since Sunday. I went to Maxwell Field for examination for flying cadet. ha. boy did I fly. ha. changed my mind for a while. Close with love your friend Carl (JR. H. S. E. Miss.) Addressed to: Miss Mamie Clay Starkville, Miss.
---
Irondale - Irondale Cafe
In 1932, Bess Fortenberry's father bought her the Irondale Cafe as a means to care for herself during the depression. This meat-and-three restaurant did well, but when Sue Lovelace and Lizzie Cunningham joined Bess in the 1940s, it became the most popular place to dine in Irondale, Jefferson County. In 1972, Bess sold the restaurant to Billy and Mary Jo McMichael, who rebuilt the small 1920s building and opened the new larger restaurant on the same lot in 1980. In 1990 the café expanded, a fortuitous move since Fannie Flagg's book and movie Fried Green Tomatoes, based on her aunt's cafe and town, was released in 1992 and brought in unprecedented crowds desiring to taste the "Whistle Stop Cafe's" famous dish.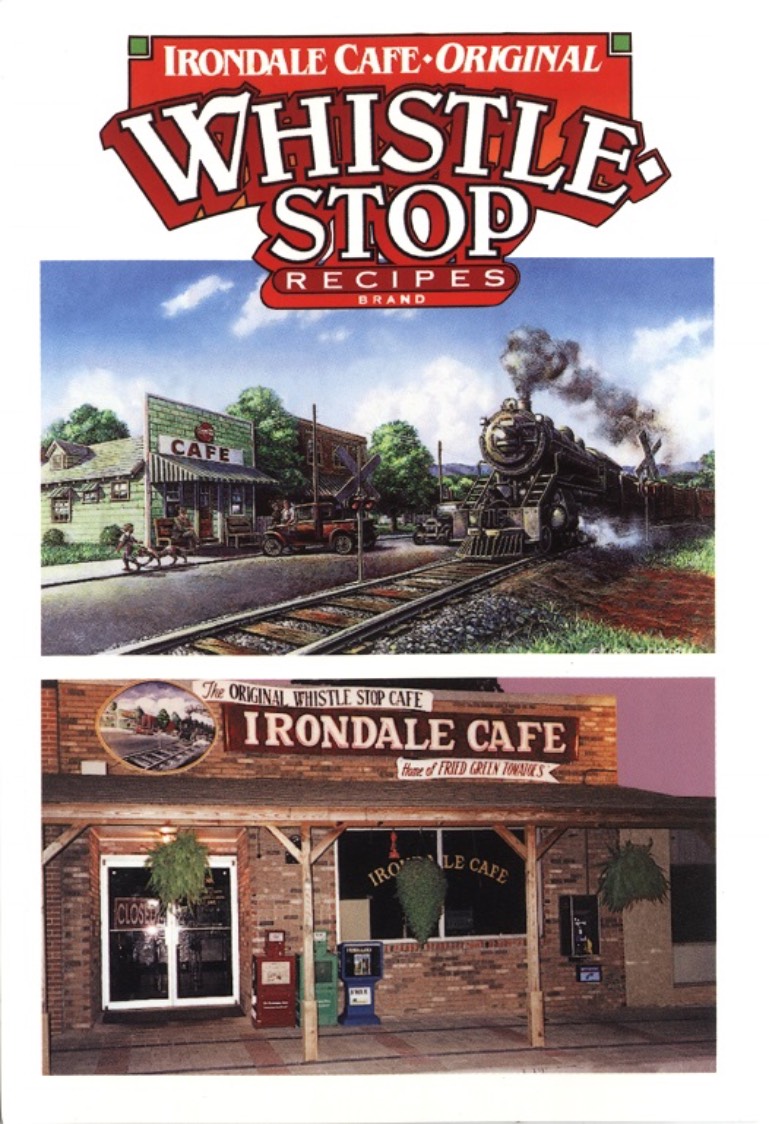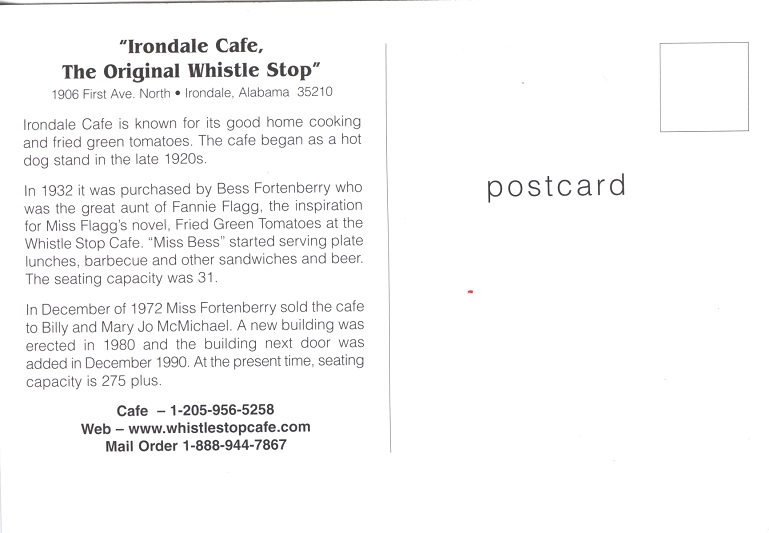 ---
Seale - Villula Tea Garden
In 1848, Villula was a stagecoach stop on the Federal Road. Lyman Martin and his wife moved to the area when Seale became the county seat of Russell County in 1868 and built "The Bird's Nest." Robert Jeorg and his wife Helen bought the house from the Martin's daughter in 1947, and Helen started the Villula Tea Garden. For over 30 years, the "tea room" had regular customers who traveled from Eufaula, Auburn, Opelika, Columbus, Georgia, and many points beyond to enjoy the food and the delightful, old-fashioned southern lady who treated customers like family.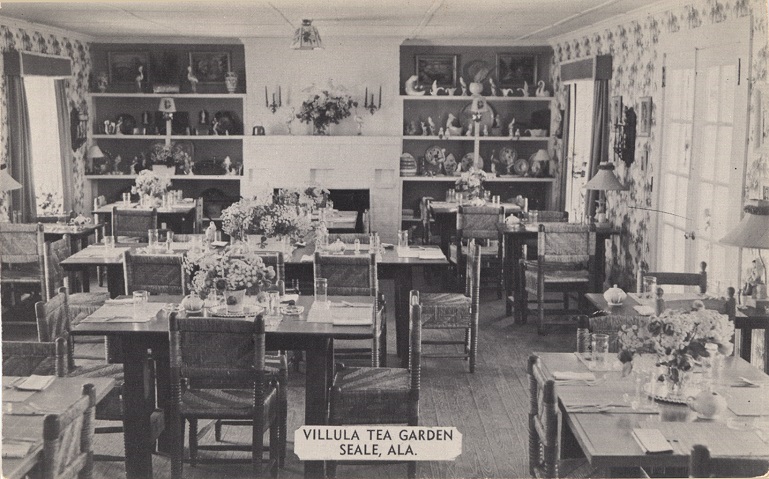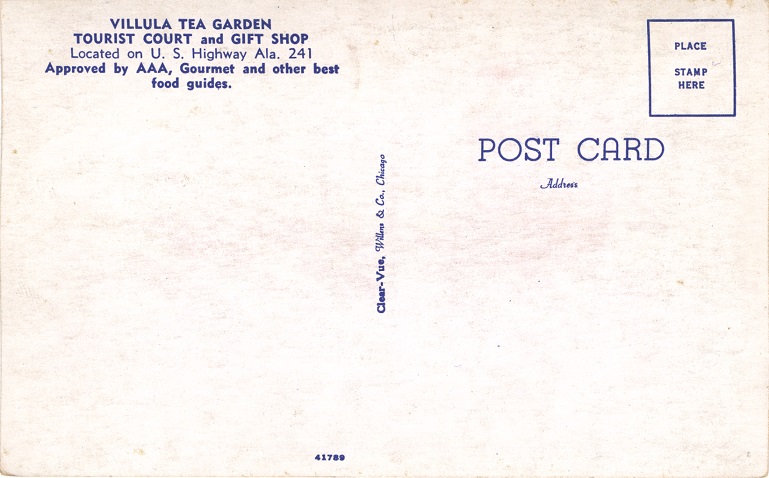 ---
Talladega - Purefoy Hotel
In 1916, Robert and Eva Brunson Purefoy open the first Purefoy Hotel in Monroeville. Eva's attention to guest's preferences made this a "home away from home", which they traveled out of their way to visit. The hotel's reputation grew leading the Purefoys' to buy a boarding house in Talladega and open their new hotel in 1920. By the late 1930s, the hotel had grown from 20 to 88 rooms and the dining room was serving 300-400 daily. Life and McCall's magazines did feature articles on the Purefoys' exceptional cuisine and Duncan Hines listed the Purefoy as "one of the select eating places of the nation" in his book, Adventures in Good Eating. In 1944, Eva sold the hotel, and in 1961, it was closed and razed.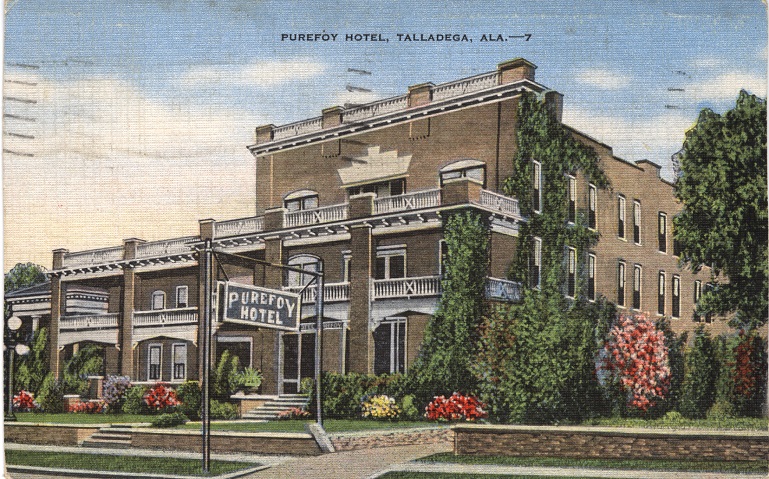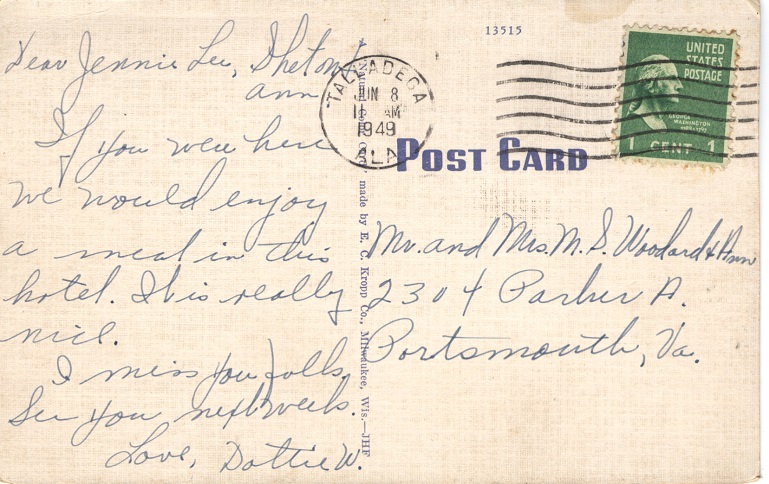 Transcription
Dear Jennie Lee, Sheton & Ann, If you were here we would enjoy a meal in this hotel. It is really nice. I miss you folks. See you next week. Love, Dottie W. Addressed to: Mr. and Mrs. M. S. Woodard & Ann 2304 Parker A. Portsmouth, Va.