About the Museum & Gallery
Over the course of his career, world-renowned artist Nall Hollis has collected his most important work to have on permanent display in his hometown of Troy, Alabama. The Nall Museum boasts work from all stages in the artist's life. His artistic talent is on display through media ranging from etchings, graphite, oil paint, watercolor, textile, sterling silver, porcelain, found objects and wood. Nall's art combines botanical elements of the American South, European opulence and Mexican craft in a collection that will give visitors a glimpse into the artist's imagination.
Bio and Artist Statement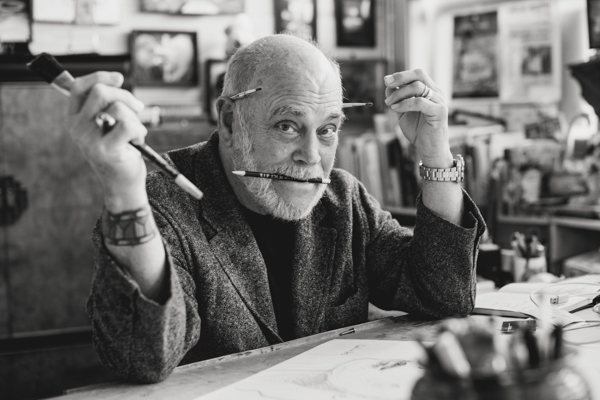 Nall, who was born in Troy, Alabama, in 1948, is a modern-day renaissance man who has created extraordinary works of art for 50 years. A multi-talented fine artist, he has traveled the world studying diverse cultures and exploring art, architecture and indigenous craft. Recent retrospective exhibitions of Nall's work were exhibited at the Mobile Museum of Art, Mobile, Alabama, Miami Dade College, Miami, Florida, Menton Museum of Art, Menton, France, The Basilica of St. Francis in Assisi, the Museum of St. Augustitne Pietrasanta, Italy, and The National Arts Club, New York City. The artwork in the exhibitions includes finely detailed drawings, remarkable botanical paintings and prints, complex mosaics, graphite portraits encased in elaborate frames, intricate line engravings and masterful watercolors. Exhibitions of Nall's work have circulated the globe.
In addition to fine art, Nall's work extends to the world of design as well. He has completed commissions in porcelain, Murano glassware and jewelry. His artwork was also chosen for a series of official postage stamps for the Principality of Monaco.
Nall's designs also extend into the theatrical scene with his set and costumes for the Puccini Opera in Italy. His work reaches great proportions in his fifteen-foot-high white dove entitled "Violata Pax"(Wounded Peace) which invites the viewer to reflect on opposing forces of peace and war in our society. Nall created the NALL Foundation and the N.A.L.L. Art Association which helps educate artists, writers and musicians and instill within them a sober work ethic, while gaining experience as working artists.
Many years of study at the University of Alabama and in Paris' Ecole Nationale des Beaux Arts improved my aesthetic and technical skills, as did observing human limits through political science and psychology. Having a mentor of Salvador Dali validated my audacity. These rebellious years of traveling and working in Europe, North Africa, the Middle East, India and Mexico gave me varied perspectives and experiences where I gathered many sources of aesthetic patinas. Setting technical rules for myself such as "not gluing any object on a surface until I could render it" and "draw from life until I could draw the hair growing from the head" helped direct an innate concentration for detail and collage. Mosaics from Carthage, Istanbul and Byblos enriched my eggshell and mirror mosaics from Mexico. Art inspires me especially when it has spiritual symbolism; from feeling the carved etchings of caves from prehistoric times to collecting today's troubled icons of Alabama Outsider Art.
You can visit him in his studio located at 414 Equality Ave., Fairhope, Alabama.