From the Hive
Recent Works by Beverly West Leach
Sept. 7, 2023 - Jan. 14, 2024
Reception: Oct. 5, 5-7 p.m.
Artist Talk: Nov. 1, 12:30-1:30 p.m.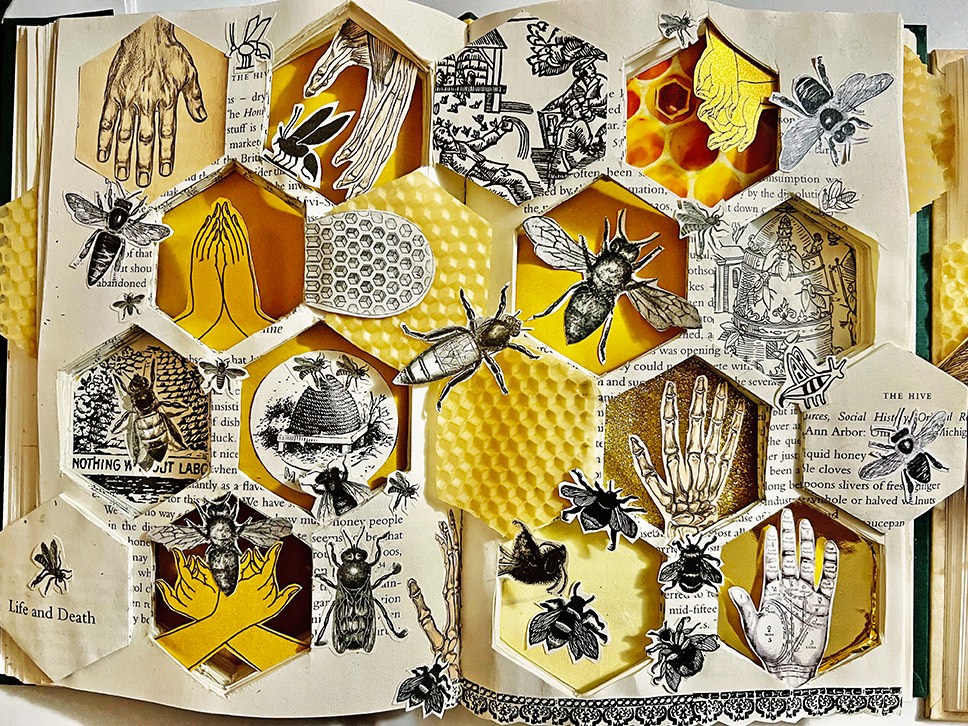 Image: Life and Death

From the Hive: recent works by Beverly West Leach consists of a connected flow of images, shapes, colors, and materials built from years of developing a visual vocabulary tied to Mother Nature. Beverly states that "Observing how the early morning light slowly emerges transforming the sky above uniquely each day is inspiring." During these moments the artist ponders her place in the ever-expanding universe, the divine energy within all of creation and the interconnected correspondence between particles of nature—big and small. This meditation creates a hive of activity within the artist's studio practice where her ideas begin to take flight. Beverly's goal is to create tangential imagery that is metaphorical and open to interpretation; this takes the viewer on their own journey of contemplation.

Beverly West Leach is an artist, educator, beekeeper, and traveler. She began teaching at Troy University in 2008 after relocating with her husband from Baltimore, Maryland. Beverly's work has been exhibited internationally and throughout the United States in juried exhibitions and group shows, as well as regional solo exhibitions. Her work is part of several corporate collections, private collections, The Pennsylvania State University Library Collection and The Baltimore Museum of Art Prints, Drawings, and Photographs Archive. Her work appears in several international publications on the art of collage.

From the Hive: Recent Works by Beverly West Leach will be showing in the IAC foyer until January 14, 2023. Please join us on Oct. 5, 5-7 p.m. to celebrate this exhibition from Troy University's own Beverly West Leach, Lecturer of Art & Design. An Artist talk will be held on Nov. 1, 12:30-1:30 p.m. with Beverly and invited guest, Wiregrass Museum of Art, Director Dana Marie Lemmer.
Sadie: The Paintings
Gary Chapman
Sept. 15–Nov. 17
Reception and Lecture: Nov. 16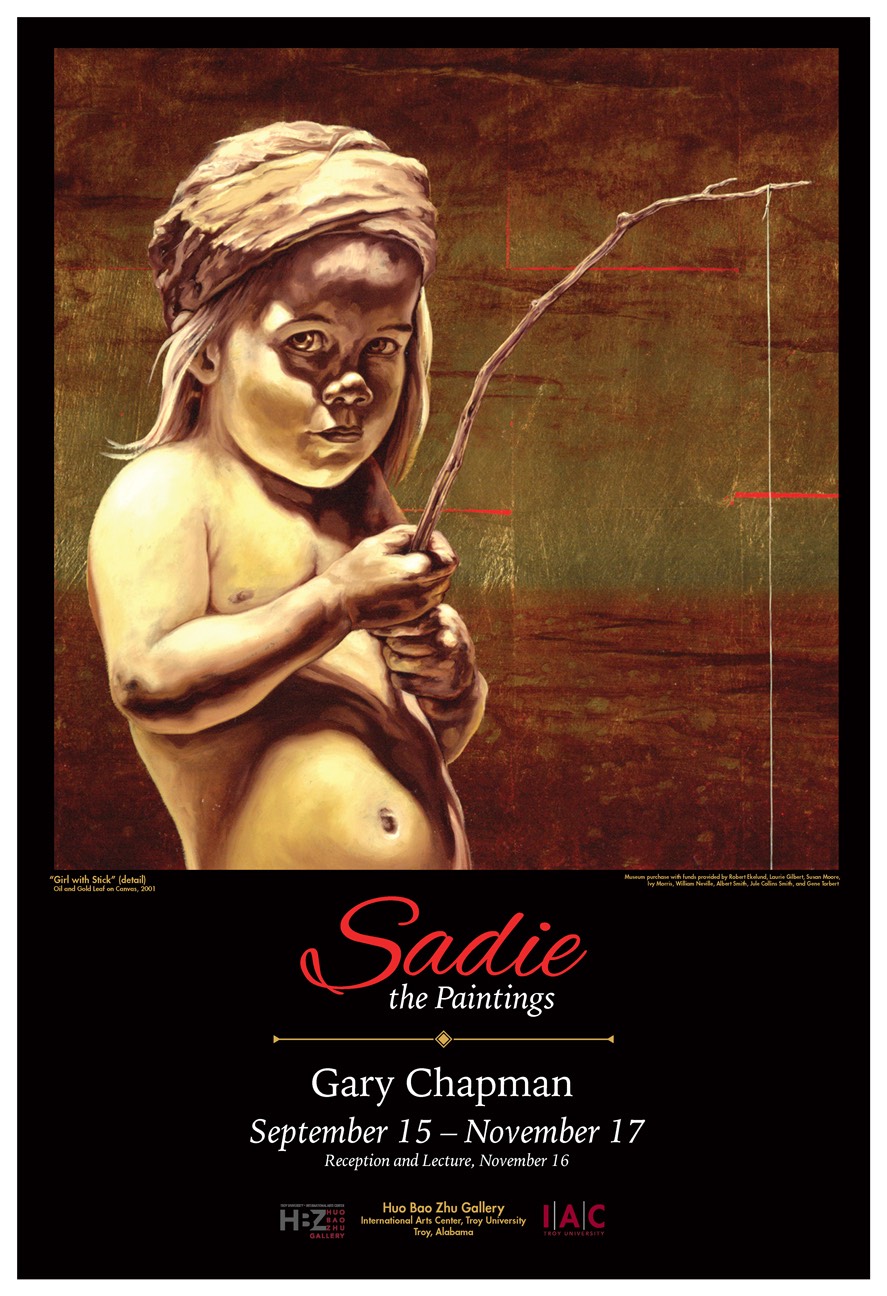 The International Arts Center is honored to be presenting Sadie: the Paintings—a testament to the life, essence, and resilience of Sadie Chapman. Sadie was born with an underdeveloped left ventricle, diagnosed as Hypoplastic Left Heart Syndrome. She had two open heart surgeries as a child and a heart transplant at the age of 19. This heart gave her seven more years of life, and she passed away at 26. Soon after Sadie's death, Gary Chapman began posting paintings of Sadie on Facebook. These posts garnered an overwhelming amount of beautiful, poignant responses from a magnitude of people who were touched by Sadie's life. This expression organically developed into an exhibition of paintings related to Sadie. It is showing for the first time in Troy University's Huo Bao Zhu gallery from September 15–November 17.
Gary Chapman describes himself as a maker of things: "I draw, paint, sculpt, find, and assemble my work." Although he is a realist in style, his paintings go beyond picturesque imagery and capture the feelings, ideas, and emotions that accompany reality. His subjects are not limited to one moment, medium, device or style. This freedom allows him to create a visual vocabulary that expands beyond historical and cultural boundaries. By surrounding a subject with its own tangential elements, 'what is not easy to see' emerges from the cumulation and connection of defining abstract ideas. Gary's work does not illustrate the truth, but instead represents a passionate pursuit of meaning, knowledge, experience, and understanding by the artist through tangible symbolism and life-like imagery.
The salamander is an ancient symbol for bravery despite affliction. Salamanders were often seen scurrying amid the flames of burning wooden structures, and it was believed that salamanders could live in the fire. Today, scientists recognize salamanders as the most complicated form of life that can regenerate its own organs. They are studying salamanders to better understand this phenomenon and it is believed that many animals had this remarkable ability, which has been lost through the evolutionary process. A few years before Sadie was born, the German industrial band Einsturzende Neu Bauten produced the song Salamandrina, based on the ancient myth of the salamander. This later took on meaning for the family as metaphor for Sadie.
SALAMANDRINA is the first painting where the salamander is used as a symbolic reference to Sadie. Almost every subsequent painting of or about Sadie includes at least one salamander representing the hope of Sadie's survival in the fire caused by her heart defect, in anticipation of scientists developing the technology to regenerate organs, alleviating the need for a heart transplant and the threat of potential rejection.