March 2019 Newsletter
Welcome to the Compass, the College of Education's newsletter where we inform you how we are making a difference in the lives we encounter! This edition of Compass focuses on one of Troy's own alumni who is now one of the TROY faculty family, Troy's Applied Behavior Analysis (ABA) Program as well as new faculty and staff.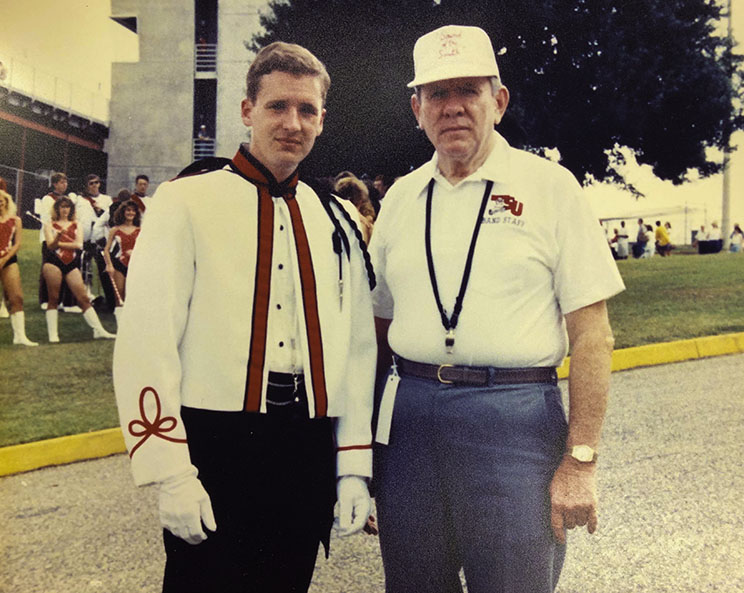 Alumni Spotlight:
Dr. Kerry Palmer, Former Sound of the South Drum Major, Recently Joined TROY Family
Dr. Kerry Palmer has joined the Troy University College of Education as associate dean for community engagement and advancement. Dr. Palmer comes to TROY from Trinity Presbyterian School in Montgomery where he served for over ten years as middle school principal and head of school. He holds a B.M.E from TROY, an M.Ed. from Auburn University at Montgomery, and a Ph.D. from Auburn University. Prior to joining the team at Trinity in 2008, Dr. Palmer taught band and served as a K-12 school administrator for thirteen years. His teaching career began with the Troy City Schools as an assistant with the band Charles Henderson Middle School. He is married to the former Robyn Self of Montgomery, and has two teenage children, one of whom will enroll as a freshman at TROY this fall.
While a student at TROY, Dr. Palmer was active with the university's nationally-acclaimed band program. He was euphonium section leader in the Symphony Band for four years, and served for three years as drum major of the Sound of the South marching band, both under the leadership of legendary bandmaster Dr. Johnny Long. He was also the first recipient of the Kappa Kappa Psi Alumni Association's John M. Long band scholarship, as well as the David Mallach leadership scholarship, selected by music department faculty. During his junior year at TROY, the sisters of Tau Beta Sigma band sorority inducted Dr. Palmer as an honorary member in a ceremony that included former TROY music professor Ray Smith, and current Chancellor Dr. Jack Hawkins, Jr.
New Faculty and Staff for 2018-2019
My name is Shannon Bales, a professor in the Department of Teacher Education. I come to Troy from Auburn University where I received my degree in Science Education.
I am a Licensed Professional Counselor in Alabama and a Nationally Certified Counselor. A former school counselor and private practitioner, I have worked with all ages in school settings, homes and private practice. I earned my Ph.D in Counselor Education and Supervision from Auburn University.
I am Valerie Brownlee, a graduate of Troy University, and I am from Opp, AL where I taught middle school math and science, using AMSTI kits in my own classroom. I now enjoy working for an organization that I not only feel so passionate about, but also have the means to support, mentor, and train other science teachers for success in their own classrooms.
I am director of Interpreter Training for Troy University. After coordinating two different two-year programs in interpreting, then teaching in a four-year interpreting program, I am now coordinating Alabama's only four-year interpreting program and preparing to introduce a graduate program in interpreting in the next few years.
I am the region 11 Chemistry Specialist for Alabama Science in Motion based at Troy University. With a Bachelor's degree in Comprehensive Secondary Science Education and a Master's degree in Instructional Leadership from Troy University, I have taught a wide range of science classes in five different school systems across the state of Alabama over the past fourteen years.
I am a former Troy Professor who left in 2000 to work full-time in private practice and as the Staff Neuropsychologist at Baptist Hospital's Trauma Services. I retired in 2016 from private practice and have returned to Troy University, Pensacola campus, as a lecturer in Behavior Pathology and Diagnosis & Treatment Planning as well as serving as the site's clinical coordinator, overseeing the internship students.
I am a secondary mathematics education teacher originally from Jack, Alabama. I began my teaching career in Tuscaloosa County and am starting my fifth year with Troy University. My experience within the College of Education has been through teaching ACCESS distance learning courses, then as an AMSTI Math Specialist, and currently as a part of the Teacher Education team.
I'm Dr. Duane Gunn. I started at Troy University as an adjunct instructor in Fall 2016 after serving 27 years in the United States Air Force where I served in nuclear operations; space operations; and academia.
I completed my BSc and MSc at National University of Colombia (2008) and my PhD at University of Manitoba, Canada (2014). My research and teaching interests focus on behavioral and learning processes (e.g., problem solving, self-control, verbal behavior), and methodological and conceptual discussions in psychology (e.g., alternative research methods in psychology and research productivity and publications).
I am Toni Ingram, the Secretary for the Department of Teacher Education. I would like to thank everyone for their help and warm welcome.
Prior to my move to Troy University, I taught Secondary Social Studies for eleven years and have my National Boards in Early Adolescence Social Studies education. I hold my Ph.D. in Educational Psychology, M.Ed. and B.S. in Secondary Social Science Education.
PAMELA A. LEMOINE, Ed.D. is an Assistant Professor in the Department of Leadership Development and Professional Studies. Dr. Lemoine completed a BA in English, an MEd in Educational Technology, and was awarded an EdD in Educational Leadership at the University of Louisiana at Lafayette. Her research interests include the effects of grade retention on high school graduation, educational leadership preparation, and the impact of digital technology on education.
I am Cathy Lott. I am a Troy native and two time TU graduate. I taught 20 years in public elementary schools and as a reading coach. During that time I taught adjunct for Troy for 7 years before coming on full time this past fall.
I am a 28 year veteran Science/Mathematics teacher in Alabama Public Schools. Through continued use of Science In Motion, I was given the awesome opportunity to now serve as the Biology Specialist for Region 11 through Troy University.
Dr. Lesley Riley has been a Counselor Educator since 2005. She is a National Certified Counselor, a Licensed Professional Counselor and a Certified Professional Counselors Supervisor in the State of Georgia. She completed her Master's in Secondary School Guidance from the University of South Carolina and received her Ph.D. in Counselor Education from the University of South Carolina.
Dr. Coralis Solomon is a National Certified Counselor and a Licensed Mental Health Therapist in the state of Florida. She completed her Master's in Counseling Psychology at Troy University, and received her Ph.D. in Counselor Education from the University of Central Florida.
My name is Ashley Walton, I am the secretary for the Leadership Development and Professional Studies department. I came in the late fall and I am also pursuing my degree in Occupational Education.
I'm Dr. Sharon Weaver and I earned my doctoral degree in Special Education and Rehabilitation Counseling (2017) from Auburn University, and completed my Masters in Rehabilitation Counseling (2009) at Alabama State University. I have always wanted to teach in higher education; Troy University offered me that opportunity last November, and am thrilled to be an Assistant Professor teaching undergraduate students Vocational Rehabilitation Counseling classes.
Study Abroad Reminder:
Summer 2019 United Kingdom
The College of Education is sponsoring a Study Abroad trip to the United Kingdom in early June (departing between June 1-3 and returning between June 8-10) this year. Registration deadline for the trip is February 27. If you have questions about this wonderful opportunity, please contact Dr. Joe Johnson at jjohnson146840@troy.edu.
---
Applied Behavior Analysis (ABA)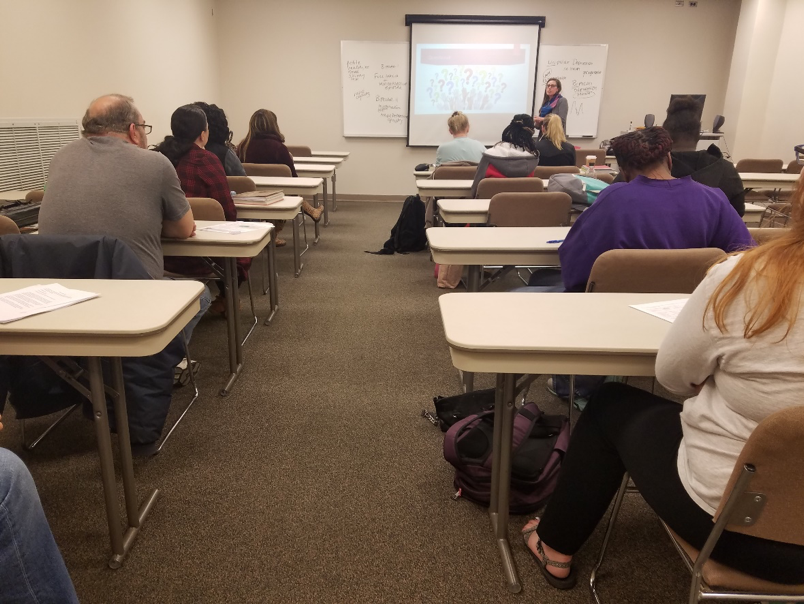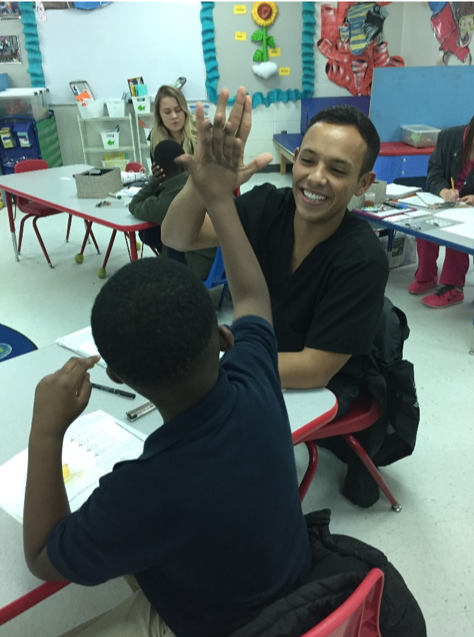 Foreground: ABA practicum student Michael Wylie celebrates a client's success in math. Background, ABA practicum student Haleigh Thrasher using the behavioral technique of compressed teaching to teach early literacy skills.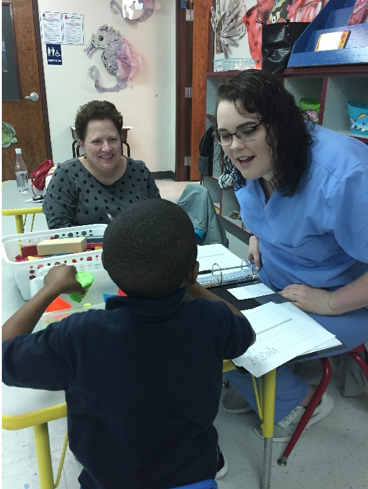 Dr. Barbara Metzger supervises ABA practicum student Zoey Rowell implementing behavioral techniques to teach a client language skills in a public school classroom.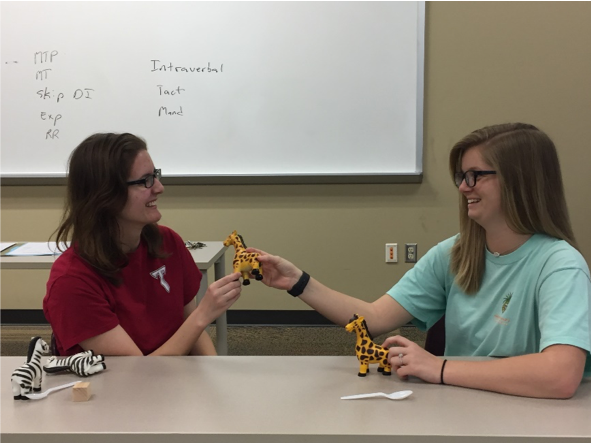 ABA minor students Kathryn Waller (L) and Amanda St. John (R) spend time in class practicing the behavioral technique of discrete trial teaching to teach the skill of identical matching.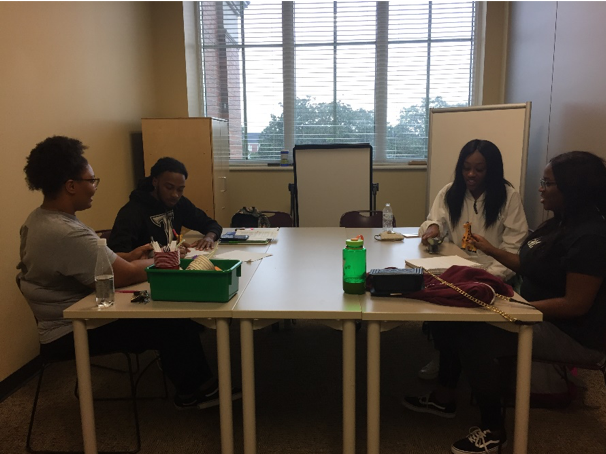 ABA students (clockwise from left front) Morgan Williams, Trevon Reese, Cierra Taylor, and Ty'Ana Thomas help each other practice for un upcoming skill demonstration test.
---