Jahni | Notations of a Native Son

February 17 - October 11, 2020
John "Jahni" Moore is a southern-born artist who often uses figuration to navigate the dark/obscure spaces of humanity. His work explores those spaces with the intention to serve as a path to identity through self-awareness and social positioning. His process emerges as paintings, drawings, assemblage, writing, and installation.

Jahni received his Bachelor of Science in Art, and Master in Art Education from Alabama A&M University. He earned his Master of Fine Arts at The Art Institute of Chicago.

He currently resides in Huntsville, where he creates art and works as an instructor at Lee High Art Magnet School. His experience in arts education encompasses fifteen years among a variety of age groups, including primary schools, as well as Alabama A&M University and Oakwood University, Huntsville. He has been nominated twice to serve as an American Ambassador of Art to Colombia, South America, where he created murals, conducted lectures and gave presentations which focused on using art as a tool for social change, addressing the issue of violence and social justice.

Exhibitions that have featured Jahni's work include: New Orleans African American Museum; Lowe Mill Gallery, Huntsville; Sullivan Gallery, Chicago; Museum of Science and Industry, Chicago; Heritage House Museum, Talladega; Rosa Parks Museum, Montgomery; Alabama State Council on the Arts, Montgomery; Laxart, Los Angeles; Birmingham Civil Rights Museum, Birmingham; Gallery of Contemporary Art, Antioquia, South America, among others.

For more information visit:
www.jahnitheartist.com
Chelsey Williams | The Emancipation of Black Women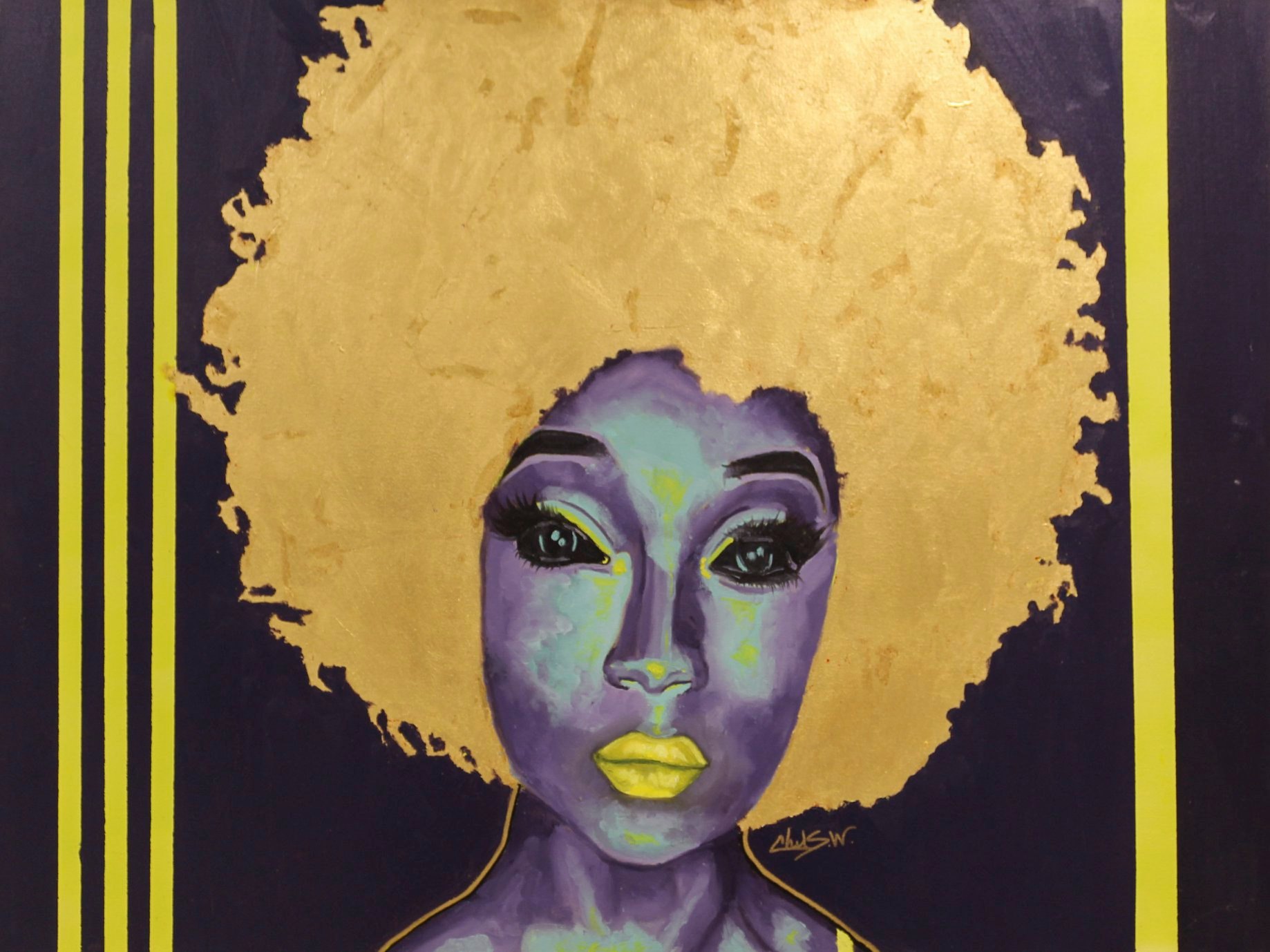 March 2 - September 29, 2020
Chelsey is a native of Miami Florida and currently resides locally in Troy, Alabama. She works as a commissioned artist with aspirations to further grow her presence within the local art community and on social media. Chelsey is passionate about the message she is expressing in her body of work and looks forward to exhibitions in galleries across the nation.
"My time spent at Troy University has definitely paved the way and helped me grow as an artist. I've learned many techniques and discovered new materials that I wasn't privy to before and I'm very thankful for my time spent with the University. My preferred technique is to just go with the flow! I have never been one to plan out or sketch out an idea in full detail. Once I am touched by a simple thought I just put in on paper or canvas then I build upon the idea while simultaneously working on it. Essentially most of my art is a "gut feeling". I mostly enjoy painting and drawing; the materials can vary depending on the mood and muse fairy, the only constant is gold leaf (I love the stuff!)."
This group of work art reflects the freedom from mental slavery of self-beauty of one's own image as a black woman. Throughout history a black woman's features were seen as undesirable and something to not be proud of. This collection of work pays homage to the beauty that is the black woman.
Carl Gombert | Radiant Geometry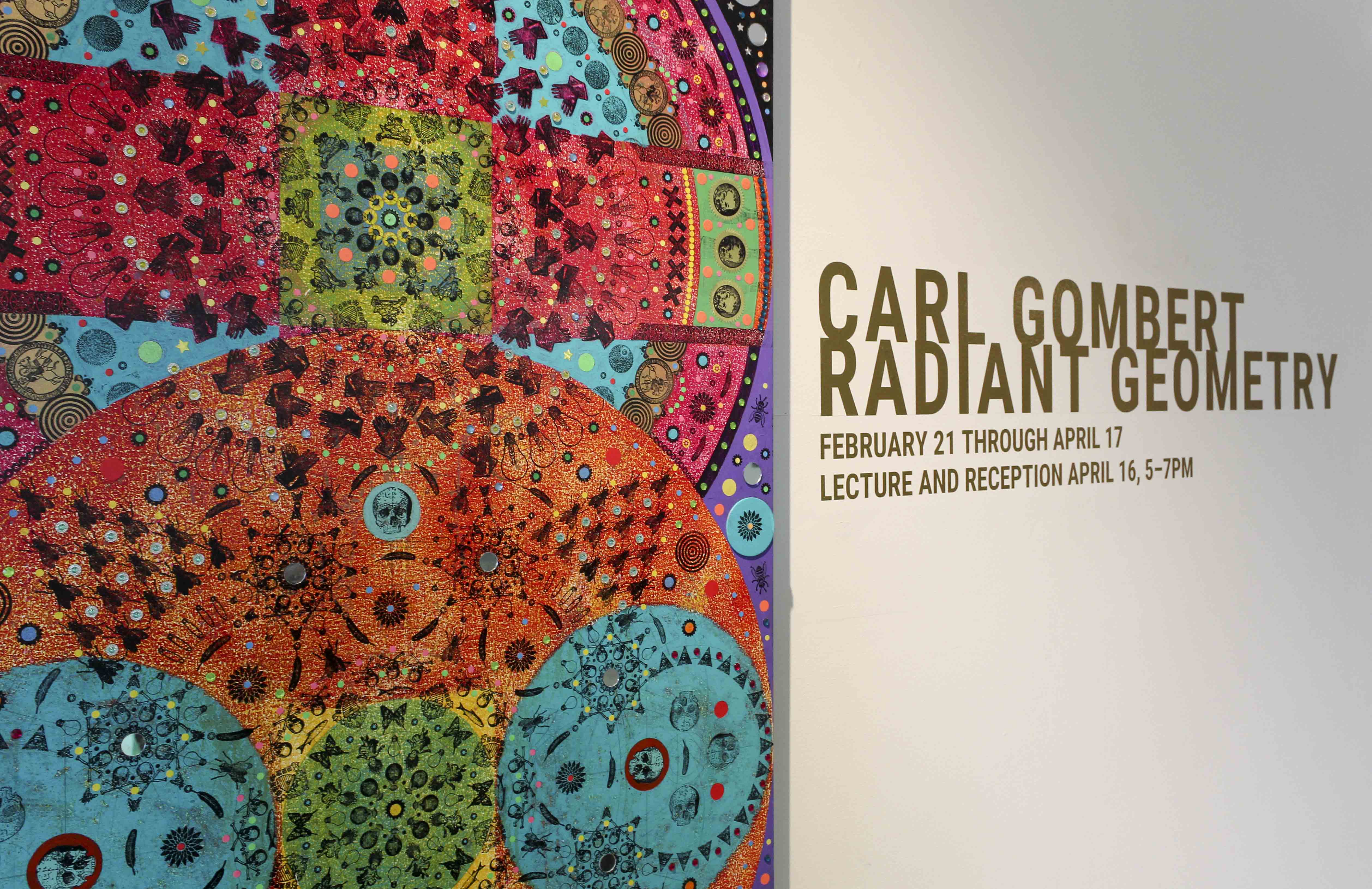 February 21 - July 20, 2020
"I love pattern; I love decoration, and I love sparkle. These hand stamped works rely on radial structure to explore complexity and pattern arising from the application of simple rules. They explore rotation and repetition as formal strategies and the patterns that emerge from the process. Taking the form of mandalas, they attempt to balance opposites, relying equally on
dark and light and on positive and negative shapes. Although they appear highly planned, the works result from a largely improvisational approach. Combinations of images are not generally selected beforehand; rather the images begin in the center ad evolve intuitively as they grow larger. In the little world, there is symmetry and balance and order, but neither rhyme nor
reason. " –Carl Gombert
Carl Gombert was born in Brimfield, Ohio in 1959. He started taking painting lessons at the age of 14 with money he earned delivering newspapers. He completed a BFA in Drawing from the University of Akron and an MFA in Painting from Kent State University. He worked as a stagehand before earning a Ph.D. in Interdisciplinary Fine Arts at Texas Tech University. He has exhibited in more than 250 exhibitions across the US and abroad. His work is in numerous museum, collegiate and private collections. Since 1993 has taught painting, drawing, and art history at Maryville College in Tennessee.
SPRING 2020 THESIS EXHIBITION
Artists on display:
Abigail Phillips - The Color of Movement
Ashley Ballard - What's Your Sin?
Briana Borders - GoldenRefined
Clarence Wilson - COLORED
Erin Baum - The Green Veil
Finnegan Nelson - Transgender Representation in Film
Jamie Caple - How Costume Design Reinforces Character Attributes Through Semiotics
Jasmine Lester - Bringing Awareness to the Risks of Cosmetic Surgery
Laura Bess Sullivan - The Untold Stories
Layton Stainbrook - HELP
Mary-Gates Allen - Weightless
Shamario Ross - Absent Father
Tinatei Tunyan - Posy: An app for artists
Willie Brown - LACK OF IMPORTANCE
Wyatt S. Judy - Addressing the Approach to Developing a Brand
Chenghao Li Watercolors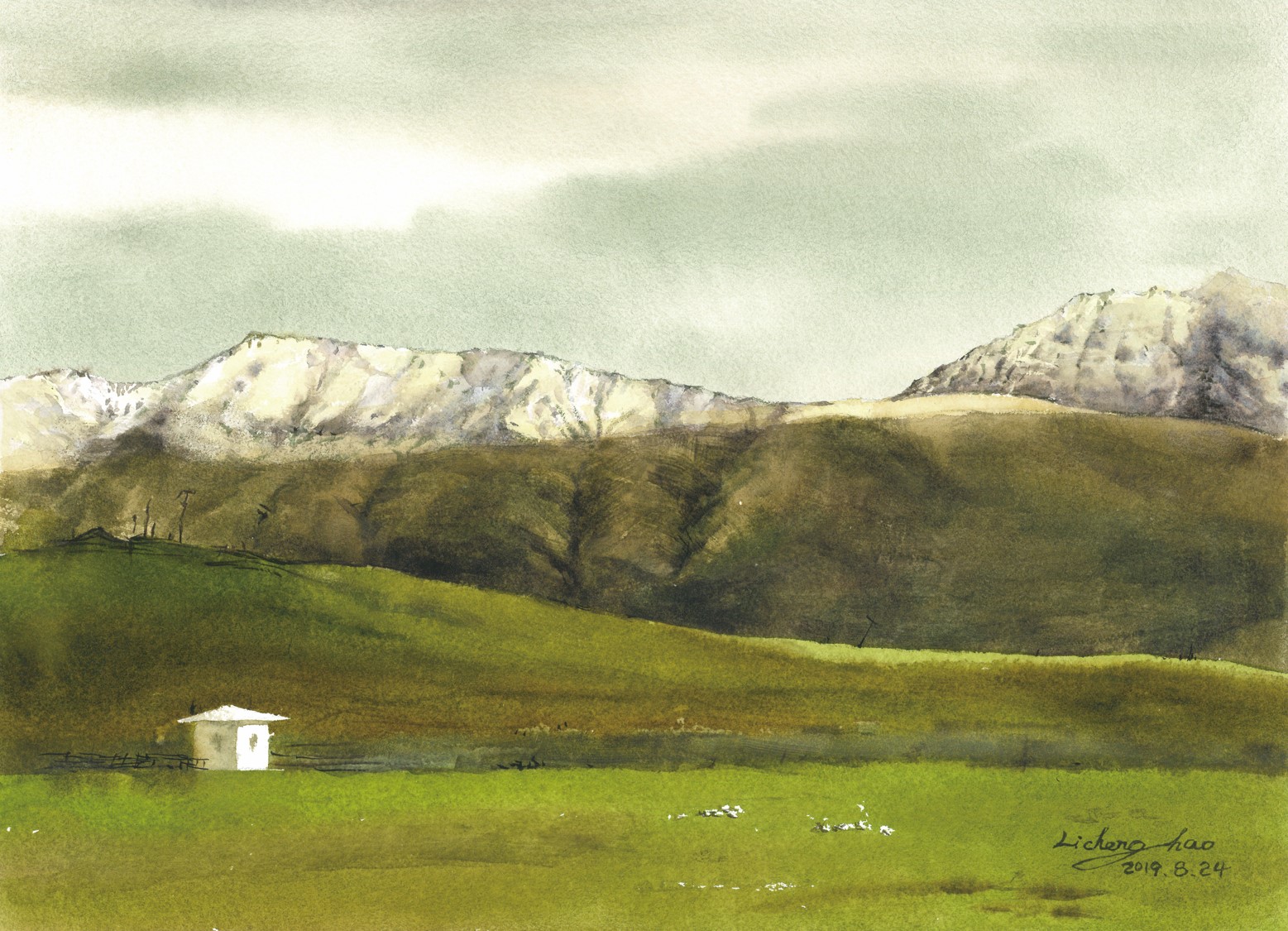 Chenghao Li is a lecturer at Hebei Normal University of Science and Technology, the Deputy Secretary-General of the Watercolor Association of Qinhuangdao, Hebei Province, and a member of the Design Aesthetics Institute of Hebei Normal University of Science and Technology. He graduated from Qiqihar University in 2001. In 2006, he earned his Master degree from Leeds City University, in the United Kingdom, with a major in Contemporary Art Practice. In 2008 and 2014, he worked as a visiting scholar at the Confucius Institute at Troy University. He has been engaged in watercolor painting teaching and research for years.
From February 5 - 24, 2020, viewers can experience beautiful landscape watercolors of Tibetan countryside through the eyes of Chenghao and his journeys.
This exhibition is sponsored by Troy University's Confucius Institute. Questions can be directed to Austin Deal (334) 808-6544.
Senior Thesis Exhibition
December 2, 2019 - January 16, 2020
Artists on display:
Alexander McCurdy - Photography
Jamie Lotierzo - Graphic Degin
Kara Justice - 2D Studio
Chloe Lyle - Graphic Design
Annisty Thompson - Photography
Yifan Gu - Graphic Design
Madelyn Flanagan - Graphic Design
Larry Strickland: Sticks and Stones
November 7, 2019 - February 5, 2020
Larry Strickland was born in Florala, Alabama in 1948. He attended Troy State University upon completion of high school and was drafted into the Army as an Illustrator during the Vietnam War. After the war, Strickland chose to further his career in art at the Ringling School of Art in Sarasota, Florida, where he graduated at the top of his class. He later returned to Troy State to complete his degree in 1984. Strickland has shown extensively throughout the United States in solo and group exhibitions. His works have been acquired by a long list of art patrons and private collectors throughout the world. He's had work accepted for the American Watercolor Society Exhibit in New York and has been accepted for exhibition in various shows such as The Jean Lake Memorial Art Show, The Greater New Orleans International Art Exhibit, and The Kentuck Festival.
Strickland sculpts primarily in weathered wood, using bone, copper, shell, deer horn and precious metals as symbolic accents. He's also well-known for his whimsical cityscape paintings which focus on the old architecture of Southeastern cities. Strickland is also an artist of the written word, writing poetry that at times is inspired by his sculptures.
On the campus of Troy University, Strickland is known for his 9-foot-tall bronze Trojan Warrior sculpture which soars about the Acedemic Quad on campus, which was finished in 2004.
Strickland can be found working at his workshop, surrounded by driftwood and outdoor in-process sculptures, or in the Strickland Gallery in downtown Florala, where one can purchase or admire his art.
About Sticks and Stones
Driftwood, heart pine, bones and stones – what once was discarded by nature, a product of her elements and testament of power, is brought back to life by Larry Strickland through the form of sculpture.
Sticks and Stones features a collection of sculptures which are composed of materials Strickland has encountered in nature. His artistic vision co-exists with the ravages nature has dealt the materials, celebrating the materials' motion and imperfection and incorporating them into the sculpture's design. Strickland sees in each durable, dead piece of wood the representation of life's cycle – birth, death, re-birth: it lives, dies, and is re-born in the vision of the artist.
Among Strickland's many subjects one can find a larger than life horse, a Trojan and numerous angels in this exhibition. Also accompanying Strickland's artwork is a series of poetry, which will be intertwined with the individual sculptures.
Mike Howard: Pivotal Moments in Alabama History
August 12 - October 20, 2019
Howard, born in 1944, grew up across the street from the local gambling and juke joints in Phenix City. He witnessed some of the most influential moments over the course of the Civil Rights Era during the 1950s and 1960s. This significant time of change in Alabama and America's history involved a struggle against corruption, violence, and resulted in many deaths during the fight for racial equality.
The impact of growing up in a politically corrupted town that was reformed, while also witnessing significant civil rights strides, would later provide powerful subject matter for Howard's art. His work lends itself to educating and reminding all viewers of the impact of these three events. It gives an opportunity for viewers to reflect on our continued battle today through the fight for equality of people of color, women, LGBQT, other minorities and disabled. Howard's Phenix City series, Rosa Parks and Selma artworks serve as a reminder of pivotal moments that have helped us develop as a state and a country. They are reminders that depict lessons that are still relevant in today's social climate.
Endorsed and supported by the Alabama Bicentennial Commission.
Cultivating Conversations in Photography
June 3 - July 26, 2019
This exhibition celebrates the collaborative efforts of Montgomery photographer Elmore DeMott with Troy University's Advanced Photography Course.
Alabama Art Inside Out

Open through November 9, 2017 - November 9, 2018
A Joyous Exchange

April 30 - July 29, 2018
The Art of Art Bacon

February 12 - April 23, 2018