General Education Mobile (GEM)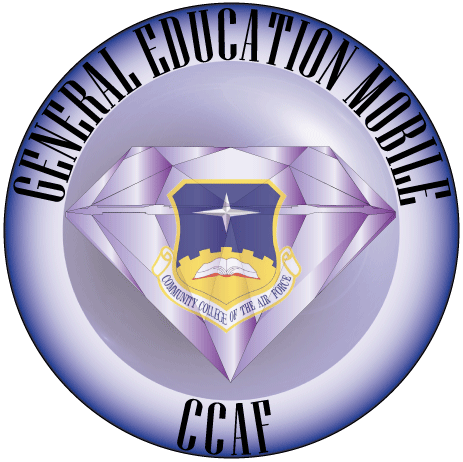 The GEM program is a partnership between the Community College of the Air Force (CCAF) and selected academic institutions. The program offers the 15-semester hour cluster of General Education courses required for the award of the A.S. degree of the CCAF.
The partnership enables CCAF students to complete their General Education requirements as a single block, from a single institution creating academic continuity and faster completion of the Associate degree. Troy University is proud of its longtime affiliation with the United States Air Force and Space Force and is honored to be a partner in this program.
Program Requirements
The CCAF General Education requirement is satisfied by applying courses accepted in transfer that:
Must be from a regionally accredited institution.
Must be taught by faculty who meet the minimum faculty requirements of the Commission on Colleges of the Southern Association of Colleges and Schools.
Must be listed and identified in the offering institution's general catalog as satisfying the institution's freshman and sophomore General Education courses designed for transfer.
Must have been completed with the equivalent of a "C" grade or better.
Must not be developmental, preparatory, remedial, refresher or review.
Must not duplicate or significantly overlap another course or test applied to the degree program.
Must not be a special topic or problem, workshop, or similar course.
Must not be narrowly focused on skills, techniques and procedures peculiar to a particular occupation.
How to Apply
Members of the Air Force and Space Force applying to Troy University for the GEM Program are reminded to apply as transient students. This will expedite and facilitate the application process. Information on how to apply can be found at :
Term Lengths & Schedules
There are 5 terms of 9 weeks in each academic year. Term schedules can be found at: ACADEMIC CALENDAR
Cost of Tuition
Currently serving members of the US Air Force and Space Force are charged $250.00 per semester hour for GEM courses.
CCAF Requirement
Communication
ENG 1101 Composition And Modern English (Required By The CCAF)
Intensive instruction in the writing process. Focuses on the organization of ideas in well-developed expository and argumentative essays, with stress on grammar, punctuation and vocabulary development.
Prerequisite: appropriate score on the English placement exam
ENG 1102 Writing Arguments About Literature
Text-based analyses and application of principles and tools of research in writing short research papers. A grade of C or better is required for credit.
Prerequisite: ENG 1101 or equivalent.
or
COM 2241 Fundamentals Of Speech
This course is a study of the principles and practices basic to public speaking. The course is designed to enhance the student's verbal and non-verbal communication skills through oral communication theory and practical application.
Mathematics
(one course required)
MTH 1110 Finite Math
Topics include a survey of logic, sets, counting, permutations, combinations basic probability, an introduction to statistics and matrices and their applications to Markov chains and decision theory.
Prerequisite: appropriate score on mathematics placement test or grade of C or better in MTH1105
or
MTH 1112 Pre-Calculus Algebra
Topics include the algebra of functions including polynomial, rational, exponential logarithmic functions. The course also contains systems of equations and inequalities, linear and quadratic equations and inequalities, graphs of polynomials and the binomial theorem.
Prerequisite: appropriate score on mathematics placement test, advanced placement or a grade of C or better in MTH1105.
Social Sciences
(choose one)
ECO 2251 Principles Of Macroeconomics
Macroeconomic theory of the national economy with emphasis on income, employment, banking and public policy.
ECO 2252 Principles Of Microeconomics
Microeconomic theories of value, production, distribution of income, and basic international economic analysis.
HIS 1101 Western Civilization I
Survey of developments in Western history from the pre-historic era to early modern times, including classical antiquity, Middle Ages, Renaissance and Reformation.
HIS 1102 Western Civilization II
Survey of developments in Western history from modern times to the contemporary era, including the Scientific Revolution, Enlightenment, French Revolution and Napoleon, nationalism, imperialism, two world wars and the postwar era.
POL 2241 American National Government
A study of the Constitution, federalism, the Presidency, Congress and the courts, and politics on the national level.
POL 2260 World Politics
An investigation of the development, nature, and process of political actions across national boundaries in the global system. Topics include international security, comparative government, international political economy, international organizations and new global issues.
PSY 2200 General Psychology
A survey of the basic theories, concepts, principles, and research findings in the field of psychology.
PSY 2210 Developmental Psychology
A study of human development across the lifespan with emphasis on psychosocial, physical, emotional and cognitive changes.
Humanities
(choose one)
PHI 2203 Introduction To Philosophy
A brief history of philosophical ideas and the basics of Aristotelian logic.
PHI 2204 Ethics And The Modern World
An introduction to basic ethics and to contemporary ethical issues.
REL 2280 World Religions
Historical development and basic beliefs of the world's major religions.
Note:
Students who do not earn an appropriate score on the English and/or Math placement exams will be required to successfully complete developmental courses before enrolling in ENG1101 and/or MTH1105/1110/1112.
After GEM?
After completing the 15 hours required for the GEM Program, Air Force and Space Force students needing to complete the general elective hours for the CCAF A.A.S. degree can choose from a range of options within the University's General Studies classes.
And, when the Associate degree of the Community College of the Air Force has been completed, Air Force and Space Force students wishing to continue their studies to the next level should consider:
A range of

Bachelor's degree programs

can be completed on one of four campuses in Alabama or at one of many sites around the nation and across the globe.
The more than 25 bachelor's degree programs that are fully online at TROY Online
Blended programs allow students to combine in-class and online options
8 Bachelor's degree programs that are part of the

Air Force and Space Force's AU ABC initiative
To discuss options or to have your questions answered, please contact Ali-Reza Rajabzadeh, Area Coordinator, Support Center - San Antonio, at arajabzadeh@troy.edu.