University Apartments Information
A 48-unit apartment complex, primarily for married students and single parents, is located on North Franklin Drive. Apartments are carpeted, air-conditioned and equipped with a stove and refrigerator. They are otherwise unfurnished. Utilities are not included and rates are subject to change. Interested students should apply well in advance by completing the application to get on the waitlist.
24 one-bedroom (600 sq. ft) and 24 two-bedroom (800 sq. ft) carpeted, unfurnished apartments. Each apartment is equipped with kitchen area including stove and refrigerator. Utilities are not included in rent of this faculty.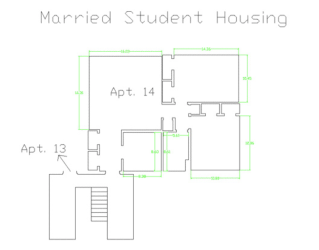 Since University Apartments are located off-campus, the locations listed below may be further than the landmarks listed for other dorm options.
Dining
Convenience Store (MSCX)
Academic Buildings
Stadium Tower
Hawkins Hall
Parks & Rec
Christian Student Center
Riddle-Pace Field
Veterans Memorial Stadium