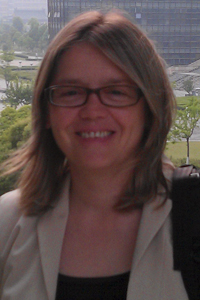 Margaret K. Gnoinska
Associate Professor
TROY University
Troy, Alabama 36082
Patterson Hall 230
Telephone:
1-334-808-6408
mgnoinska@troy.edu
Education:
B.A. Middebury College, 1994
M.A. The George Washington University, 2002
Ph.D. The George Washington University, 2010
Areas of Expertise:
Modern Eastern Europe, Modern East Asia, International History of the Cold War
Biography:
Dr. Gnoinska is an associate professor of history at TROY University. She received her Ph.D. from The George Washington University in January 2010. Her dissertation is titled "Poland and the Cold War in East and Southeast Asia 1949-1965." She has an M.A. in International Affairs from the Elliott School of International Affairs (GWU) and a B.A. in International Politics & Economics from Middlebury College. She is a Fulbright Scholar and Boren NSEP Fellow. She has published, as well as presented, her research in the United States and around the world.
She traveled extensively throughout East and Southeast Asia, including Japan, China, Korea, and Vietnam, for both research and pleasure. She also spent much time traveling in Europe, especially former Eastern Europe, and in Russia. She speaks Polish, Russian, Japanese, and Spanish. She is currently working on revising her dissertation into two books: one on Poland's peacekeeping efforts during the Vietnam War and another on Sino-Polish relations during the Cold War with a specific focus on the role of the Sino-Soviet split and the U.S.-China opening.
Courses Taught at TROY:
World History to 1500
World History from 1500
The Vietnam War
Research & Methodology
The Cold War
Modern East Asia
Russia since 1861
Modern Eastern Europe
European Historiography (Graduate)
Selected Publications
Journal Articles

Gnoinska, M. (2018). Promoting "The China Way" of Communism in Poland and Beyond during the Sino-Soviet Split: The Case of Kazimierz Mijal. Cold War History,18(3), 343-359.
Gnoinska, M. (2017). Socialist Friends Should Help Each Other in Crises: Sino-Polish Relations within the Cold War Dynamics, 1978 – 1983. Cold War History, 17(2), 143-159.
Gnoinska, M. (2012). Czechoslovakia and Poland: Supervising Peace on the Korean Peninsula, 1953-1955. Journal for the History of Central, Eastern and Southeastern Europe (Slovansky Prehled), 98(3-4), 293-320.
Book Chapters

Gnoinska, M. (2018). Chipolbrok – Continuity in Times of Change: Sino-Polish Relations during the Cold War, 1949-1969. In Janick Marina Schaufelbuehl, Marco Wyss, and Valeria Zanier (Ed.), Europe and China in the Cold War: Exchanges Beyond the Bloc Logic and the Sino-Soviet Split. (pp. 192-211) Leiden: Brill (Series: New Perspectives on the Cold War).
Gnoinska, M. (2010). Poland, Intra-Communist Dynamics, and the Second Geneva Conference on Laos, 1961-1962. In Christopher E. Goscha and Karine Laplante (Ed.), L'échec de la paix. The Failure of Peace in Indochina (1954-1962)(pp. 305-325). Paris: Les Indes Savantes.

Working Papers

Gnoinska, M. (2005). Poland and Vietnam, 1963: New Evidence on Secret Communist Diplomacy and the "Maneli Affair"(45th ed., pp. 1 - 78). Washington, D.C.: Cold War International History Project.