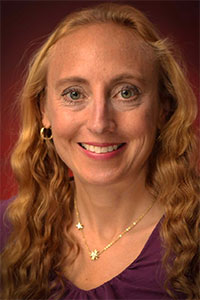 Robin O'Sullivan
Lecturer, History and Philosophy Department
Education:
B.A., English Literature and Creative Writing / Minor in Religious Studies Dartmouth College
M.A., American and New England Studies, University of Southern Maine – Portland
Ph.D , American Studies, University of Texas — Austin
Area of Expertise:
U.S. Cultural History, Environmental & Agricultural History, Cultural Geography, Advertising & American Popular Culture, Food Studies, Social Movements, Regional Literature.
Biography:
Robin O'Sullivan is a lecturer in the History and Philosophy Department at TROY University. Her book, American Organic: A Cultural History of Farming, Gardening, Shopping, and Eating, was published by the University Press of Kansas in 2015. She has presented academic papers at the American Studies Association; American Society for Environmental History; Gulf South History & Humanities Conference; Southern Forum on Agricultural, Rural, and Environmental History; and other meetings. She received the Faculty Senate Excellence in Teaching Award from TROY University in 2012. You can follow her on Twitter @historynibbles and on Pinterest http://pinterest.com/drosullivan/ for historically relevant items of interest.

O'Sullivan's book, _American Organic: A Cultural History of Gardening, Farming, Shopping, and Eating_, was published in 2015 by the University Press of Kansas. For more info or to purchase a copy, visit this link: http://amzn.to/1J5NRlu
Robin O'Sullivan, Ph.D
TROY University - Dothan
501 University Drive, P.O. Box 8368
Rm 400, Adams Hall
Dothan, AL 36303
334-983-6556 (ext. 318)
Follow me on Twitter @historynibbles https://twitter.com/historynibbles

On Pinterest
http://pinterest.com/drosullivan/
http://culturalhistoryus.weebly.com/
Courses Taught at TROY:
U.S. History to 1877
U.S. History from 1877
Contemporary America
The West in American History
History of American Women
Cultural History of the U.S.
Environmental History of the U.S.
History of American Minorities
Research and Methodology
Interwar and World War II America
Post-World War II America
Senior Seminar in History
Western Civilization I & II