"Coming into college I knew a few things: I loved history; I wanted to major in History; and I wanted to work within the field abroad. Early in my first semester my advisor, Dr. Jones, connected me with two opportunities to spend my summer overseas and taking independent study classes in History. Dr. Jones set up an independent study for TROY's two-week French culture trip to Paris. I was able to study and compare and contrast medieval churches over the three distinct medieval periods. Dr. Jones also connected me with the anthropology department and their yearly trip to Ashkelon, Israel. I was able to spend six weeks during the summer on-site at an archeology dig. Because of this experience, I was able to better understand how history is formed and gained a better appreciation of the field.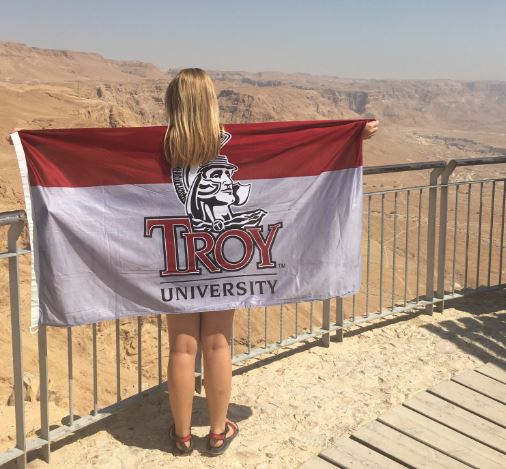 "During the following school year, my professors in the History department helped me with conference presentations and to find a way to integrate my interest in Soviet history outside of the few courses offered. With the help of Dr. Jones and Dr. Gnoinska, I spent a month in Kyrgyzstan over the summer researching the memory of the Soviet Union. When I returned to Troy, I met with Dr. Gnoinska weekly to discuss what I had uncovered while in Kyrgyzstan, what research I had found that week, and how to craft it in to a research paper I could present at the Phi Alpha Theta National Conference. Dr. Gnoinska guided me into how to write a strong research paper as well as how to connect what I saw of the Soviet past in Kyrgyzstan, current Kyrgyz affairs, and the influence of other countries. I was able to delve deeply into the "why" question, something I was not able to do as well before. By the end of the semester, all of the hard work and meeting with Dr. Gnoinska culminated into a paper which I presented at the Phi Alpha Theta National Conference, published in The Alexandrian, and received the World History Association-Phi Alpha Theta Undergraduate Paper Prize. Without the commitment to the students that the TROY History Department prioritizes, I would not have the experience needed to be competitive for graduate school. Moreover, it is because of the History Department that I have become a better writer and better presenter. Choosing TROY was the best decision I have made. I hope to make my professors proud by going to graduate school for history."
-Whitney Ortiz
"Since graduation, I have begun school at Faulkner University, Thomas J Goode Jones School of Law where I am currently ranked in the top 10% of my class. I have been working for Aristo Emergency, a company that manages the Emergency Department staff for multiple hospitals as a Physician's Scribe. This summer, I will be interning with Judge Howell of the 7th Judicial Circuit. "
-Megan Phillips
"TROY University was everything I wanted in a small school- great ratio between faculty and students, wide range of programs of study, and was as diverse and welcoming as I always imagined it to be. I found a community of the sisters I never had through Alpha Delta Pi, participated in school spirit activities, and got to serve TROY through several other organizations with different outlets.
"I started off as a biomedical student as many others do coming in as a freshman. Yet after realizing my sickness at the sight of blood and the struggle to enjoy Chemistry class, I wanted to pursue a degree in something that would make me truly happy. This meant something fulfilling, yet continuously interesting, while also challenging for me as a student. I wanted something that broadened my horizons in opinions, perspective, and personality. This brought me to seek a career in history. Whether it was in the museum or teaching and coaching volleyball one day, I knew I wouldn't work a day. The history department introduced me to some of the most passionate and compelling personalities in its faculty and boy, was it a change of pace and ideas.
"While I loved my time as a history major(except for that moment I got kicked out of Buckner's class), I completed my Bachelor's and furthered my education in a different direction which is where I work currently. As I finish, I will be headed to Atlanta, Georgia to work and hopefully have the time to volunteer at a local museum. I am not only valued for my knowledge from my second degree, but also for the experience and skills I received from my time at TROY. The relationships and advice I received from my time at TROY University are what made my four years priceless and I will always be thankful for the kindness and knowledge given to me by the Department of History."
- Alexandra Hackworth
" After earning my B.S. in History from TROY , I attended the University of South Carolina as a student in their Higher Education Student Affairs program. I graduated with my M.Ed. in May of 2016 and currently work for the University of South Carolina College of Education as an Academic Advisor. In addition to working as an advisor, I am also an instructor for University 101 programs at USC, an initiative that fosters student success and transition to the university. I plan to pursue a Ph.D. in Higher Education Policy in the near future."
- Peyton Paradiso
After completing his Master's degree in the history of race, ethnicity, and society at Columbus State University in Columbus, Georgia, Doug Allen continued his education in the PhD program at Florida State University in the Department of Geography. He is currently a PhD Candidate at FSU and is presently researching and writing his dissertation on experiential 'black senses of place' and place-making practices of African American students at FSU and FAMU in the historical All Saints District between these two institutions. Doug would like to thank the history professors at TROY University for giving him a solid foundation to continue toward his PhD and all the students and faculty (and particularly the Alexanders) that have contributed to the success of The Alexandrian.
- Doug Allen
"I attended TROY from 2012 to 2016. Shortly after starting classes at TROY University, I decided to look into the history department. I very early on found out that it was wonderfully friendly and helpful at assisting me through my academic life. The history classes I had at TROY were great in that they focused on students using sources competently in tandem with clear rhetoric that would keep to the facts. My own personal focus was on world history, which I would often narrow down to East Asian studies. My advisor, Dr. Gnoinska, helped me find classes that fit the sort of interests I had in history, and would go on to help me even pursue my interest in studying history abroad (in a foreign language no less). I am very thankful for how TROY University was able to help me pursue my interests, and how far the professors went to help me out with my studies and post-graduation goals.
"Thanks to the suggestions I had from my teachers at TROY, and to the opportunities I took advantage of while I was at TROY, I was able to continue to further my interests by pursuing a job in a foreign teaching position in Japan (my typical area of research focus) with the JET Programme. I applied while in my last year at TROY, and I was able to start the fall after I graduated. It's been an amazing opportunity that I'm so glad I was told about by my teachers at TROY. I still have a continuing interest in history and hope to use my current experience abroad, along with the experience I received at TROY, to perhaps pursue a post-graduate degree"
- Scott MacCallum
Cortney Hawkins teaches 9-12 grade at Holy Family Cristo Rey High School in Birmingham. She teaches United States history, world history and African American history and serves as the assistant girls basketball coach. Lastly, she is a member of the National Coalition of 100 Black Women.
-Cortney Hawkins
"I am the Collections Technician at the History Museum of Mobile, where I am responsible for cataloguing and caring for artifacts, as well as assisting with the installing and presentation of exhibits. Previously, I held the position of Assistant Director at the Pioneer Museum of Alabama, in which I helped plan and implement programs, events, and tours. At TROY University, I had many opportunities that allowed me to grow as a student. In fact, it was through a university coordinated internship that I made initial contact with the History Museum of Mobile. While my regular classes gave me a solid foundation in American history, I was fortunate enough to have an independent study which sparked my interest in Japanese history as well. Outside the classroom, I had a great time with the members of the History Club and the Japan Club. My time at TROY gave me invaluable experiences that helped me get to where I am now. Moving forward, I plan on pursuing a Master's degree in Public History, and gaining more experience in the museum field. "
- Seth Kinard
"I am from Newton, Alabama. I attended TROY University on the Chancellor's Scholarship beginning in 2010. I knew from the beginning I wanted to major in history. I was always interested in and passionate about the subject. I thoroughly enjoyed the history program at TROY University. The department is made up of professors who are not only experts but also great teachers. I believe that a person can be one without being the other; however, the professors at TROY effectively integrate the two into an extremely effective classroom environment. To clarify this statement, I would like to mention the way in which my professors incorporated the use of history as a "thinking" tool. My professors taught me how history could be used to think about the world and analyze events. I sincerely believe that the history department at TROY leaves one better prepared for both critical thinking and a career. When I entered the history program I did not know what I wanted to do with the major following graduation. I just knew I enjoyed history. However, a string of events led me to become a Marine officer. I enlisted in the Marine Corps Reserve during my sophomore year at TROY. I applied to become an officer following graduation and was accepted. A background in history is extremely applicable in the Marine Corps. The branch is devoted to remembering its past and educating its members on its accomplishments. Furthermore, as previously discussed, the way of thinking about the past that was introduced to me at TROY is useful in analyzing events that may be of relevance to our military's future commitments. Finally, I would like to say that I owe many thanks to the history department for their superb professionalism and dedication to their subject."
-Zachary Byrd